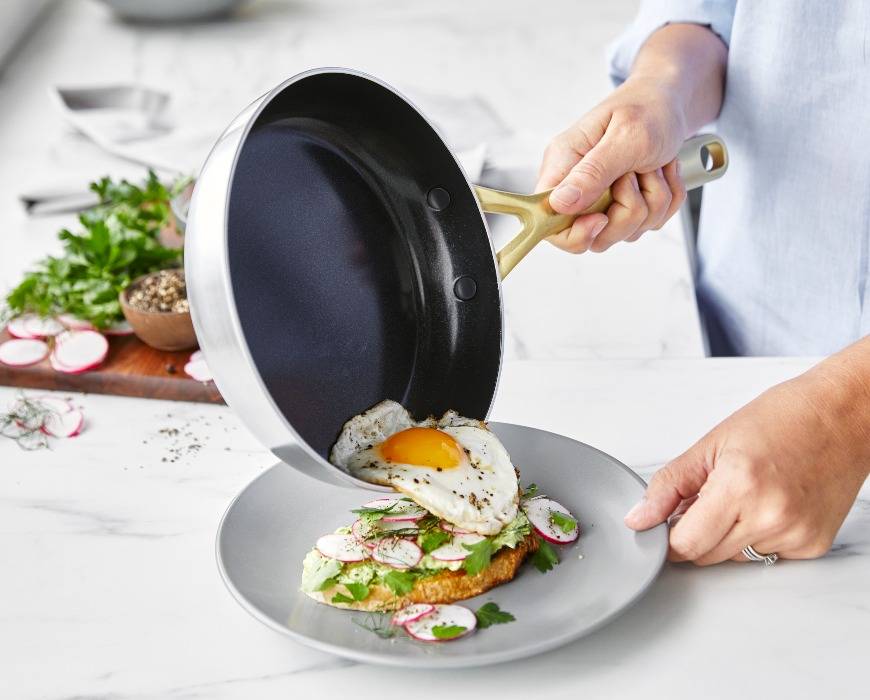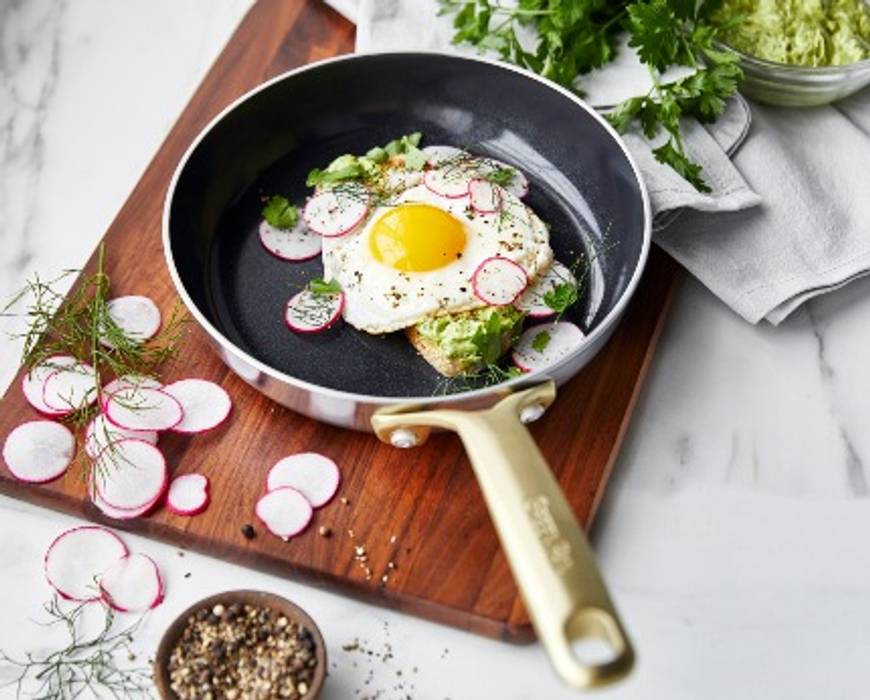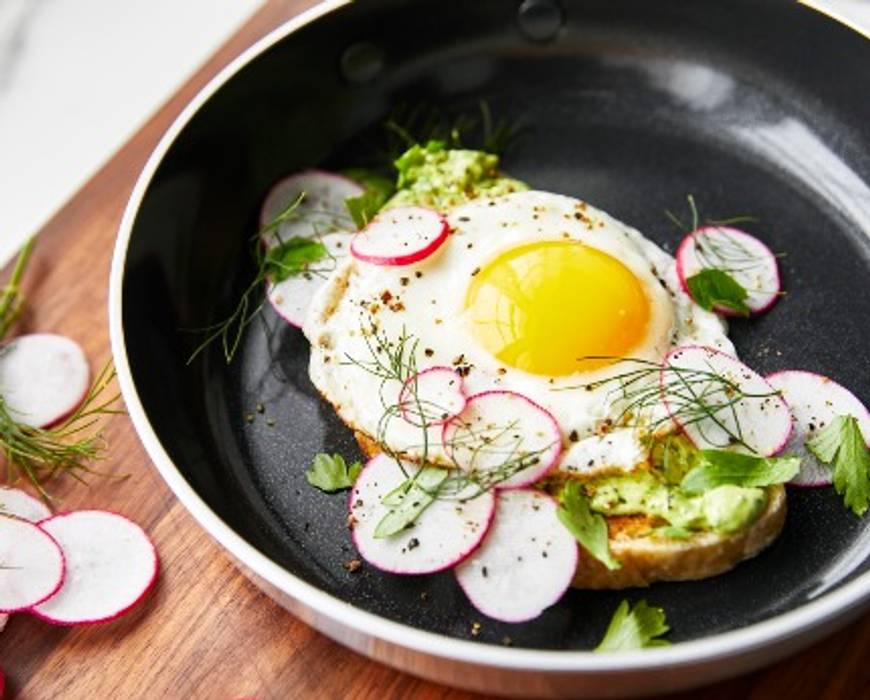 Avocado Toast with Fried Egg
Yields: 2 servings
Time: 5 minutes prep, 10 minutes cooking
INGREDIENTS:
2 large slices sourdough bread
2 tablespoons extra virgin olive oil, divided
1 ripe avocado, halved, pit removed
1 teaspoon lemon juice
1 teaspoon lemon zest
1/2 teaspoon sumac
1/4 teaspoon crushed red pepper flakes
1/4 teaspoon kosher salt, more to taste
1/8 teaspoon freshly ground black pepper, more to taste
2 large eggs
2 tablespoons feta cheese
2 radishes, thinly sliced
1 tablespoon roughly chopped parsley, destemmed
1/2 tablespoon roughly chopped dill, destemmed
PREPARATION INSTRUCTIONS:
Place a 10" GP5 Stainless Steel Frypan on the stovetop over medium high heat and pour in one tablespoon of the olive oil. Place in the slices of toast and cook them to your liking on both sides.  Transfer the bread to two serving plates and drizzle with a bit more olive oil and season with a pinch of salt if desired. 


Using a spoon, scoop the avocado halves from the peel and place the halves in a small mixing bowl. Add the lemon juice, zest, sumac, red pepper flakes, salt and pepper to the bowl and very lightly mash the avocado with a spoon or fork until everything is equally combined but there are still chunks of avocado visible.  Taste and adjust as desired. 


Place the 10" GP5 Stainless Steel Frypan back on the stovetop over medium high heat and pour in the remaining olive oil. Once the oil is up to temperature, crack the two eggs into the pan, season with a bit of salt and pepper, and cook as desired (we like sunny side up for this recipe!). 


Divide the avocado mixture equally between the two pieces of bread and spread evenly to cover the toast. Place one cooked egg, followed by one tablespoon of crumbled feta, on top of each.  Garnish with the sliced radish, parsley and dill.  Serve warm immediately. 
TIPS:
Ripe avocados are the key to this recipe.  We like to pick out slightly firm ones at the grocery store and let them ripen for a day or two at home – that way you know when they are perfectly soft and ripe to eat. 
If you like a bit of sweetness in the morning, a small drizzle of honey on top of this avocado toast is delicious!  
Featured Product
GP5 Stainless Steel 10" Frypan | Champagne Handle
Experience the groundbreaking performance and eye-catching style of GP5 with this frypan. It's the perfect size for just about everything, and our cutting-edge Infinite8 ceramic nonstick ensures it always delivers.