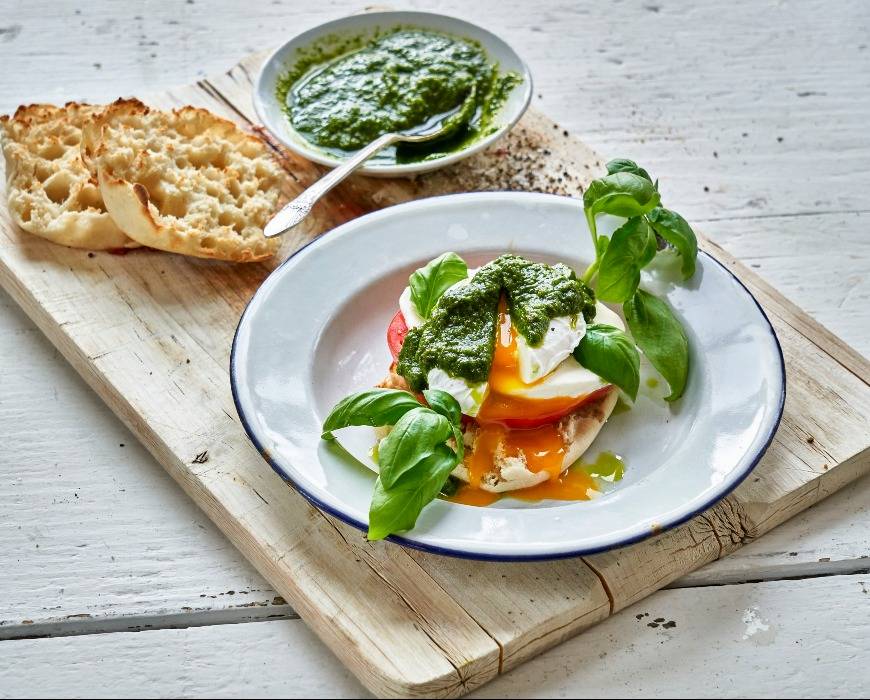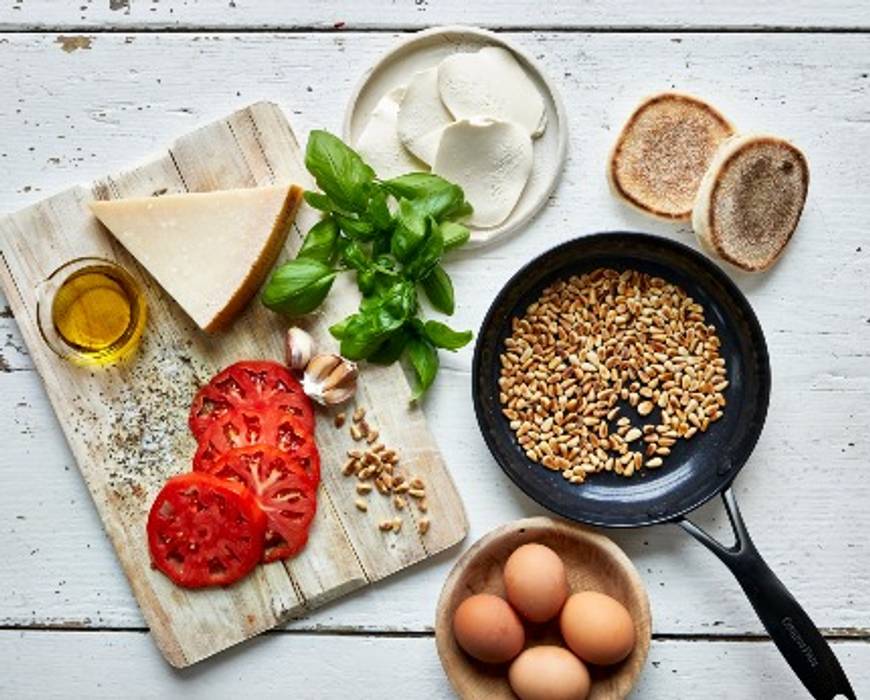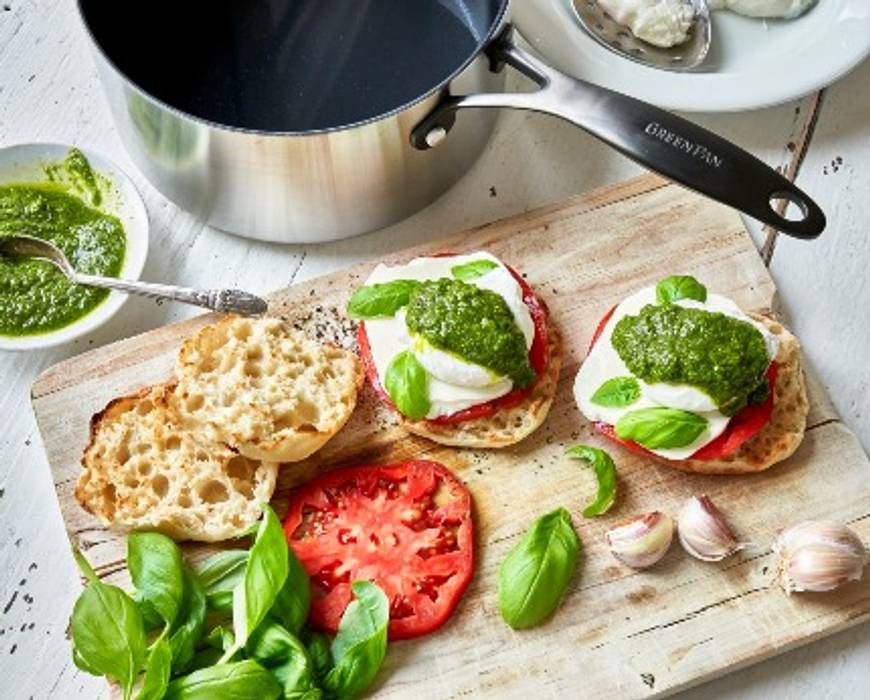 Yield: Serves 2
Time: 10 minutes prep, 15 minutes cooking, 25 minutes total
INGREDIENTS:
For the pesto
1 cup fresh basil leaves
2 cloves garlic, peeled
3 tablespoons pine nuts
1/3 cup grated Parmesan
1/3 cup olive oil
Salt and freshly ground black pepper to taste
For the eggs benedict
2 English muffins
4 slices tomato, at room temperature
4 slices fresh mozzarella, at room temperature 
Handful of fresh basil leaves
4 eggs
2 tablespoons white vinegar
PREPARATION INSTRUCTIONS:
Start simmering poaching water—Bring a large saucepan 2/3rds full of water to a boil over high heat. Add vinegar, return to a boil, then lower heat and let poaching liquid simmer.
Meanwhile, make the pesto—Combine basil, garlic, pine nuts, and Parmesan in the bowl of a food processor. Pulse until ingredients are combined. With the food processor running, slowly add the olive oil in a steady stream until emulsified. Season with salt and pepper to taste. Set aside.
Poach the eggs—Crack one egg into a cup and gently slide egg into simmering water. Once it begins to poach, add in a second egg and continue until all eggs are cooking. Turn off heat, cover pan, and let sit for 4 to 5 minutes. Use a slotted spoon to transfer eggs to a bowl when done.
Meanwhile, toast the muffins—Slice muffins in half and toast until crisp and golden brown.
Assemble and serve—On each muffin half, layer 1 tomato slice, 1 mozzarella slice, and a few fresh basil leaves. Top with poached eggs and generous dollops of pesto. Enjoy!
TIPS:
Get fresh—for best results, use the freshest eggs you can find. (Does your neighbor have chickens?) The firmer whites help poached eggs hold their spherical shape.
No pine nuts? No problem! Our pesto also works great with almonds, walnuts, or hazelnuts. For extra depth of flavor, use toasted nuts.
Featured Product
Venice Pro Noir Ceramic Nonstick 13-Piece Cookware Set
Created for demanding home cooks, Venice Pro Noir is the perfect blend of 3-ply responsiveness and effortless ceramic nonstick ease. It's ideal for tender braises, colorful stir-fries, bisques, and more.