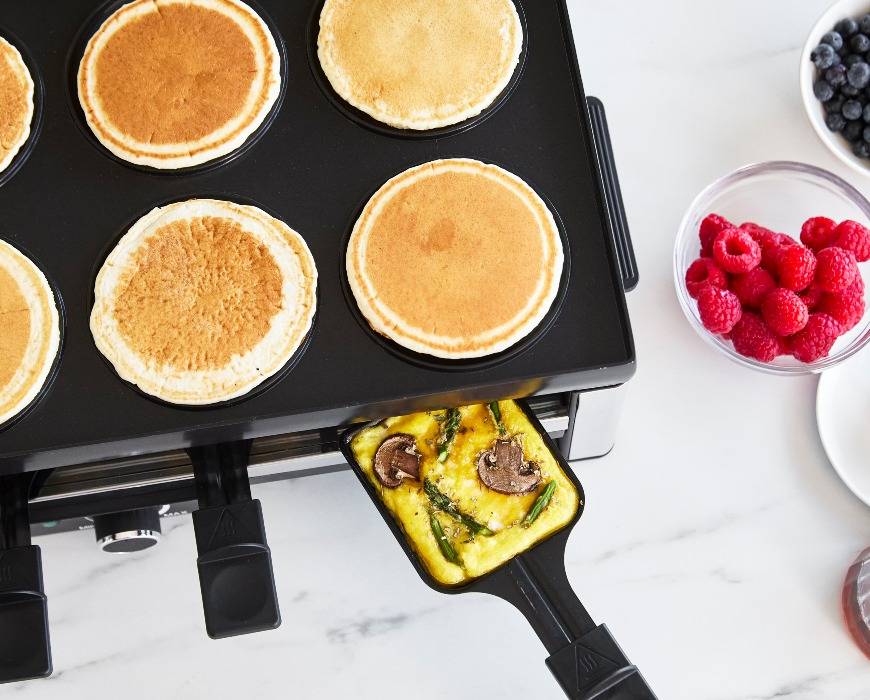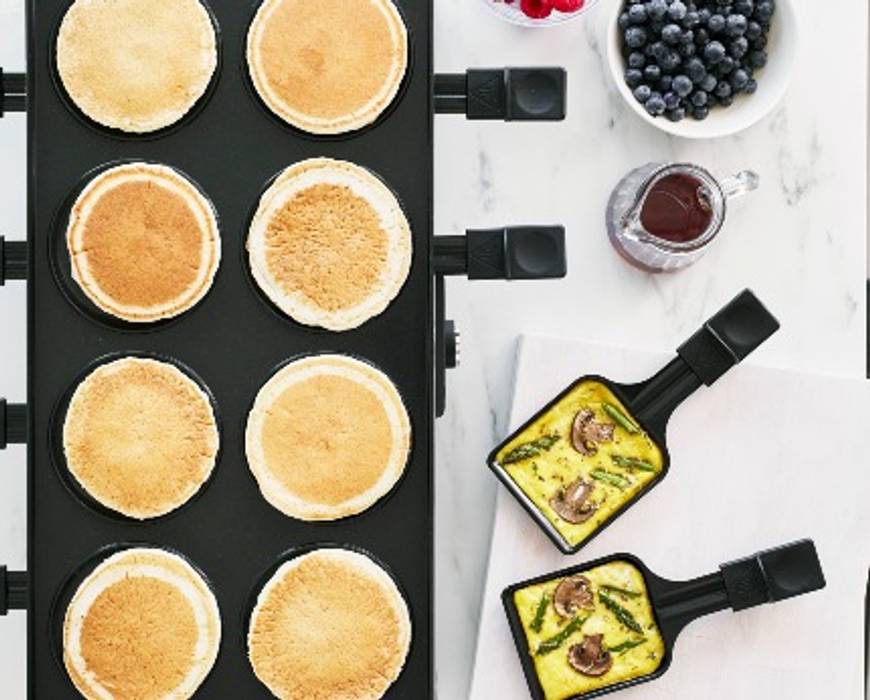 Griddle Buttermilk Pancakes
Yields: 12 pancakes 
Time: 10 minutes prep, 10 minutes cooking, 20 minutes total 
INGREDIENTS: 
1 1/2 cups all-purpose flour

 

2 tablespoons granulated sugar

 

2 teaspoons baking powder

 

3/4 teaspoon kosher salt

 

1 1/4 cups buttermilk

 

2 large eggs

 

3 tablespoons vegetable oil

 
For serving 
Butter

 

Fresh fruit

 

Maple syrup

 
PREPARATION INSTRUCTIONS: 
Mix the batter—In a large bowl, whisk together flour, sugar, baking powder, and salt. In a separate bowl, beat together buttermilk and eggs until foamy. Add oil and stir to combine. Pour wet mixture into dry mixture and blend with wooden spoon or spatula. Batter will be lumpy—resist the urge to over-mix. 

 

Prepare to cook—Fit your Gourmet Grill with the pancake top and preheat to a medium setting. When a drop of water sizzles on griddle, it's ready to go.

 

Make the pancakes—Ladle approximately 1/4 cup of batter for each pancake into the middle of each circle on griddle. When the batter bubbles all over and edges brown, flip pancakes, and cook for an additional minute or two. Repeat with remaining pancake batter.

 

Serve and enjoy—Serve pancakes with butter, warm maple syrup, and a side of fresh fruit. 

 
TIPS: 
No Buttermilk? You can sub in regular milk or create a DIY version by adding 1 1/2 tablespoons of vinegar to a 2-cup measuring cup and filling with enough milk to equal 1 1/2 cups. 
Don't Flip Out—pancakes can fall apart if turned too soon, so wait till you see bubbles all over the surface, not just around the edges. 
Featured Product
Ultimate Gourmet Grill
Ideal for parties, family dinners, entertaining, and everything in between—this gourmet set is the perfect way to bring everyone to the table. This set features a cast aluminum plate with one grill and griddle side that reverses to individual pancake...