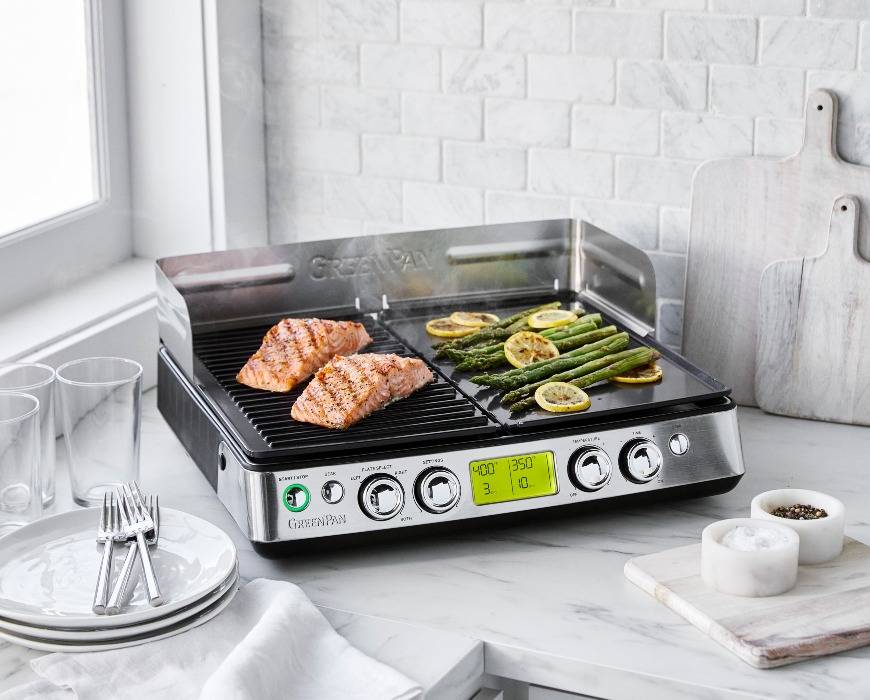 Grilled Salmon and Asparagus with Charred Lemon Caper Butter
Yields: 4 servings
Time: 15 minutes prep, 15 minutes cooking, 30 minutes total
INGREDIENTS:
4 skin-on salmon fillets, 6 ounces each, about 1" thick 
3 tablespoons extra virgin olive oil, divided 
1 pound whole asparagus spears, tough bottom of stems removed 
2 teaspoons white wine vinegar 
1 clove garlic, peeled and finely minced or pressed 
1 teaspoon crushed red pepper flakes
Kosher salt, to taste 
Freshly ground black pepper, to taste
¼ cup finely chopped fresh parsley, stems removed
For the charred lemon caper butter:
1 lemon, cut in half (remove the zest you need before cutting)  
4 tablespoons unsalted butter, room temperature
2 tablespoons thinly sliced chives
2 tablespoons coarsely chopped capers (rinsed well and drained)
1 tablespoon lemon zest
PREPARATION INSTRUCTIONS:
Preheat the Premiere XL Smoke-less Grill & Griddle on the FISH setting on one side with a griddle plate, and 425 F on the other side with a grill plate.
Place all four pieces of salmon on a large plate and rub them on both sides with half of the olive oil.  Season as desired on both sides with salt and pepper and set aside for 5 to 10 minutes to allow the fillets to come closer to room temperature – this will ensure more even cooking throughout.   
In a large mixing bowl toss the other half of olive oil along with the asparagus spears, vinegar, garlic, red pepper flakes.  Add salt and pepper to taste.  
Place the salmon, skin-side up on the griddle plate.  Cook the salmon until nicely golden brown, about 4 minutes.  Flip and cook skin side down for another 3 to 4 minutes until the skin has crisped nicely and the salmon is medium well at its center.  If preferred, cook an additional minute on each side for a more well-done fillet.  Transfer the cooked salmon to a large platter, skin side up, and loosely cover with aluminum foil to let it rest for 5 minutes.  
At the same time the salmon is cooking, place the asparagus spears on the grill plate.  Cook, turning occasionally to ensure even grill marks, for 8 to 10 minutes or until just cooked through and well charred.  Transfer to the same platter as the salmon and cover with foil to keep warm.  Shut off the griddle side of the Premiere XL Smoke-less Grill & Griddle.
To make the butter, place the lemon halves cut side down on the grill plate.  Grill for 5 to 6 minutes or until lightly charred.  In a small mixing bowl stir the butter, chives, capers and lemon zest until well combined.  Starting with one half of the charred lemon, squeeze the juice into the bowl and stir to combine (take care to avoid any seeds).  Taste and adjust with more charred lemon juice and salt as desired.  
To serve, divide the asparagus evenly on 4 dinner plates and top each with one fillet of salmon, skin side up.  Spoon about one tablespoon of the charred lemon caper butter on top of the warm filet so it begins to melt.  Garnish with a bit of parsley and serve immediately.  
TIPS:
The flavors of this recipe are truly versatile, so feel free to cook halibut, cod or even scallops in place of the salmon in this recipe!  For the scallops simply melt the butter in a Greenpan saucepan and spoon over the top when serving.  
Asparagus is one vegetable you buy that can vary quite a bit in size.  If you have thinner or thicker asparagus, the cook time will vary up or down!  Whatever size you have, cook them until they are just cooked through, with a slight firmness still in the center.
Featured Product
Premiere XL Smoke-Less Grill & Griddle
Designed to reduce smoke during indoor grilling sessions, our XL Smoke-Less Grill & Griddle's 3-in-1 design lets you switch between a full griddle, a full grill, or a versatile mix— whatever your meal demands. The expansive surface offers space to...