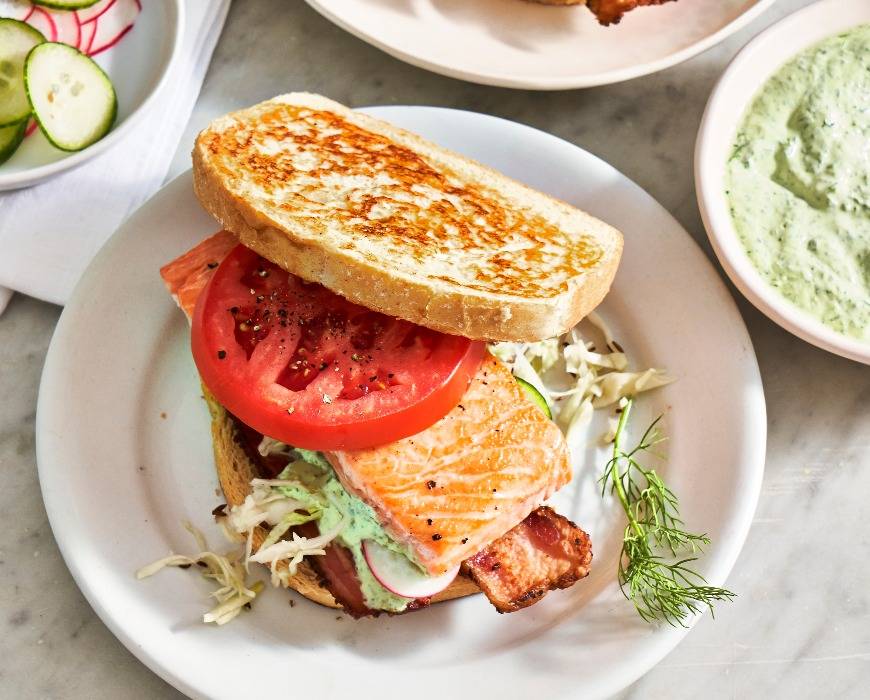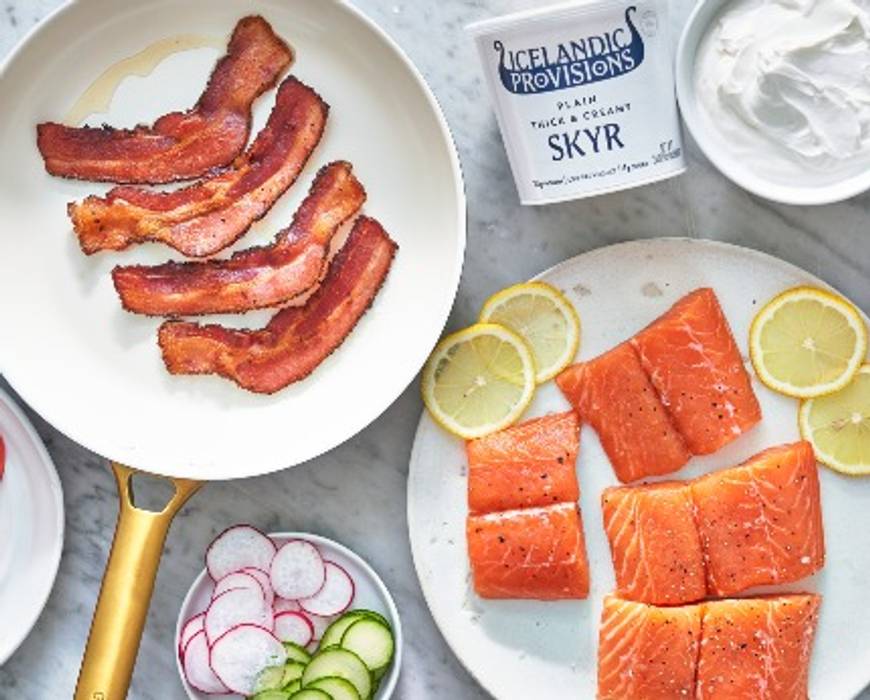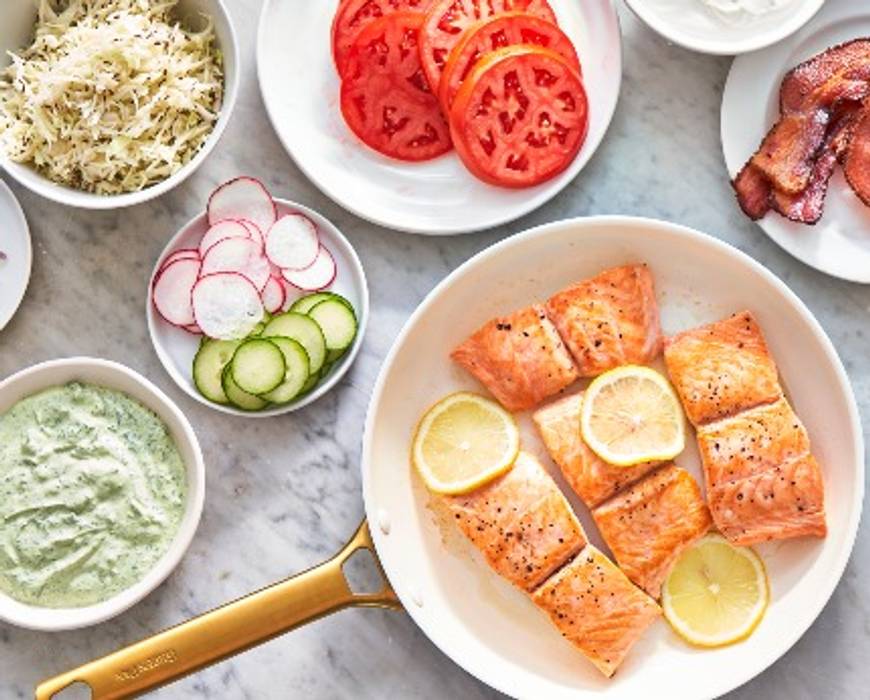 Yields: 4 sandwiches
Time: 15 minutes prep, 25 minutes cooking
INGREDIENTS:
For the Cabbage Salad
1/2 medium head green cabbage, core removed and very thinly shaved (about 4 cups)
1 teaspoon kosher salt
1 tablespoon apple cider vinegar
1 tablespoon caraway seeds, lightly toasted in a skillet
For the Green Goddess Dressing:
1 cup Icelandic Provisions Plain Skyr
1/2 cup parsley leaves, large stems removed
1/2 cup basil leaves
1 tablespoon lemon juice
1 teaspoon honey
2 teaspoons low sodium tamari or soy sauce
1 teaspoon fish sauce
1/4 cup finely chopped fresh dill sprigs
kosher salt, to taste
For the Sandwich
8 slices thick cut bacon
4 6-ounce skinless salmon fillets, pin bones removed, about 1" thick
Kosher salt and fresh cracked black pepper
2 medium shallots, thinly sliced
2 to 3 radishes, thinly sliced into rounds
Half an English cucumber, sliced into 1/8" rounds
8 tomato slices, such as beefsteak or heirloom varieties, 1/4" thick
8 slices sourdough or rustic white bread
½ cup Icelandic Provisions Plain Skyr 
PREPARATION INSTRUCTIONS:
In a large mixing bowl, combine the cabbage and salt. Using your hands, repeatedly squeeze the cabbage for a few minutes to lightly break it down and tenderize it.  Stir in the vinegar and toasted caraway seed and place in the refrigerator while preparing the rest of the ingredients for the sandwich.   
For the dressing, combine the skyr, parsley, basil, lemon juice, honey, tamari and fish sauce in the carafe of a blender and blend on medium-high speed until bright green with only small specks of herbs remaining. Transfer the dressing to a small mixing bowl and stir in the chopped dill.  Taste, adjust with salt or lemon juice as desired and place in the refrigerator.   
Place a 12" GreenPan skillet on the stovetop over medium heat and lay the 8 slices of bacon in one layer on the bottom of the pan. (If your bacon strips are too large to fit all of them at once, cook half of them, then repeat the procedure with the remaining half.)  Cook for 4 to 5 minutes, turning as needed, until a few tablespoons of fat has rendered out of the bacon and into the pan.  Then turn the heat up to medium-high and cook 3 to 4 minutes more until the bacon is well browned and crisp.  Transfer to a paper towel lined plate and set aside.  Pour off all but 1 tablespoon of the bacon fat from the skillet and return the skillet to the stovetop.
Lightly salt and pepper both sides of all four salmon fillets. With your GreenPan skillet still over medium-high heat, sear the fillets for about 5 minutes on the first side then flip and cook for 3 minutes more to reach medium-rare/medium. If preferred, cook an additional 1 to 2 minutes more on the second side for a medium-well or beyond salmon.  Remove the salmon from the skillet and place on a wire rack or plate to allow them to rest. 
Wipe your GreenPan skillet clean and place back on the stovetop over medium-high heat.  If you'd like, you can place a second skillet on the stovetop to cook all the bread more quickly.  Thinly spread 1 tablespoon of Icelandic Provisions Plain Skyr on one side of all 8 pieces of bread.  Place the bread slices, skyr side down, in the skillet and toast for 2 to 3 minutes until beautifully golden brown and slightly crisped.  Flip each piece of bread over and toast for 1 minute more on the bare side.  Remove the bread to a clean countertop or large cutting board to begin assembling the sandwiches. 
Place 4 slices of bread in front of you, toasted skyr side down. Top each with two slices of bacon and then some of the cabbage salad. Follow with a thin layer of sliced shallot, radish and cucumber drizzled with some of the green goddess dressing.  Place one salmon fillet on each sandwich and top with two slices of tomatoes.  Drizzle a bit more dressing on top of the tomatoes and top the sandwiches with a second slice of the bread. 
TIPS:
To ensure your salmon is as evenly cooked as possible, allow it to sit at room temperature for 10 to 15 minutes before searing it in the pan.  If the fish is too cold going into the pan, the outside will overcook while you're waiting for the center to reach the perfect temperature you're looking for!
Different brands of fish sauce and soy sauce can vary greatly in how salty they taste!  If you aren't sure about yours, its always good to start with a little less than a recipe calls for, and then add more to your own personal taste based on the ones you're cooking with.  
Featured Product
Reserve Ceramic Nonstick 10-Piece Cookware Set | Twilight with Gold-Tone Handles
World-class performance meets eye-catching contrast in GreenPan Reserve. But it's more than good looks: the duoforged hard anodized construction makes this set extra tough. This set makes it simple to find your style at home.