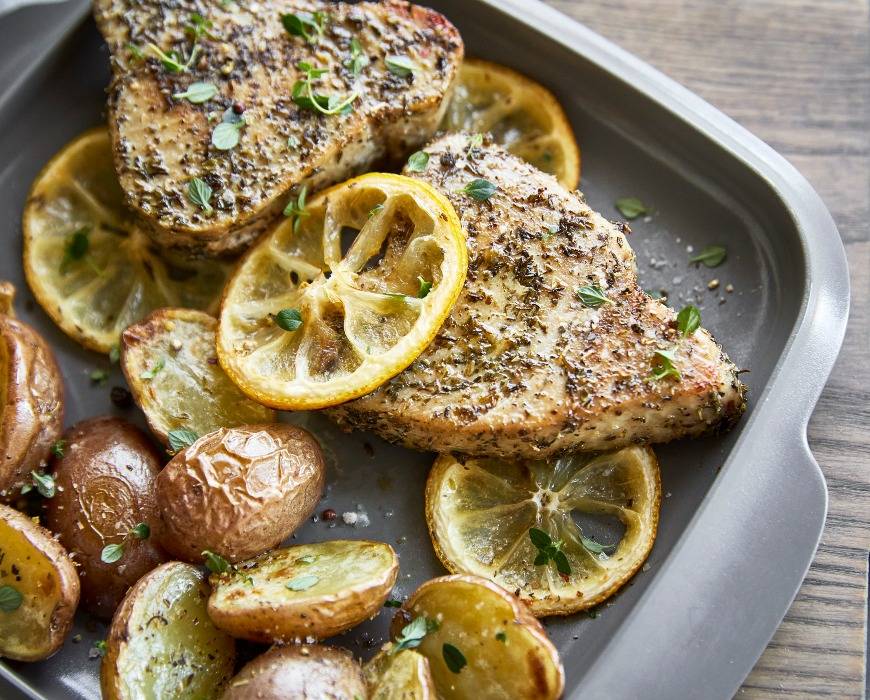 Lemon-Herb Tuna Steaks with Potatoes
Yields: 2 servings
Time: 15 minutes prep, 15 minutes cooking, 30 minutes total
INGREDIENTS:
For the herb mix
1/2 teaspoon salt
1/2 teaspoon garlic powder
1/4 teaspoon pepper
1/4 teaspoon dried oregano
1/4 teaspoon dried basil
For the tuna
2 tuna filets (about 3/4-inch thick)
2 tablespoons olive oil
2 teaspoons fresh lemon juice
1/2 lemon, sliced into thin rounds
For the potatoes
3/4 pound Yukon gold or red potatoes, quartered or halved
1 tablespoon olive oil
2 teaspoons finely chopped parsley, for garnish
PREPARATION INSTRUCTIONS:
Prepare to bake—Preheat oven to 450°F.
Mix the herbs—In a small bowl, stir together salt, garlic powder, pepper, oregano, and basil.
Marinate the tuna—Place about half the herb mix in a large zip-top bag along with 2 tablespoons olive oil and 2 teaspoons lemon juice. Add the tuna filets and seal bag. Massage filets to distribute marinade evenly. Chill in refrigerator for 15 minutes or so.
Meanwhile, prep the potatoes—While tuna marinates, add potatoes to a large bowl along with 1 tablespoon olive oil. Toss to coat evenly. Sprinkle with the rest of the herb mix and stir till everything's evenly combined.
Bake the potatoes—Place potatoes on half of a nonstick 8" x 8" baking pan. Bake in preheated oven for 15 minutes.
Bake the tuna—Place tuna filets in empty side of the pan and add lemon slices. Return to oven and bake for 6 minutes. Flip and continue cooking until potatoes are fork-tender and tuna is cooked through—about 6 more minutes.
Garnish and serve—Transfer tuna and potatoes to individual plates. Sprinkle with chopped parsley and serve hot.
TIPS:
Healthy Swap—Tuna steaks are low in calories and saturated fat, while packed with protein and heart-healthy omega 3s. Win-win!
Appealing idea—We love leaving the skin on Yukon Golds or red potatoes in almost any recipe. More nutrition + less prep? Yes, please!
Featured Product
Premiere Ovenware Ceramic Nonstick 8" x 8" Square Baker
Incredible for sides and serving, this baker goes from oven to table with dependable built-in handles. The one-piece design ensures years of performance, so you can do more in the oven.