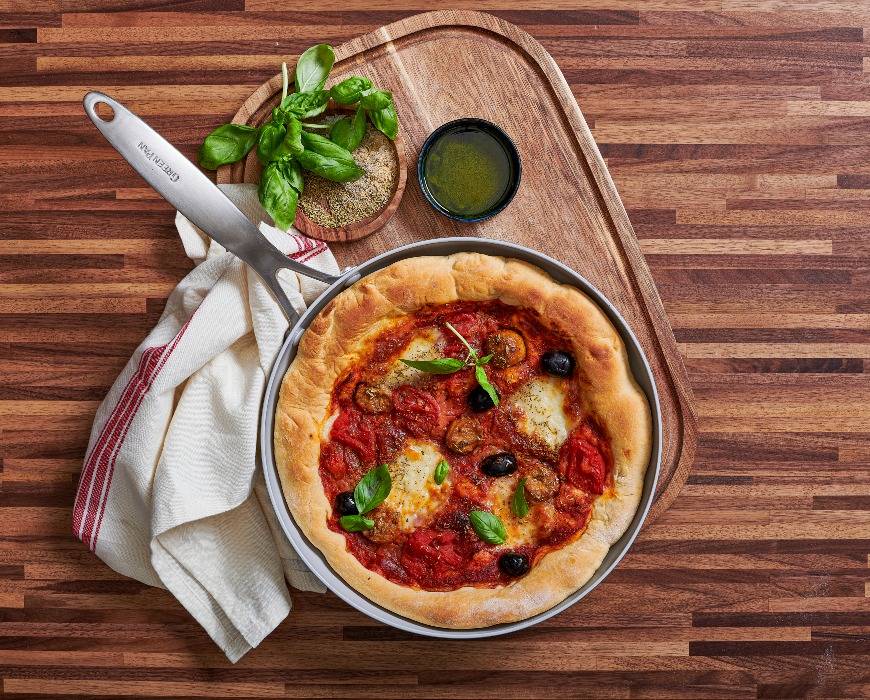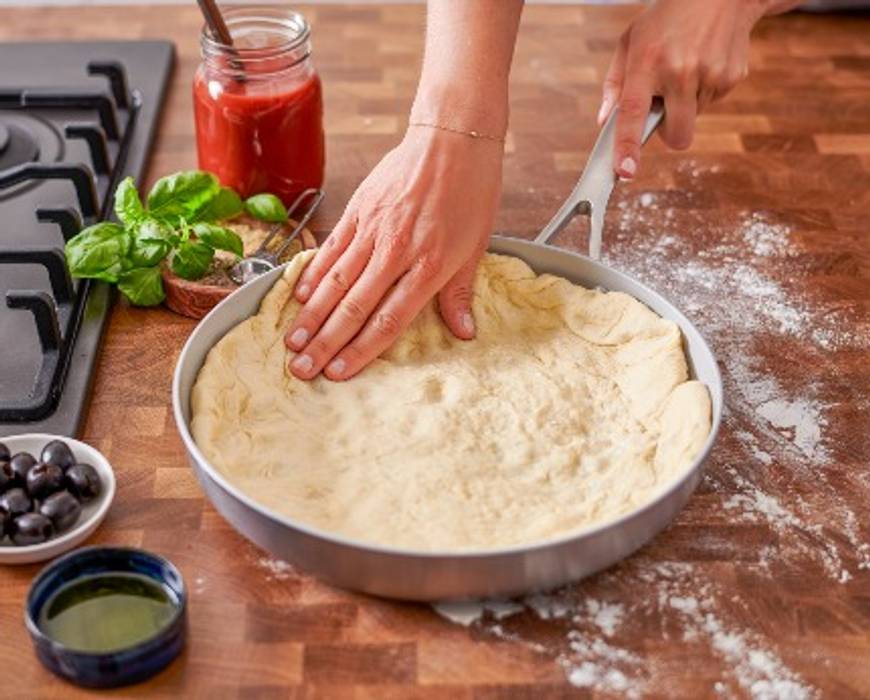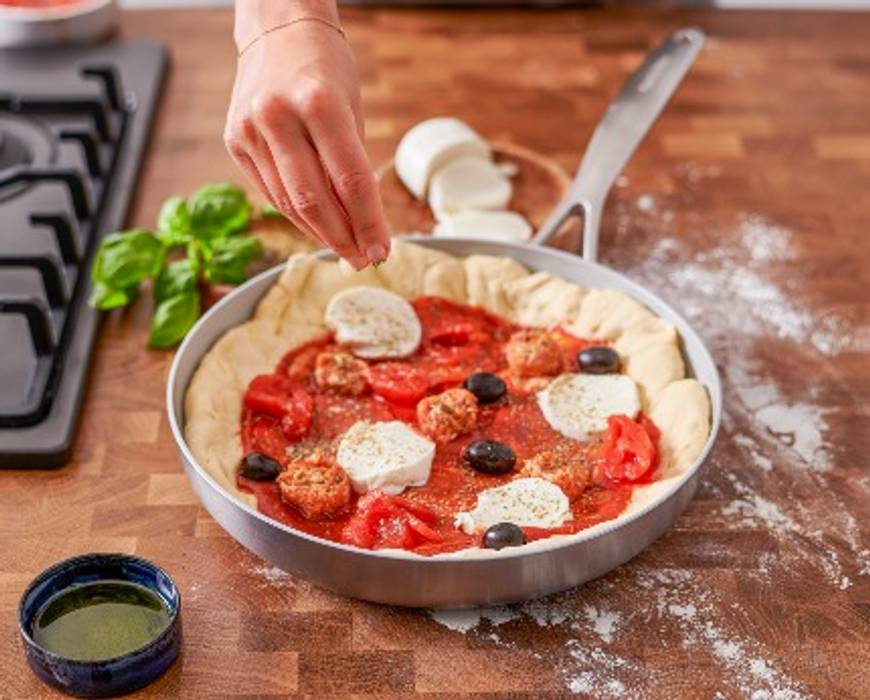 Yields: 2 Servings
Time: 10 min prep, 10 min cooking, 20 min total 
Ingredients:
For the dough
1 package active dry yeast

1 teaspoon white sugar

1 cup warm water (45oC)

2 ½ cups bread flour

2 tablespoons olive oil

1 teaspoon salt

For the sauce
170g tomato paste

425g tomato sauce

1-2 tablespoon(s) oregan to taste

2 tablespoons Italian seasoning

1/2 teaspoon garlic powder

1/2 teaspoon onion powder

1/2 tablespoon garlic salt

1/4 teaspoon freshly ground black pepper

For the toppings
Mozzarella

Italian fennel sausage

Pepperoni

Kalamata olives

Italian plum tomatoes

Fresh herbs
 
PREPARATION INSTRUCTIONS:
Make the crust—In a medium bowl, dissolve yeast and sugar in warm water. Let stand until creamy, about 10 minutes. Stir in flour, salt and oil. Beat until smooth. Let rest for 5 minutes. Turn dough out onto a lightly floured surface and pat or roll into a round shape. Place the dough in a lightly oiled bowl and allow to rise for about 1 hour or until doubled in size. Place the dough on a floured baking tray and let it rise for another 30 minutes. Using a rolling pin or your hands, roll out the dough into a pizza shape big enough for your frying pan. Make sure you press your dough evenly in the pan. That will help the bottom cook evenly.
Make the sauce—Mix tomato paste and sauce together in a medium size bowl until well combined (all the lumps of paste are incorporated into the sauce). Add the rest of the ingredients (oregano, Italian seasoning, garlic powder, onion powder, garlic salt, pepper and sugar) and mix well!
Make the pizza—Spread the sauce on the pizza and lay over the toppings of your choice (we used mozzarella, Italian fennel sausage, pepperoni, Kalamata olives, Italian plum tomatoes and fresh herbs). Next, cook your pizza in the frypan on the stove for about 5 minutes on medium heat. This will help you get a perfectly crispy crust. Lastly, put the pizza in the oven at 218°C and wait until it is golden, then serve!
TIPS:
Flour Power - All-purpose flour will make a fine dough, but use bread flour if you want your crust to get crispier.
Featured Product
Venice Pro Ceramic Nonstick 12" Frypan
Designed to stay shiny for years, this 12" frypan is a stunning and spacious addition to any kitchen. Finished with our signature healthy ceramic nonstick coating, it's safe for all cooking surfaces (ovens, too).