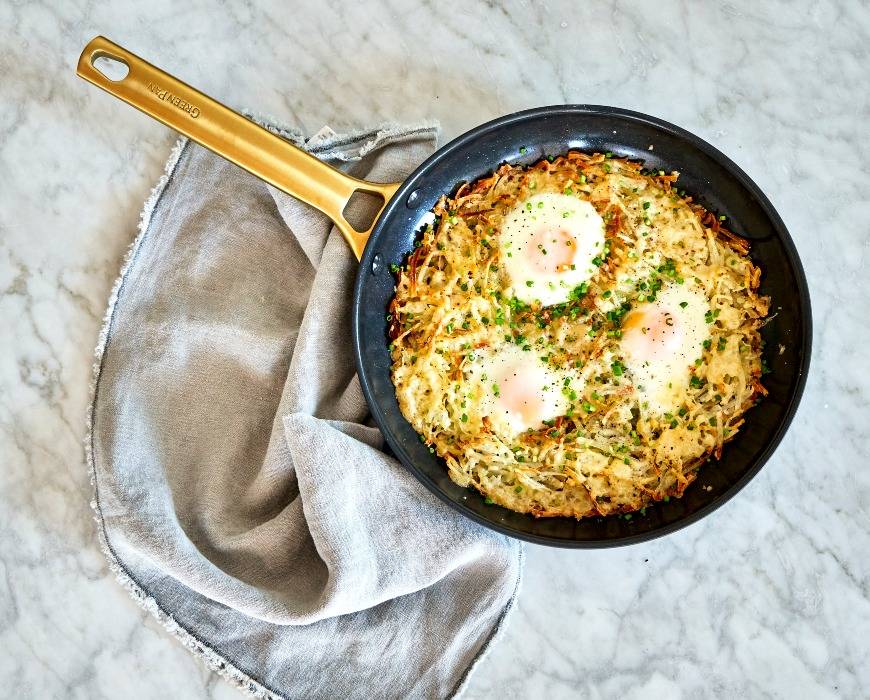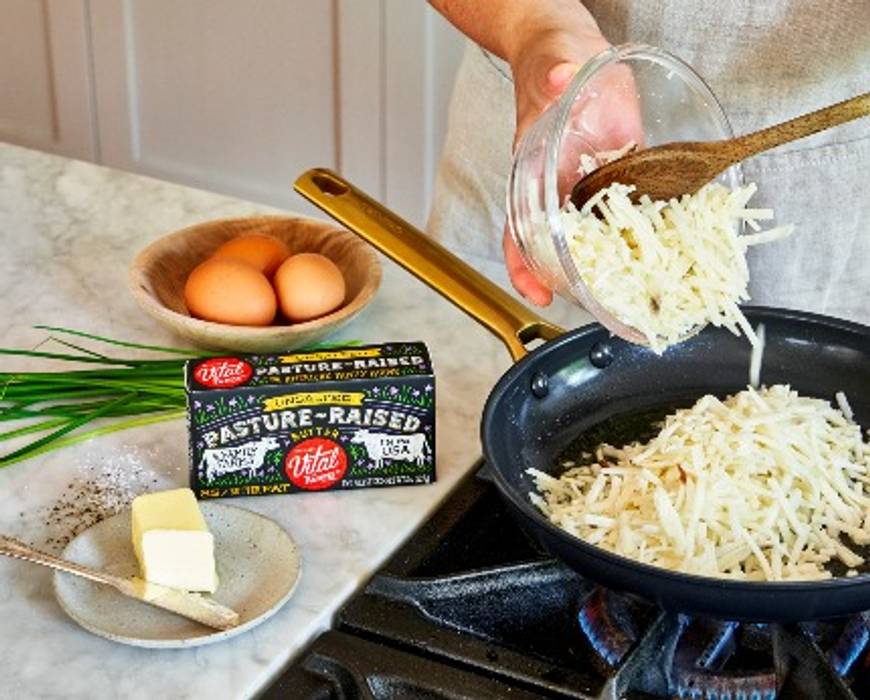 Skillet Cheesy Hash Browns and Eggs
Yields: 4 servings
Time: 10 minutes prep, 25 minutes cooking, 35 minutes total
INGREDIENTS:
5 tablespoons Vital Farms pasture-raised unsalted butter, divided
3 cups frozen hash browns or shredded potatoes
3 Vital Farms pasture-raised eggs
½ cup shredded cheddar (or cheese of your choice)
1 tablespoon chives
Salt + pepper
PREPARATION INSTRUCTIONS:
1. Preheat oven to 375 degrees. In an oven-safe skillet, melt 2 tablespoons butter and spread it across the surface of skillet.
2. Once entire surface is coated, add shredded potatoes, and spread into an even layer. Season with salt and pepper and create 3 pockets within the potatoes.
3. Dot 2 tablespoons butter over the surface of potatoes and place in oven for 15-18 minutes.
4. Remove skillet from oven and distribute the remainder of the butter into the 3 pockets evenly. Carefully crack eggs into the pockets.
5. Top the potatoes with cheese and return skillet to oven for about 8-10 minutes or until egg whites are set and the potatoes are golden.
6. Season with salt and pepper and finish with a sprinkle of chives.
Featured Product
Reserve Ceramic Nonstick 10" and 12" Frypan Set | Black with Gold-Tone Handles
These sleek black pans are more than good looks: these pans are crafted from hard anodized aluminum for incredible strength and durability. The two versatile sizes are perfect for flavor-packed braises, crispy veggies, and so much more.