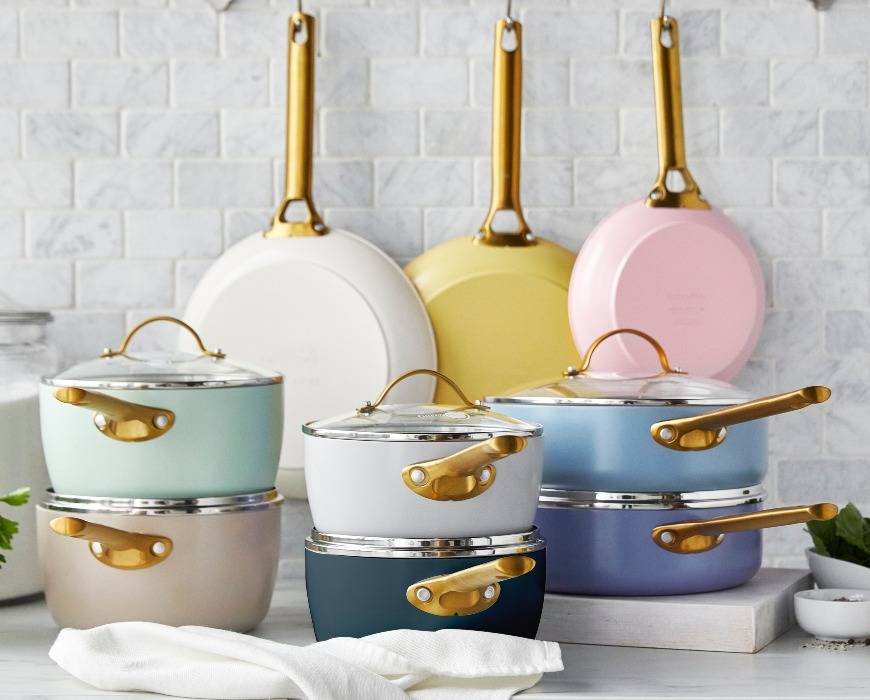 Reserve Colors: What Hue Suits You?
From the powerful construction to our state-of-the-art ceramic nonstick, Reserve is our bestselling collection for countless reasons. However, what makes Reserve really stand out is the wide range of colors you have to choose from! Whether you enjoy light and airy or dark and daring, there's a style to match every type of aesthetic. Explore the wonderful world of Reserve and start making all your meals a works of art.  
Twilight is the perfect complement to someone with a timeless aesthetic and is a flawless fit for a modern, industrial style kitchen. Like a painting in the night sky, this deep blue color is sleek, sophisticated, and elevates every meal. Plus, the bright gold-tone handles are the perfect contrast.  
Reminiscent of the wine it's named after, Merlot is a deep, rich shade of red that exudes luxury and sophistication. The soft burgundy hue is the perfect fall color; however, these pans look gorgeous all year round. Pair Merlot with neutrals like black, white, and gray or create a warm, cozy vibe with complements like rust, gold, or navy.  
Gray is both a neutral and versatile color that's calming and won't overwhelm a space, so the meals can do all the talking. This minimalistic color will fit right into your love for the simple things. For a classy and quaint addition to your kitchen, gray is definitely the way to go.   
Normally associated with nature, Taupe looks wonderful with organic or rustic décor. The perfect balance of gray and brown – Taupe is warm, earthy, and creates an inviting aura every time you cook. Taupe also pairs well with jewel tones like emerald and ruby, as well as pastel shades like blush, mint, or lavender.  
Sunrise combines shades of pink, orange, and yellow for a pop of color that brings joy to every meal. This beautiful blend of warm colors evokes feelings of hope, optimism, and new beginnings – perfect for trying new recipes and mastering your favorites. Sunrise is vibrant, inviting, and shines both on and off the stovetop.  
Inspired by the gorgeous flower of the same name, Wisteria is a bold and daring color that exudes energy and excitement. Like the bright neon lights of a bustling city, Wisteria makes a statement with every meal. This light shade of purple with blue undertones pairs well with soft, muted colors like blush, sage, or ivory. For a beautiful cooking experience filled with character, add Wisteria to your kitchen. 
Just like a summer day without a cloud in the sky, this serene set of kitchen tools is both calming and soothing. Sky Blue creates a fresh, airy atmosphere and pairs well with other soft and muted colors like blush, beige, or gray. This tranquil hue brings out the best in every meal and keeps things calm, cool, and collected in the kitchen.  
Often used to create a classic or timeless ambience, Cream is a light shade of beige that has a subtle yellow undertone. Cream pairs well with bright and light blues or add some tan for the perfect seaside color palette. Whether you're using this versatile color as a neutral base or a pop of color, Cream brings a touch of luxury and refinement to any space.  
Blush is a light shade of pink with a subtle peach undertone that exudes elegance and femininity. This beautiful color keeps things peaceful in the kitchen and pairs perfectly with rich navy blues, black, or gorgeous greens like mint or sage. With this romantic and dreamy color, blushing never looked so good. 
Inspired by the classic Southern cocktail, Julep is unique, playful, and adds a refreshing touch to your space. This pale shade of green has a subtle blue undertone and instantly relaxes you while you cook. Pair Julep with hot pink or cool white for a zesty, fashion-inspired vibe.  
Any of these colors piquing your interest? (or all of them?) If you're still on your color journey and aren't sure what your kitchen style is, take our quick color quiz and discover the color that brings out the best in your dishes.  
Featured Collection
Reserve
This red-carpet-ready set comes in a host of head-turning colors featuring statement-making gold-tone handles. Plus, the extra tough hard anodized bodies ensure it performs as good as it looks. When style matches substance, it's easy to make every meal healthy.Discover...