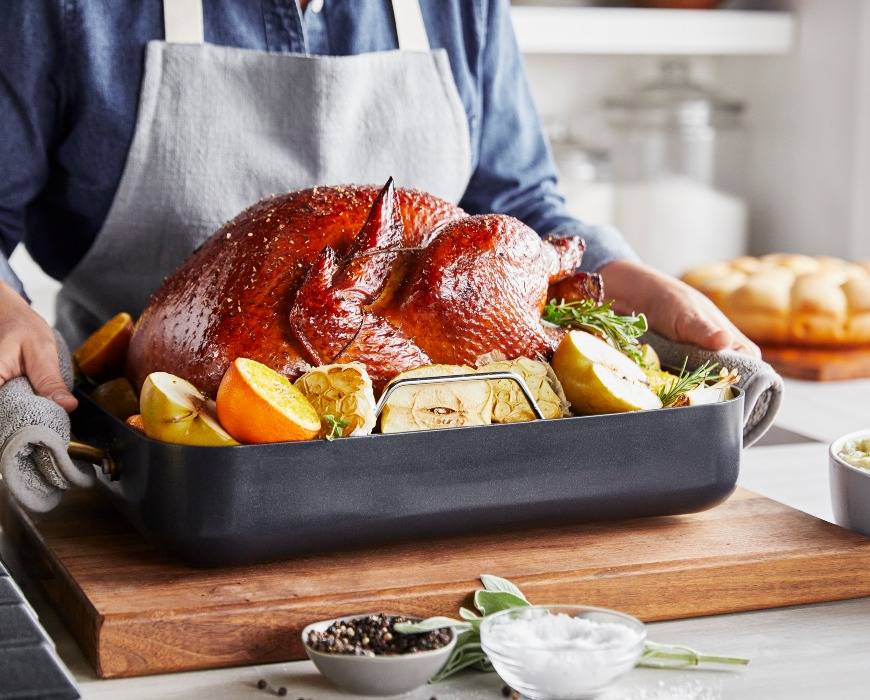 A Simply Perfect Roast Turkey
Yields: 10 to 12 servings
Time: 30 minutes prep, 2 1/2 hours roasting, up to 24 hours brining

INGREDIENTS:
For the brine:
1 1/2 gallons water, divided 

 

1 1/2 cups kosher salt (if using iodized salt reduce to 1 cup) 

 

3/4 cup granulated sugar 

 

1 orange, cut into 8 pieces 

 

1 lemon, cut into 8 pieces 

 

1 large lime, cut into eight pieces 

 

4 garlic cloves, crushed 

 

4 bay leaves 

 

14 to 15-pound turkey, completely thawed 

 


 For roasting :
Brined turkey 

 

4 to 5 pounds mixed fruits, halved (blood oranges, navel oranges, lemons, apples, and apricots) 

 

Fresh rosemary 

 

Fresh sage 

 


 PREPARATION INSTRUCTIONS:
Start the brine—Bring 4 cups of water to a low boil in a large saucepan over medium-high heat. Stir in salt and sugar until completely dissolved. Add orange, lemon, lime, garlic, and bay leaves. Reduce heat to low, cover, and let simmer for 30 minutes. 


Finish the brine—Transfer mixture to a large pot, add remaining water, and refrigerate brine until completely cooled. 


Brine the turkey—Place turkey in a large plastic container and pour in brine. Be sure turkey is completely submerged in brine. Brine turkey in refrigerator for one hour per pound, but not more than 24 hours. Thoroughly rinse all brine from turkey before roasting. 


Roast the turkey—Preheat oven to 425 degrees F. Place fruit pieces cut side up in the bottom of roasting pan. Add brined turkey to pan and top with sprigs of fresh rosemary and sage. Roast turkey in preheated oven for 2 1/2 hours or until meat thermometer inserted into the thickest part of the breast registers 165 degrees. Transfer turkey to carving board, tent with foil and let it rest at least 15 minutes before slicing. 


TIPS:
When you remove turkey from the oven, it needs time for moisture to redistribute throughout the meat. Slice too soon, and all the liquid will escape leaving your beautiful bird incredibly dry.  
Featured Product
Reserve Ceramic Nonstick Roaster with Rack
World-class tech meets eye-catching style in GreenPan Reserve. This hard anodized roaster is designed for effortless oven cooking—flavor-packed roasts, crispy veggies, and family-sized lasagnas are just the beginning.