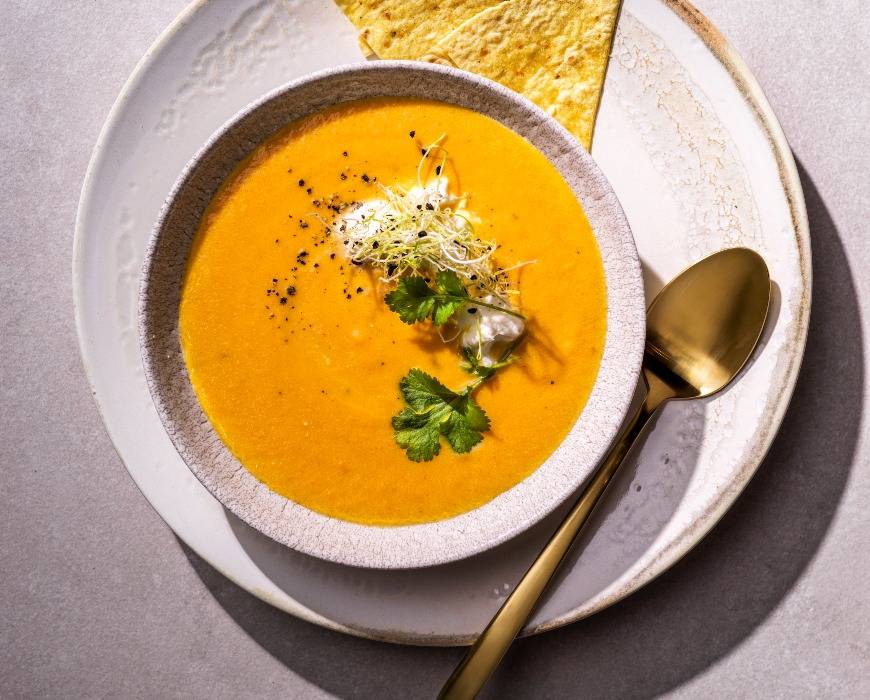 Yields: 4 servings
Time: 10 minutes prep, 40 minutes cooking, 50 minutes total

INGREDIENTS:
For the soup:
1 tablespoon butter
1 large white onion, chopped
3 cups reduced-sodium vegetable broth
1 pound carrots, sliced into 1-inch (or so) pieces
1 tablespoon grated fresh ginger
1/4 cup sour cream
Salt and freshly ground pepper to taste
2 tablespoons fresh chopped chives or thyme for garnish

For the sour cream drizzle:
1/4 cup sour cream
1 to 2 teaspoons milk

PREPARATION INSTRUCTIONS:
Sauté the onions—Melt butter in a large soup pot or Dutch oven over medium heat. Add onions and sauté, stirring often, for about 5 to 6 minutes or until onions are soft.
Start the soup—Add broth, carrots, and ginger, then cover and bring to a boil. Reduce heat to low and simmer for about 30 minutes or until carrots are soft.
Blend the soup—Stir in the sour cream until combined. Use an immersion blender (or carefully work with batches in a regular blender) and blend until silky smooth. Increase heat to medium high and return soup to boil. Add salt and freshly ground black pepper to taste.
Garnish and serve—In a small bowl, stir together sour cream and milk until evenly combined. Ladle soup into individual bowls and drizzle with sour cream mix. Garnish with fresh herbs and serve hot.

TIPS:
Cut Down on Prep—Feel free to skip the slicing and opt for a pound of baby carrots instead.
Lighten Up—Our recipe also works great with reduced-fat or plant-based sour cream and milk (replace the butter with olive oil for a vegan version).
Featured Product
Venice Pro Ceramic Nonstick 7-Piece Cookware Set
Featuring 7 pieces, this versatile set is perfect for nailing just about any meal. And look a little closer. You'll find more smart details, like two pour spouts and a built-in strainer on our stockpot lid for no-sweat prep.