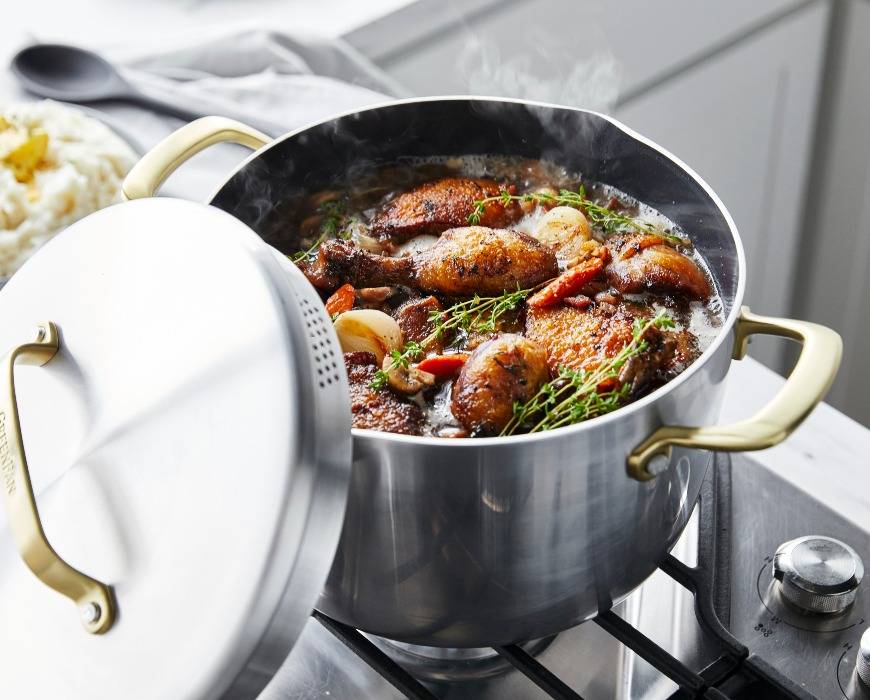 Yields: 4 to 6 servings
Time: 30 minutes prep, 1 hour cooking, 1 hour 30 minutes total
INGREDIENTS:
1 whole chicken, cut into parts or 4 pounds chicken thighs
2 tablespoons olive oil
4 ounces diced bacon or pancetta
Salt and freshly ground black pepper to taste
1/2 pound carrots, cut diagonally into 1-inch pieces
4 to 5 Italian pearl onions, peeled and halved
2 garlic cloves, minced
1/4 cup cognac or brandy
2 cups red wine
2 cups chicken stock
1 tablespoon tomato paste
1 bay leaf
1 tablespoon fresh thyme leaves
1 tablespoon olive oil
1/2 pound of fresh mushrooms, cleaned, trimmed and quartered
1 tablespoon butter, softened
1 1/2 tablespoons flour
A few fresh thyme sprigs for garnish
Mashed potatoes for serving
PREPARATION INSTRUCTIONS:
Prepare to cook—Remove chicken from refrigerator about 30 minutes before cooking.


Cook the bacon—Heat oil in a large nonstick stockpot over medium heat. When oil is shimmering, add bacon and cook, stirring occasionally, until browned and crispy—8 to 10 minutes. Use a slotted spoon to transfer bacon to a paper towel-lined plate.


Meanwhile, prep the chicken—Pat chicken dry with paper towels and season generously on both sides with salt and pepper.


Brown the chicken—Working in batches, place chicken in stockpot and cook without disturbing for 5 minutes. Flip and cook the other side for about 5 minutes or until both sides are evenly browned. Transfer chicken to a plate and continue with the rest of the pieces. Set aside. Pour off all but 2 tablespoons of fat from pot.


Sauté the carrots and onions—Return stockpot to medium heat and add carrots and onions. Sprinkle generously with salt and pepper. Sauté, stirring occasionally, until onions are lightly browned. Add garlic and cook for another minute, stirring constantly to prevent garlic from burning.


Start the braise—Add cognac to stockpot and stir to scrape brown bits from the bottom of pan. Pour in wine and chicken broth and add tomato paste, bay leaf, and thyme leaves. Give it a good stir and bring to a boil. Reduce heat to low and simmer, uncovered, for about 15 minutes.


Cook the coq au vin—Add the carrots to the stockpot, along with the chicken and any accumulated juices from the plate. Bring to a simmer, then cover and cook over low heat until chicken is cooked through and carrots are tender—about 30 minutes.


Meanwhile, sauté the mushrooms —Add olive oil to a large skillet over medium heat. When oil is shimmering, add mushrooms and let them cook without stirring for about 5 minutes. Sprinkle with salt and sauté, stirring occasionally, until mushrooms are browned on both sides—another 3 to 4 minutes.


Thicken the sauce—In a small bowl, mash together the softened butter and flour to create a paste. Stir paste into the stockpot and simmer, uncovered, for another 10 minutes. Fish out the bay leaf and discard.


Finish and serve—Stir in mushrooms and bacon and top stew with a handful of fresh thyme leaves. Taste and adjust seasonings, if needed. Serve over mashed potatoes. Enjoy!
TIPS:
Not a Cognac drinker? Don't buy a whole bottle just for this recipe. You can likely find mini bottles at a liquor store or simply add extra red wine.
Walk on the Mild Side—If you find red wine a little too intense, try subbing in white wine or replace half the wine with chicken stock.
Featured Product
GP5 Stainless Steel 8-Quart Stockpot with Lid | Champagne Handles
Big batches just got a lot easier. This spacious stockpot features our cutting-edge Infinite8 ceramic nonstick and a 5-ply stainless steel body for years of remarkable performance.