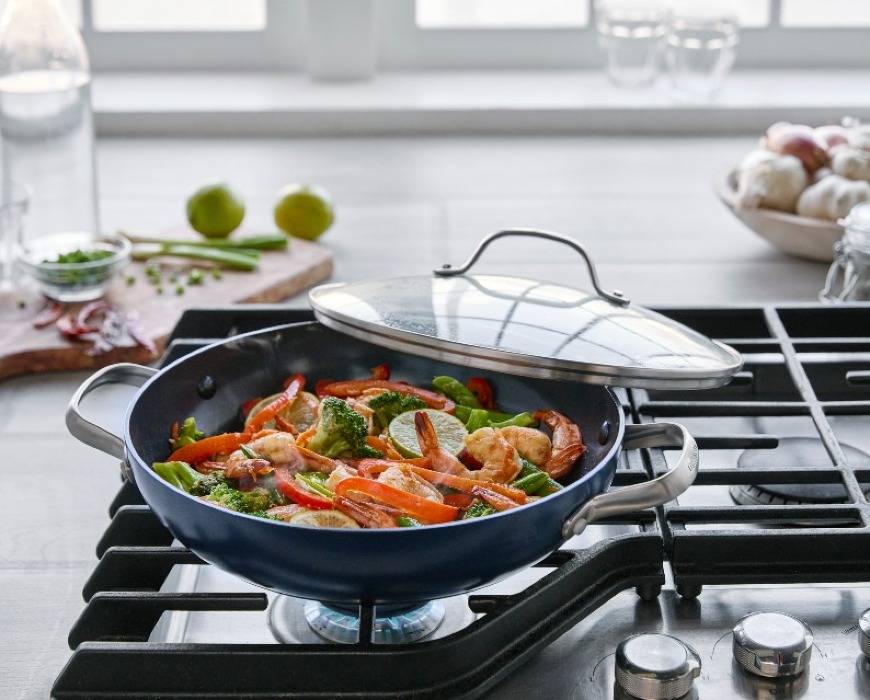 Yields: 4 servings
Time: 5 minutes prep, 10 minutes cooking, 15 minutes total
INGREDIENTS:
For the sauce
1/4 cup low-sodium soy sauce
3 garlic cloves, minced
3 tablespoons brown sugar
1 teaspoon sesame oil
For the stir fry
1 pound large shrimp, peeled and deveined
1 red bell pepper, thinly sliced
3/4 cup chicken broth
1 teaspoon cornstarch
2 cups broccoli florets
1 cup sugar snap peas
1 lime, cut in half with 1 half sliced into thin rounds
PREPARATION INSTRUCTIONS:
Make the sauce—Whisk together soy sauce, garlic, brown sugar, and sesame oil in a small bowl.
Start the stir fry—In a large, high-sided skillet over medium-high heat, add the shrimp and bell pepper, along with the sauce. Stir fry until shrimp is pink—about 2 to 3 minutes.
Finish the stir fry—In a small bowl, whisk together chicken broth and cornstarch and pour into skillet. Add broccoli and sugar snap peas and stir till evenly combined. Scatter lime slices over the top. Cover and cook until broccoli is tender and sauce has thickened—about 3 to 5 minutes. Squeeze juice of half a lime over the top and serve piping hot.
TIPS:
Need to Thaw Shrimp Fast? Submerge them in a large bowl of cold water for about 15 minutes, then pat dry with paper towels.
Clean Out the Crisper—Our recipe works great with asparagus, zucchini and everything in between (think carrots, cauliflower, celery, green beans, mushrooms, and more). 
Featured Product
Performance Pro Ceramic Nonstick 11" Everyday Pan with Lid
True to its name, this versatile, perfectly sized 11" pan covers all your bases—from sautés and sears to braises and bakes. Plus, the duoforged armored body provides extra strength and scratch resistance, perfect for everyday use.