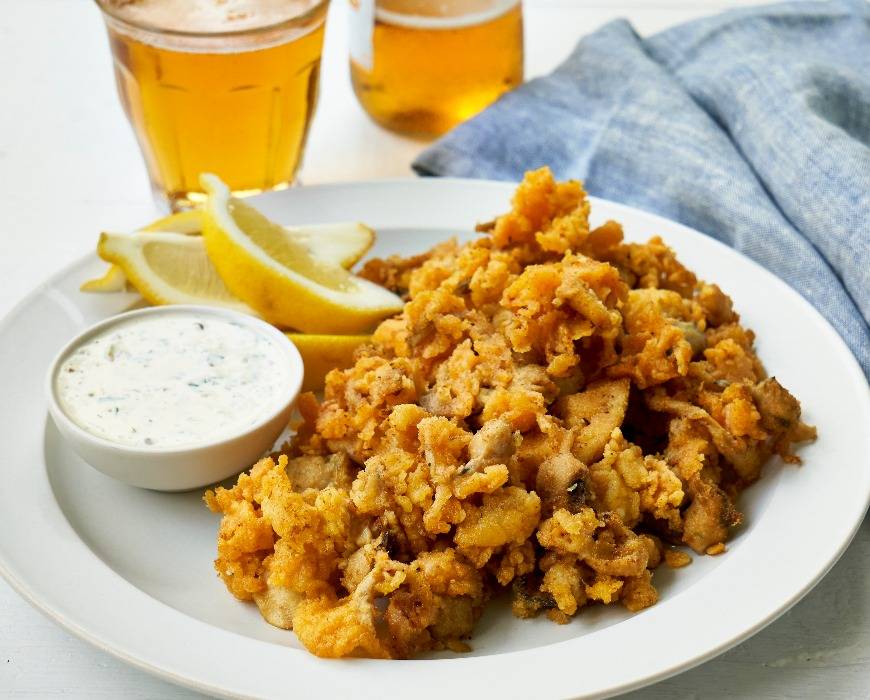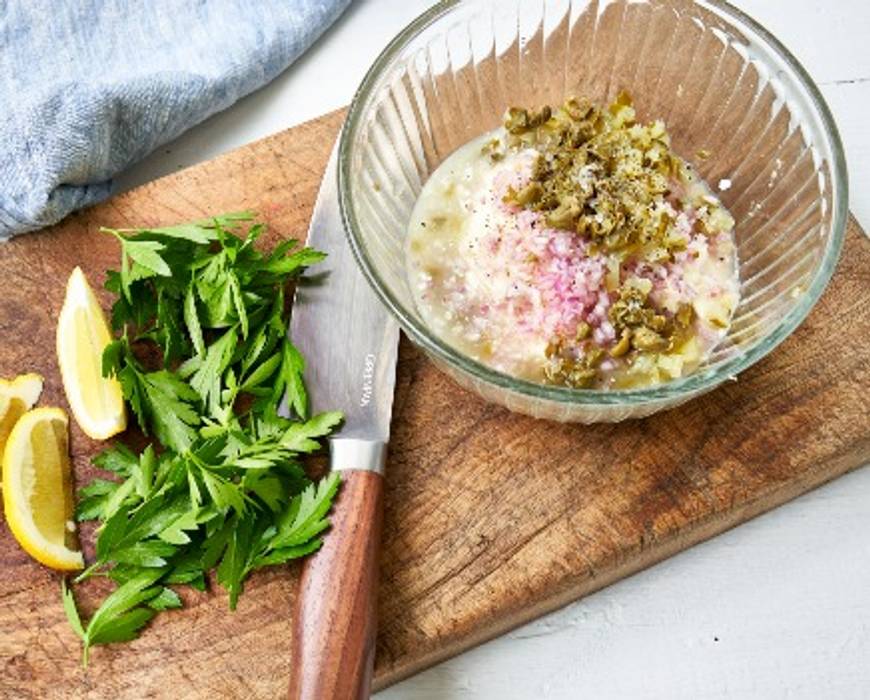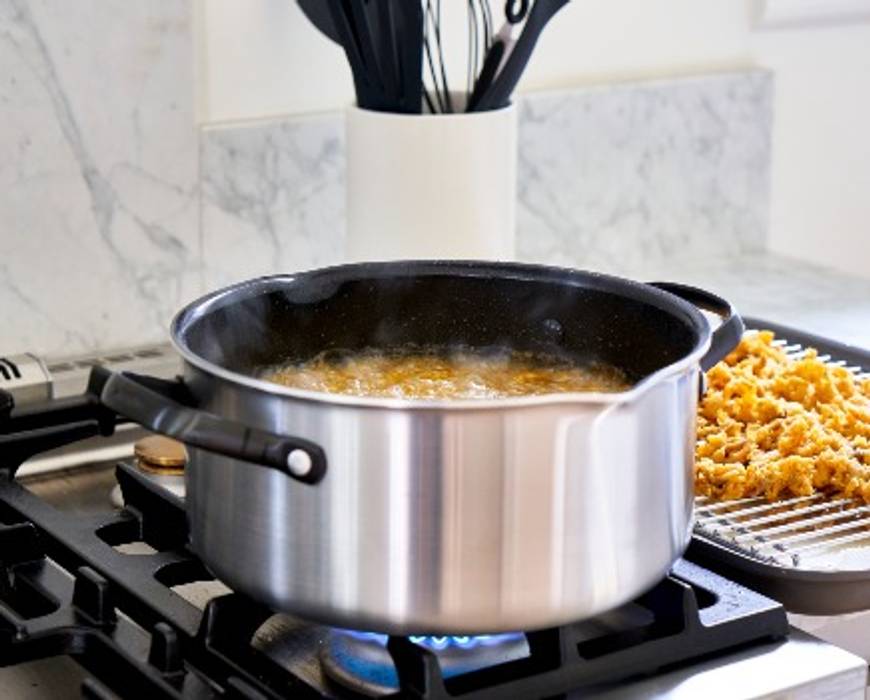 New England Style Fried Clams
Yields: 4 servings
Time: 10 minutes prep, 20 minutes cooking
INGREDIENTS:
For the clams:
1 1/2 pounds shucked whole belly steamer clams
2 quarts vegetable oil (or high heat neutral oil of your choice), for frying
1 cup corn flour (not cornstarch or cornmeal)
1 cup all-purpose flour
1 teaspoon fine kosher salt or sea salt
1/2 teaspoon freshly ground black pepper
1/2 teaspoon smoked paprika
1 cup evaporated milk (or buttermilk)
8 lemon wedges, for serving
For the tartar sauce:
1 cup mayonnaise
1 medium shallot, minced
2 tablespoons dill pickles, minced
2 tablespoons capers, roughly chopped
1 tablespoon pickle juice
1 tablespoon fresh parsley leaves, finely chopped
2 teaspoons lemon juice, more to taste
Kosher salt, to taste
Freshly ground black pepper, to taste
PREPARATION INSTRUCTIONS:
Clean the clams quickly by looking for and removing any bits of shells or grit, then set the clams aside. Heat at least 3 inches of oil to 375 F in a large GreenPan stockpot or saucepan, ensuring the oil doesn't go any more than halfway up the pot or pan.


In a medium mixing bowl whisk to thoroughly combine the corn flour, all-purpose flour, salt, pepper and paprika to make the breading.


Pour the evaporated milk in a separate medium bowl and submerge the clams, stirring gently to ensure they are all evenly coated in the milk.


Using a slotted spoon, carefully lift about a third to half of the clams from the bowl, allowing any excess milk to drip back down. (The amount you can bread and cook at once depends on how large your pot of oil is, keeping in mind it's important to not over crowd the pan so the clams fry perfectly.) Transfer the clams to the bowl with the breading and gently toss until they are evenly coated, ensuring the breading is well adhered to the clams, with no wet spots of milk remaining. Shake any excess breading from the clams, then transfer them to a new slotted spoon (or the previous one that has been thoroughly dried) and carefully submerge them into the 375 F oil.


Let the clams cook for 1 1/2 to 2 minutes, until they are a light golden brown and crisp all over, using the spoon to gently stir the clams every 20 seconds or so - to make sure they won't stick together and that they are cooking evenly. Once cooked, transfer the clams to a wire rack sitting on top of a baking sheet (or a large platter lined with paper towels) to drain. Repeat the breading and frying process until all the clams are done. If needed, you can keep the cooked clams warm in a 250 F oven while frying the rest.


To make the tartar sauce, stir all the ingredients together in a small mixing bowl until evenly combined. Taste and adjust as desired.


Serve the warm clams immediately with a bit of the tartar sauce and some lemon wedges on the side.
TIPS:
If you can't find already shucked steamer clams, or you prefer to do it yourself, blanching them for 30 seconds in boil water than cooling them in cold water will make them far easier to shuck!
Ensure you purchase corn flour, which is different from finely ground cornmeal or cornstarch. This will result in the perfect, classic, New England style fried clams.
To make sure you get the crispiest and non-greasy fried clams possible, take care that the oil stays as close to 375 F as possible when frying! Much higher and you risk burning the breading, and lower can result in them being soggy.
Featured Product
Venice Pro Noir Ceramic Nonstick 13-Piece Cookware Set
Created for demanding home cooks, Venice Pro Noir is the perfect blend of 3-ply responsiveness and effortless ceramic nonstick ease. It's ideal for tender braises, colorful stir-fries, bisques, and more.