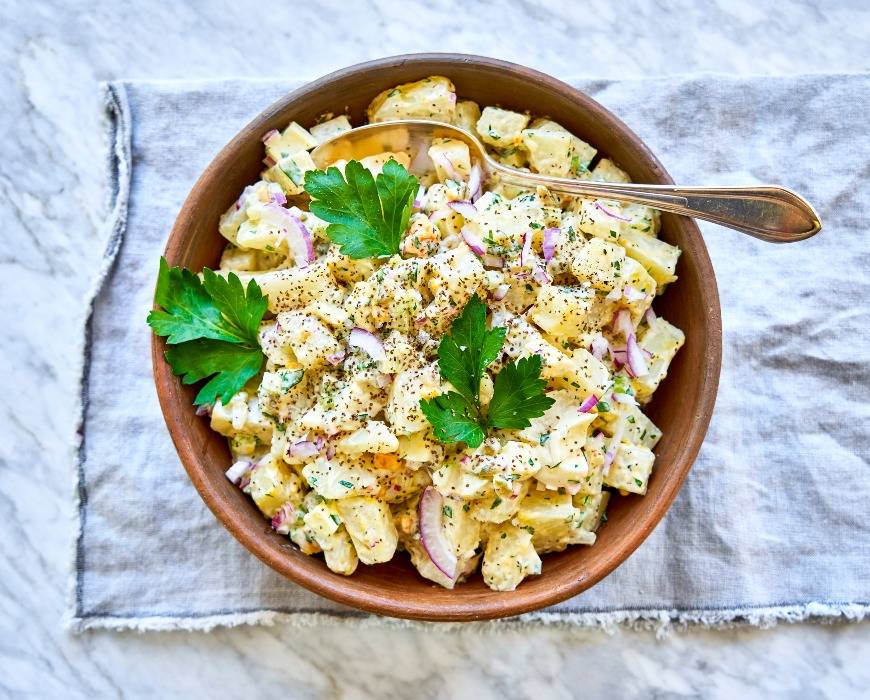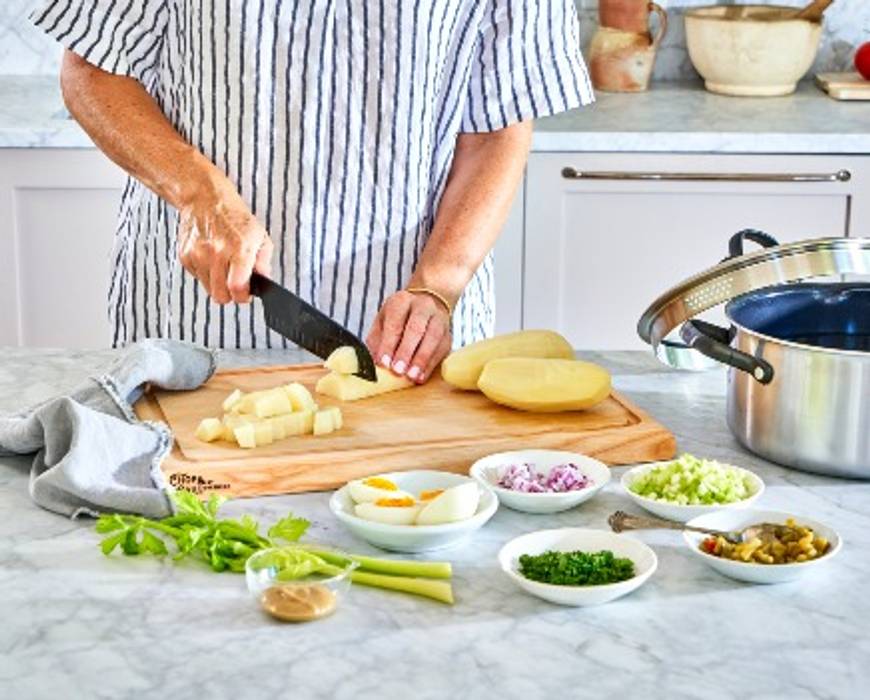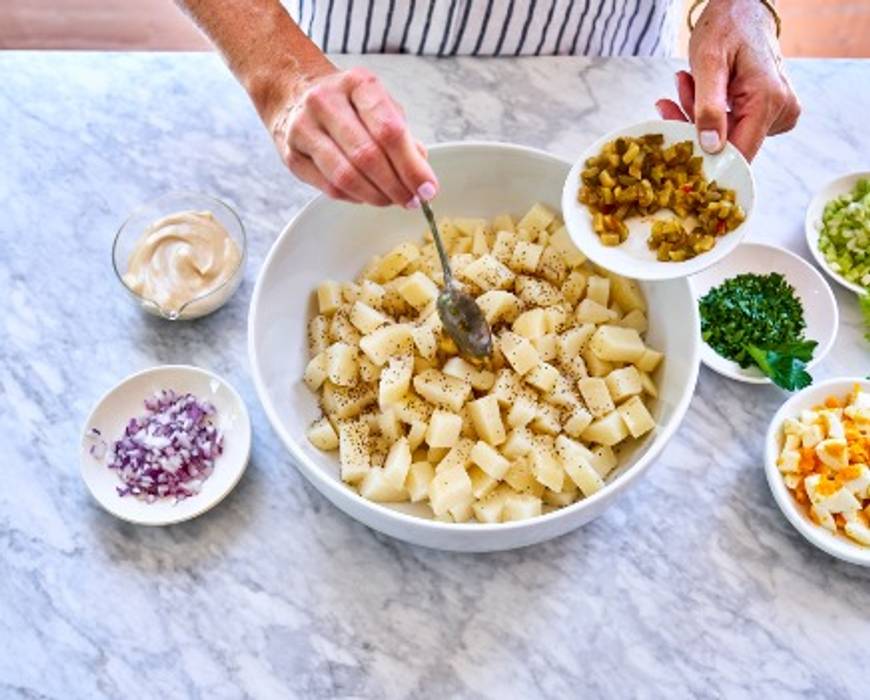 Yields: 8-10 servings
Time: 15 minutes prep, 30 minutes cooking, 45 minutes total

INGREDIENTS:
4 large russet potatoes
1 tablespoon salt
2 tablespoons apple cider vinegar
1/2 cup mayonnaise
2 teaspoons whole grain or yellow mustard
1/2 teaspoon onion powder
2 hard-boiled eggs, peeled and chopped
1/2 cup finely diced celery
1/4 cup dill pickle relish
2 tablespoons minced parsley, plus a few leaves for garnish
2 tablespoons minced red onion
Salt and freshly ground black pepper to taste

PREPARATION INSTRUCTIONS:
Prep the potatoes— Peel and quarter potatoes and place in a large saucepan with enough cold water to cover by 1 inch.


Cook the potatoes—Bring potatoes to boil over high heat, then stir in 1 tablespoon salt. Reduce heat to medium and simmer, stirring occasionally, until potatoes are tender when pierced with a fork—about 10 minutes.


Finish the potatoes—Drain potatoes in colander and return to warm saucepan. Stir in vinegar with spatula and let potatoes sit for about 20 minutes.


Mix the potato salad—In a small bowl, stir together mayo, mustard, and onion powder until well mixed.  Transfer potatoes to a large bowl along eggs, celery, relish, parsley, onion, and mayo mixture. Stir to combine evenly, then season with salt and pepper to taste.


Chill and serve—Cover bowl and refrigerate for at least one hour or until ready to serve. Garnish with fresh parsley leaves.

TIPS:
Make it ahead—our potato salad tastes even better the next day after the flavors have a chance to meld in the fridge.
Appealing idea—Swap russets for Yukon Golds and leave the skin on. More nutrition + less prep—it's a win-win!
Featured Product
Venice Pro Noir Ceramic Nonstick 13-Piece Cookware Set
Created for demanding home cooks, Venice Pro Noir is the perfect blend of 3-ply responsiveness and effortless ceramic nonstick ease. It's ideal for tender braises, colorful stir-fries, bisques, and more.