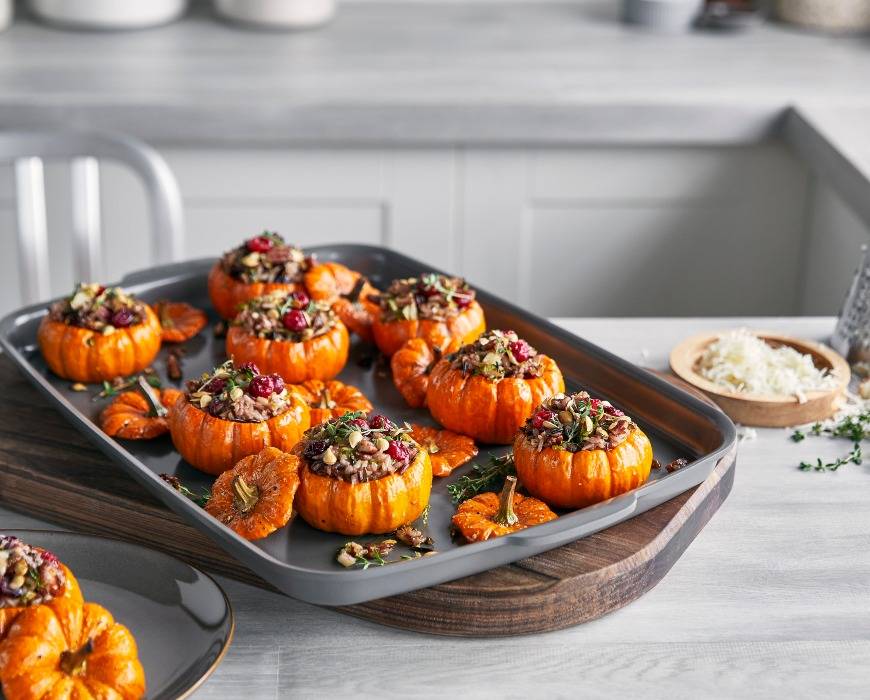 Yields: 8 servings
Time: 30 minutes prep, 1 hour 30 cooking, 2 hours minutes total
INGREDIENTS:
For the rice
2 1/2 cups water
1 1/4 cups uncooked wild rice
For the pumpkins
8 mini pumpkins
2 to 3 tablespoons olive oil
Salt and pepper to taste
2 cups shredded Brussels sprouts (from about 3/4 pound whole sprouts)
2 tablespoons chopped fresh thyme
1 cup chopped pecans, toasted
1/4 cup apple cider
1 cup dried cranberries
For the roasted pumpkin seeds
Melted butter or olive oil
Salt and pepper to taste
For garnish, optional
Fresh thyme sprigs
Fresh cranberries
PREPARATION INSTRUCTIONS:
Cook the rice—Bring water to boil in a large sauce pan over high heat. Stir in wild rice and reduce heat to low, then cover and simmer till water evaporates and rice is fluffy—about 35 to 45 minutes. Be patient—wild rice takes longer to cook than white rice. If it still doesn't seem done (if it's tough, not tender), add another 1/2 cup of water and give it another 15 minutes or so. It'll get there.
Prepare to cook—Preheat oven to 400°F.
Prep the pumpkins—Carefully cut off the tops of pumpkins (you want them to look pretty for presentation). Scoop out all the seeds and stringy bits, reserving the seeds for roasting. Place pumpkins on a nonstick baking sheet and rub them inside and out, top and bottom with olive oil. Season with salt and pepper to taste. Roast in the preheated oven with tops on the pumpkins until they're just tender—about 15 to 20 minutes. Remove from oven, but leave oven on.
Meanwhile, cook the Brussels sprouts—Drizzle a little olive oil in a large skillet and heat over medium till shimmering. Add Brussels sprouts to skillet and season with salt and pepper to taste. Let them go for 1 minute before stirring. Continue cooking, stirring occasionally, until sprouts are tender and caramelized—about 8 to 10 minutes.
Roast the pumpkin seeds—While Brussels sprouts are cooking, wash and dry pumpkin seeds. Add to a bowl with enough melted butter or olive oil to coat. Stir to coat evenly, then spread in a single layer on a nonstick baking sheet. Place in oven and roast till golden brown—about 20 minutes.
Finish the filling—Stir thyme, pecans, and cider into the skillet with Brussels sprouts and continue cooking for 5 minutes. Remove skillet from heat and stir in wild rice and cranberries till everything's evenly incorporated. Taste and season with salt and pepper, as needed.
Roast the stuffed pumpkins—Stuff pumpkins with filling mixture, top with a few fresh cranberries on each, and continue roasting in preheated oven till filling is heated through and pumpkins are soft—another 10 to 20 minutes. If pumpkin tops are cooking too much, go ahead and take them out.
Garnish and serve—Carefully transfer stuffed pumpkins to a serving platter or individual plates. Top each pumpkin with a sprig of fresh thyme and place the lid on top.
TIPS:
Double Duty—Use the mini pumpkins as autumn décor till you're ready to cook. They'll keep at room temperature for several weeks.
Mix it Up—Get creative with our recipe and swap wild rice for quinoa or barley. Or use the filling mix to stuff acorn or butternut squash. Cooking times will vary so adjust accordingly.
Featured Product
Premiere Ovenware Ceramic Nonstick 18" x 13" Half Sheet Pan
A true workhorse, this pan is one of the most versatile pieces of cookware you can own. The solid, one-piece design eliminates food traps and the spacious surface makes it perfect for family meals.