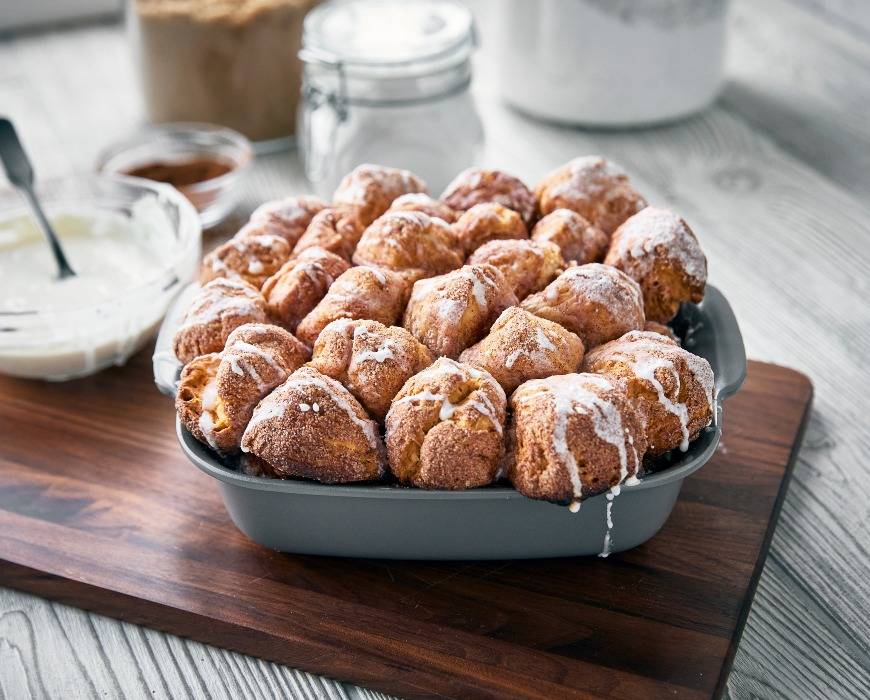 Super-Simple Monkey Bread
Yields: 6 servings
Time: 10 minutes prep, 40 minutes cooking, 50 minutes total
INGREDIENTS:
For the monkey bread
2 (16-oz) cans biscuit dough
1/2 cup granulated sugar
2 teaspoons ground cinnamon
1/2 cup brown sugar
3/4 cup butter (1 1/2 sticks), melted
For the glaze
1/2 cup powdered sugar, sifted
1 tablespoon butter, melted
1 tablespoon warm milk or hot water
1/2 teaspoon vanilla extract
PREPARATION INSTRUCTIONS:
Prepare to bake—Preheat oven to 350° F. Generously grease an 8" x 8" baking pan with butter.
Shape the monkey bread—Open canned biscuits and roll dough into balls, about 3 tablespoons per ball.
Assemble the monkey bread—Combine granulated sugar and cinnamon in a medium bowl. Roll each ball in cinnamon sugar and place in pan. When the bottom of pan is covered, sprinkle with about half the brown sugar over balls and drizzle with half the melted butter. Continue adding another layer and sprinkle the rest of the brown sugar over that. Drizzle with the rest of the melted butter and sprinkle the leftover cinnamon-sugar over the top.
Bake the monkey bread—Bake in preheated oven until bread is golden brown and cooked through, about 40 minutes.
Meanwhile, make the glaze—In a small bowl, stir together powdered sugar, butter, milk, and vanilla until smooth. Drizzle over monkey bread before serving.
TIPS:
Browning Too Quickly? Cover the pan with aluminum foil to ensure that the centers bake completely. 
Skip a Step—We love the extra depth of flavor the melted butter, warm milk, and vanilla give this glaze, but if you're in a rush, just stir together 1/2 cup powdered sugar with 1 tbs. milk.
Featured Product
Premiere Ovenware Ceramic Nonstick 8" x 8" Square Baker
Incredible for sides and serving, this baker goes from oven to table with dependable built-in handles. The one-piece design ensures years of performance, so you can do more in the oven.