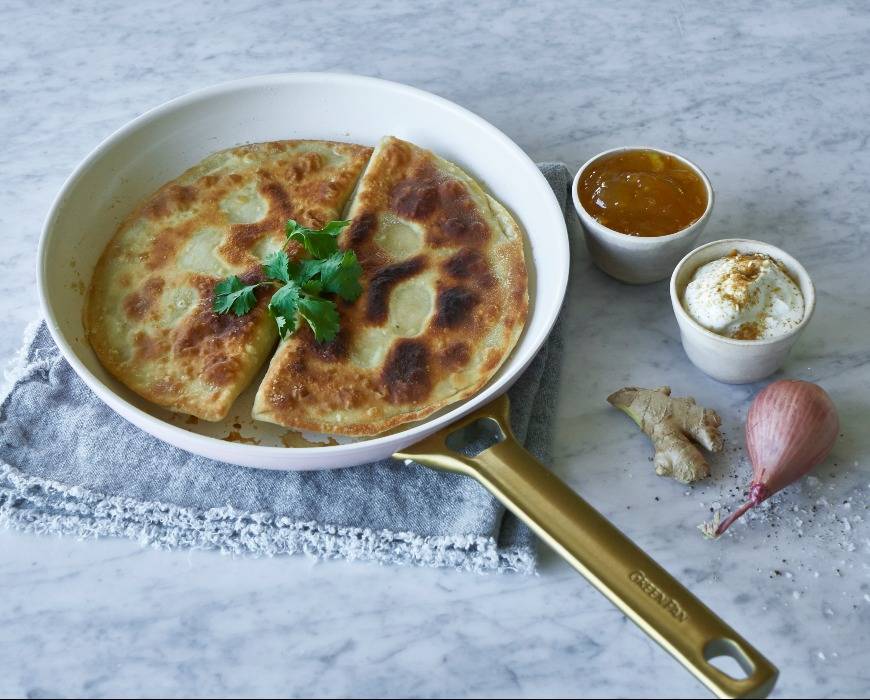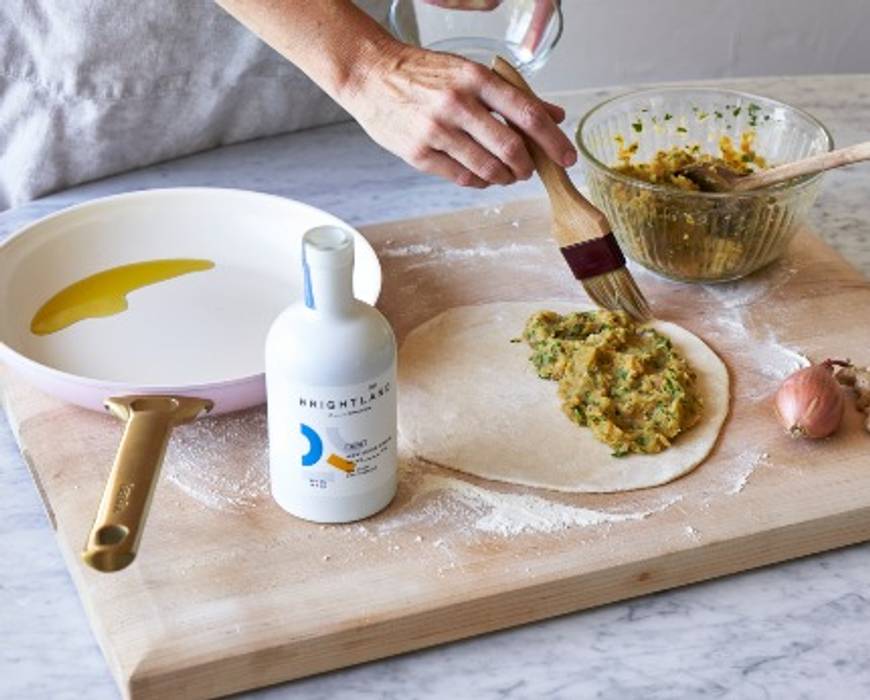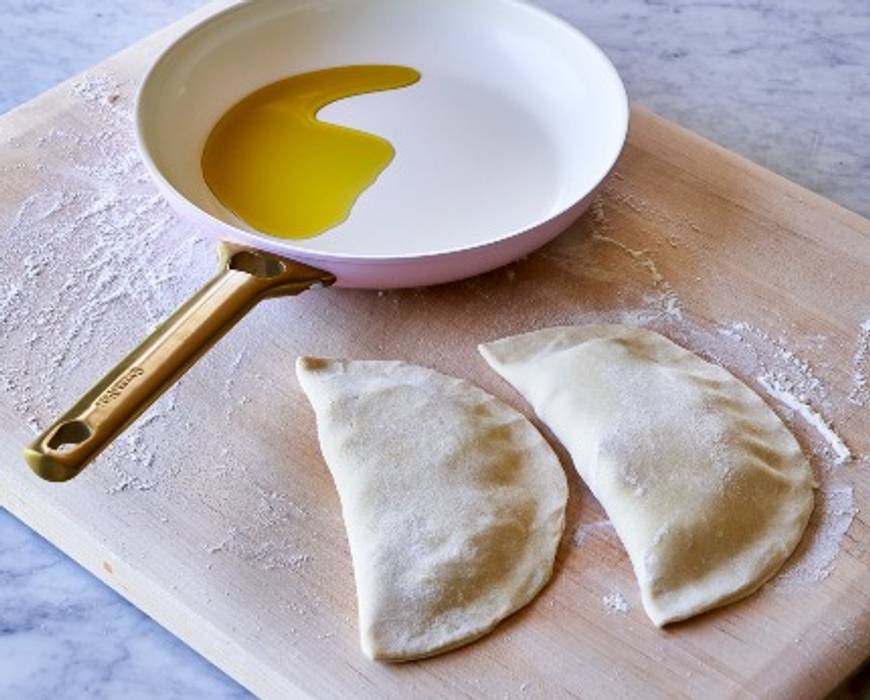 Sweet Potato Stuffed Flatbread
Yields: 4 flatbreads
Time: 30 minutes prep, 10 minutes cooking, 40 minutes total
INGREDIENTS:
For the dough
2 1/2 cups all-purpose flour
1 teaspoon salt
1 tablespoon Brightland ALIVE Olive Oil
1/2 cup plus 2 tablespoons water
For the filling
1 1/2 cups mashed sweet potato (about 3 potatoes)
1 large shallot, minced
2 tablespoons fresh chopped cilantro or parsley
1 teaspoon grated fresh ginger
1 teaspoon garam masala
1/2 teaspoon salt
1/2 teaspoon freshly ground black pepper
Brightland ALIVE Olive Oil, for frying
Chutney or plain yogurt, for dipping
PREPARATION INSTRUCTIONS:
Make the dough—In a medium bowl, mix together flour and salt. Add oil and water and stir with a fork until water is absorbed. Mix with hands until dough begins to form, adding water a tablespoon at a time if mixture seems too dry. Turn dough out onto a work surface and knead until smooth and elastic—about 3 to 5 minutes. Form dough into a ball, cover, and rest at room temperature for at least 20 minutes. Preheat oven to 200°F.
Make the filling—Place all filling ingredients in a medium bowl and mix to combine evenly.
Stuff the flatbreads—Divide dough into 4 equal pieces, working with one at a time and keeping the rest covered. Shape dough into ball and roll out on a lightly floured surface into an 8-inch circle. Spread 1/4 of the filling over half of the circle, leaving a 1/2-inch border around the edge. Brush the unfilled border with a little water and fold the other half of dough over filling. Press firmly around the edges to ensure a tight seal. Continue stuffing the rest of the flatbreads.
Fry the flatbreads—Heat 1 tablespoon of oil in a large nonstick skillet over medium heat. Add 2 stuffed flatbreads and fry, pressing down gently on edges to ensure even browning. When underside is golden brown—about 2 minutes—flip and cook the other side for a minute or two, until golden and crispy. Transfer to a cooling rack over a sheet pan and place in warm oven while you cook the second batch. Serve hot with a side of yogurt or chutney for dipping.
TIPS:
Can't find garam masala? Swap in curry powder or try adding 3/4 teaspoon ground cumin and 1/4 teaspoon allspice.
Mix it Up! Our versatile flatbreads work great with a variety of mashed veggies. Yukon Golds to pumpkin, cauliflower to broccoli—it's all good!
Featured Product
Reserve Ceramic Nonstick 10-Piece Cookware Set | Blush with Gold-Tone Handles
World-class performance meets eye-catching contrast in GreenPan Reserve. But it's more than good looks: the duoforged hard anodized construction makes this set extra tough. This set makes it simple to find your style at home.