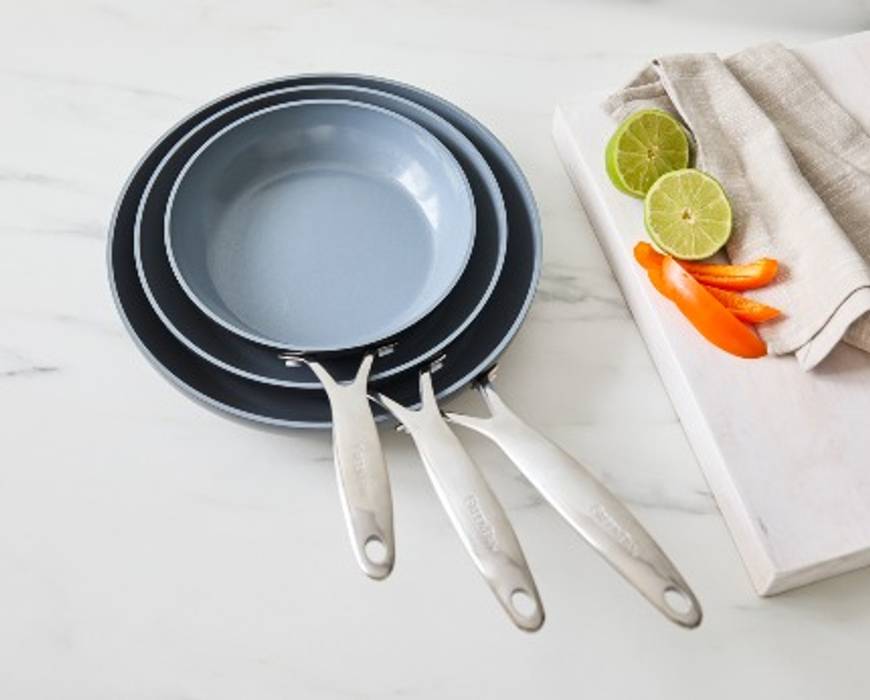 America's Test Kitchen Named These the Best Ceramic Nonstick Frypans
Please allow us to brag, not-so-humbly, for just a second: Our very own Valencia Pro Frypan has taken home the crown as the best ceramic skillet in the rankings from America's Test Kitchen.

It actually won twice—beating out the competition in both the 10-inch and 12-inch testing. The testers applauded these pans for their ability to release 50 eggs in a row, their slightly sloped walls which contain messes, the comfortable handles, and so much more. Reviewers were consistently impressed by the pans' diamond-infused nonstick ceramic coating, which is free from PFAS, PFOA, lead, and cadmium. (Honestly, we're impressed by it too!)
And here's even more good news: These award-winning frypans are part of a bigger line. The Valencia Pro collection is expansive, offering a grill pan, a stockpot, a saucepan, and all sorts of sets. Every single piece is duoforged and crafted from hard anodized aluminum, which makes it incredibly strong and durable. The pieces all feature that diamond-infused ceramic nonstick coating, which is scratch resistant (even when pitted against metal utensils) and toxin-free. They have a Magneto base that delivers uniform heat distribution and sears like a dream on all cooktops—including induction. The glass lids are tempered (so they're oven safe up to 425˚F; the pans are safe up to 600˚F) and allow cooks to keep an eye on the action. And the mirror-polished stainless steel handles are designed to stay cool and give you a sturdy grip.
All of the pans in this line deserve to win awards and we're guessing they will in the not-too-distant future! While we wait for more trophies, you can do your own testing. The Valencia Pro collection is meant for everyday use, so put the pieces through the ringer.

We've even rounded up three of our favorite recipes to get you started.


Put one of those award-winning skillets to work with this frittata recipe. Crisp up the bacon and use the grease to coat pre-roasted potato slices. Then crumble the bacon and add it back to the pan with green onions, feta, and whisked eggs. Bake the whole thing for a total of 30 minutes and you'll have your new favorite brunch recipe.
Caprese Salad with Grilled Steak
No grill? No problem! Our Valencia Pro Ceramic Nonstick Grill Pan is actually better than a grill because it's hassle free, sure to release your food, and still leaves those covetable grill marks. You can use the pan for burgers, hot dogs, chicken, cauliflower steaks, and more. First up, though, we suggest  this Caprese Salad with Grilled Steak. It's got juicy cherry tomatoes, milky mozzarella, and loads of flavor.
Homemade cinnamon rolls take a lot of time (and patience), but our pinwheels are worth every minute of prep time. To help with the process, we even figured out a way to have them rise in the skillet overnight! This way, all you have to do in the morning is bake them. Oh, and then eat them.
Featured Product
Valencia Pro Ceramic Nonstick 11-Piece Cookware Set
Our bestselling collection, Valencia Pro is crafted from hard anodized aluminum for maximum strength and scratch resistance while the Magneto™ base delivers fantastic performance on any stovetop.