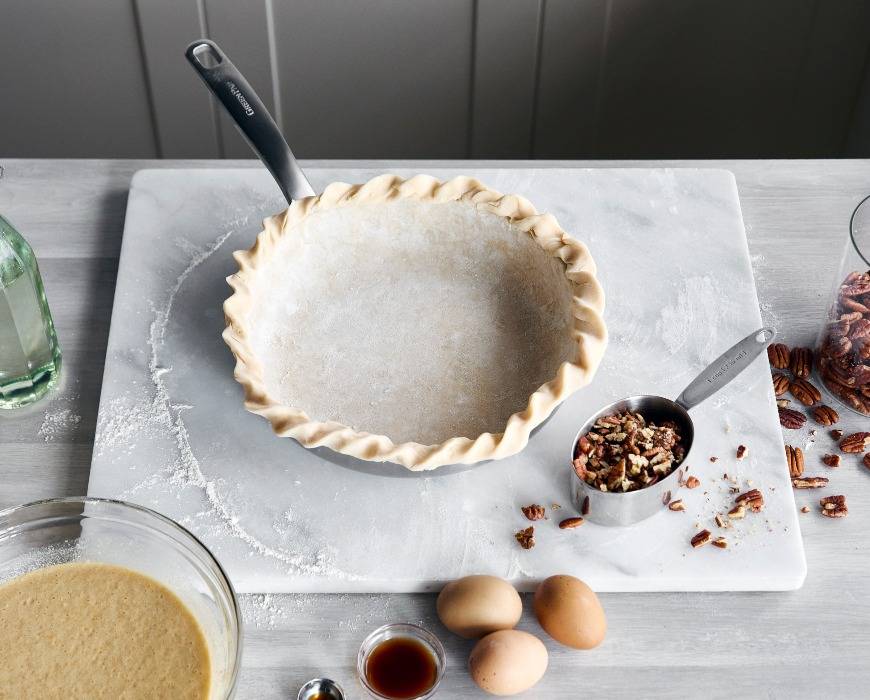 Walnuts, pecans, and chestnuts—oh my! As soon as we break out sweaters and cozy socks, our thoughts turn to toasting and roasting our favorite holiday nuts. Pecan pies to banana bread, walnut scones to chestnut stuffing, we toss in nuts with abandon at every opportunity. The more the merrier. Read on to learn some fun facts and fresh ideas for using nuts this fall.
Fun Facts
The US produces about 80% of the world's pecans and Albany, Georgia—with more than 600,000 pecan trees—is the pecan capital of the US (complete with a National Pecan Queen).
You say Pee-can, I say PUH-khan. Folks will never agree on the correct pronunciation so let's stop arguing about it. (BTW Webster's dictionary agrees with me!)
Dating back to 7000 B.C., walnuts are the oldest food-producing trees in existence.
California's Central Valley grows 99% of walnuts in the US—its nearly 325,000 acres of orchards would cover the entire city of Los Angeles.
Only 1% of the world's chestnuts are grown in the US—we import them mostly from southern Italy.
The world's oldest known chestnut tree—believed to be 2,000 and 4,000 years old—is found on the eastern slope of Mount Etna in Sicily. Plus, it holds the Guinness World Record for the greatest tree girth—190 feet.

Deliciously Healthy
Sure, nuts are high in fat, but it's the good-for-you unsaturated kind. Plus, they deliver omega-3s for heart health, along with protein, fiber, vitamin E, calcium, and potassium. A handful (not 3!) a day might not keep the doctor away, but they're way better at controlling hanger than snacks like chips or candy bars.

Cold Storage
Because of their high fat content, nuts can go from fresh to flavorless in just a few months when stored at room temperature. Toasting can help return nuts to some of their former glory, but once they turn rancid, all hope is lost. To prevent good nuts from going bad, stash them in the freezer where they'll keep for a year or more.
To Everything (Turn, Turn, Turn) there is a Season
Since you'll find most nuts in stores year round, you might not think of them as seasonal. But fall is the traditional harvest time for some of our favorite holiday nuts—namely walnuts, pecans, and chestnuts. You'll find the freshest varieties (sometimes unshelled!) at farmer's markets, and if you're as nuts about nuts as we are, buy in bulk for the best prices.
Our Favorite Fall Nuts
Walnuts
Their slightly bitter taste complements sweet baked goods—from snowball cookies and maple scones to banana bread to baklava. Or add a handful to salads, pastas, or granola.
Pecans
These buttery, bittersweet nuts are best known for holiday pies, but we love them in all kinds of baked treats. Plus, they make pancakes and waffles even more irresistible.
Chestnuts
Roasted chestnuts have a soft texture and slightly sweet flavor that's perfect straight out of the shell. Try them in stuffing for additional texture or add sweet chestnut purée to dress up holiday desserts.
Go Nuts!
Try nuts in new ways this autumn and fall in love with them all over again. A few ideas we're looking forward to taste-testing:
Walnut pesto
Vegan walnut "cheese" sauce
Walnut-crusted salmon or chicken
Walnut caramel tart
Pecan stuffed mushrooms
Pecan streusel sweet potato casserole
Pumpkin spice pecan waffles
Pecan praline popcorn
Creamy chestnut soup
Chestnut and butternut squash risotto
Chestnut chocolate cake
Chestnut truffles
Get Toasty
When cooking or baking with nuts, we recommend toasting beforehand to release essential oils and make them extra crunchy and delicious. Try one of these easy options:
In a skillet—Toast over medium heat, stirring frequently, until they are golden brown and start to smell amazing—about 5 to 10 minutes. Or In an oven—Arrange nuts on a single layer in a baking pan and toast in a 350°F oven for 5 to 10 minutes. Either way—Remove nuts from pan immediately because they can go from toasty to charcoal in no time.
Sugar, Spice and Everything Nice Nuts

Preheat oven to 300°F. In a small bowl whisk together 3/4 cup sugar with 1 tablespoon each chili powder and kosher salt, and 2 teaspoons each cayenne pepper and cinnamon. In a large bowl, beat 1 egg white till frothy. Add 4 cups raw nuts, along with the spiced sugar. Mix to coat nuts evenly. Spread on a rimmed, nonstick baking sheet and bake till browned, about 45 minutes. Stir once while baking, then a few times while nuts cool on baking sheet. Enjoy!
Featured Product
Chatham Stainless 9.5" Frypan
Designed for daily life, this 9.5" pan will become your new go-to for a quick snack, main course proteins, and so much more. This metal utensil safe pan features a diamond-enhanced ceramic nonstick coating that delivers ultra-fast performance and effortless...