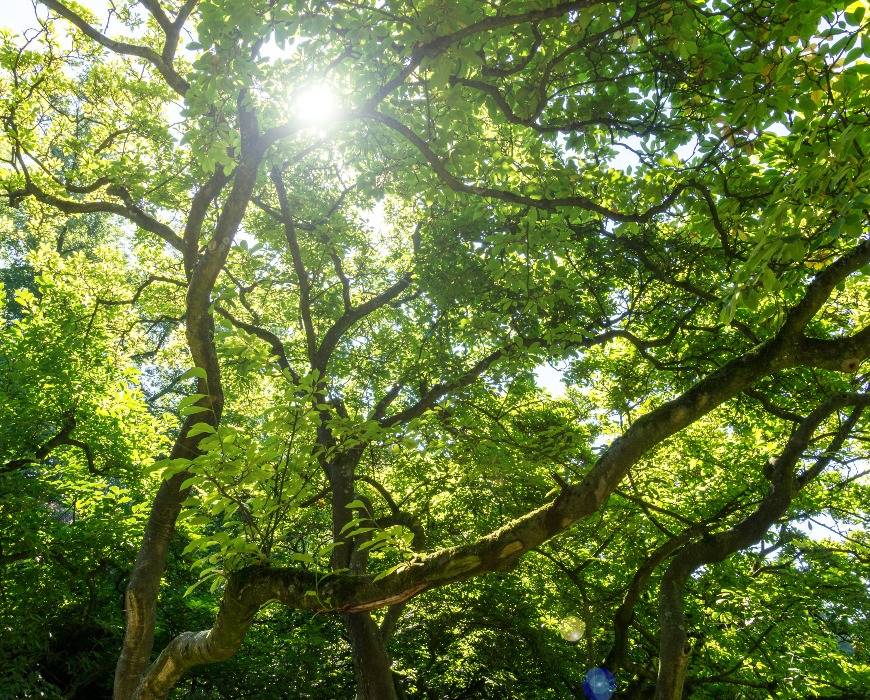 Trees let us breathe easier, producing oxygen and storing carbon from all the fossil-fuels we burn. The more we plant, the better off our planet will be.
To celebrate Earth Day, we've put together a few fun facts about trees:
Trees communicate—They can send chemical signals through the air to warn neighbors of impending insect attacks and can even call for backup by attracting predators to kill the pests.
They age well—In fact, trees outlive any other organism on our planet. Some of the oldest are in California: giant sequoias (with trunks large enough to drive a car through—Google it!) are thought to be close to 5,000 years old.
They spread out—Mature tree roots can occupy space about 2 to 4 times the diameter of the canopy (often wider than the tree is tall!), but they don't go deep. Most trees find all the nutrients they need in the top 3 feet of soil.
They're heavy drinkers—just one large oak tree can absorb 100 gallons of water in a day. The thirsty nature of trees can help prevent flooding, plus, they even soak up pollutants in the soil. You're welcome!
This Earth Day, consider adding a tree (or three!) to your yard. Mother nature will thank you with rewards like shade, fruit, flowers, or simply some much-needed privacy. Need more reasons? Read on…
Circle of Life
Trees provide food and shelter for birds, squirrels, insects, and the occasional raccoon (it happens…) If you enjoy watching nature's dramas unfold, a tree provides plenty of entertainment as you sip your morning coffee or evening cocktail.
Throw Some Shade
Stay cooler in the summer (and save on electricity bills!) by planting a fast-growing shade tree.
A few of our favorites: Northern Red Oak, Sun Valley Maple, Tuliptree, River Birch, Quaking Aspen, and Catalpa.
Low-Hanging Fruit
Imagine picking apples and cherries for pie baking—from trees in your own backyard. Fruit trees are easier to grow than you might think and can be quite prolific (hope you like making jam!). If you're the impatient type, citrus trees can grow fruit even before they leave the nursery—at just 1 to 2 years old.
No yard? No problem!
Plenty of trees thrive indoors and can be surprisingly low maintenance—just give them a little water, a lot of light, and a large enough pot to put down roots. We love everything from fiddle leaf fig and parlor palms to lemon cypress (sorry, no fruit), meyer lemons, and satsumas.
Come Into Bloom
Love flowers? Forget bouquets that last a few days and then get tossed in the compost bin. Grow beautiful blossoms that you can enjoy for months. From magnolias to crape myrtle, dogwood to redbud, you'll dress up the neighborhood with gorgeous blooms.
Mark Your Milestones
Add an arbor to celebrate any occasion—from births, graduations, and weddings to that time you picked the fastest check out line (it could happen!). Or plant a tree as a memorial to someone you miss and create a living tribute for future generations.