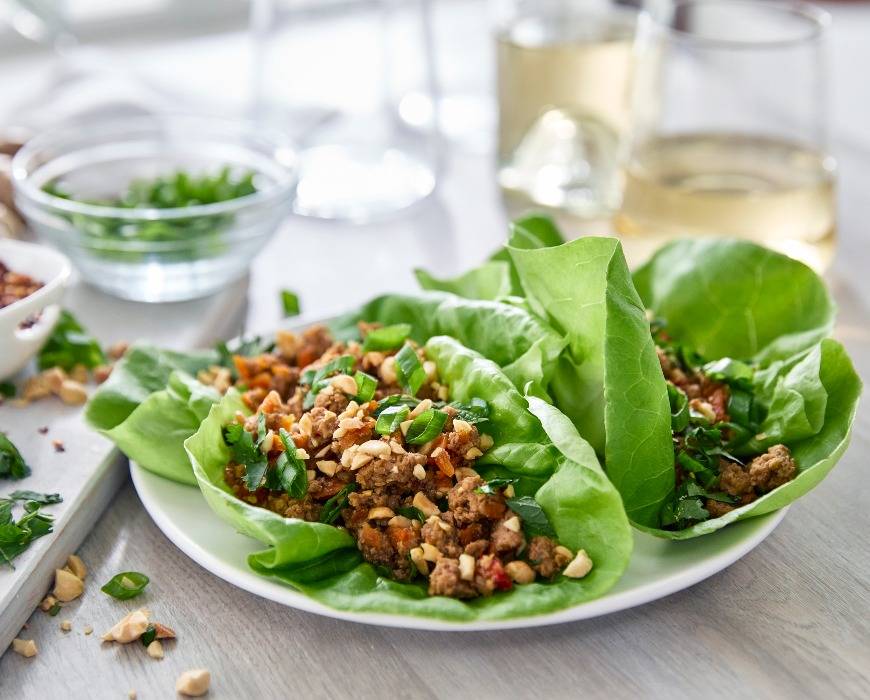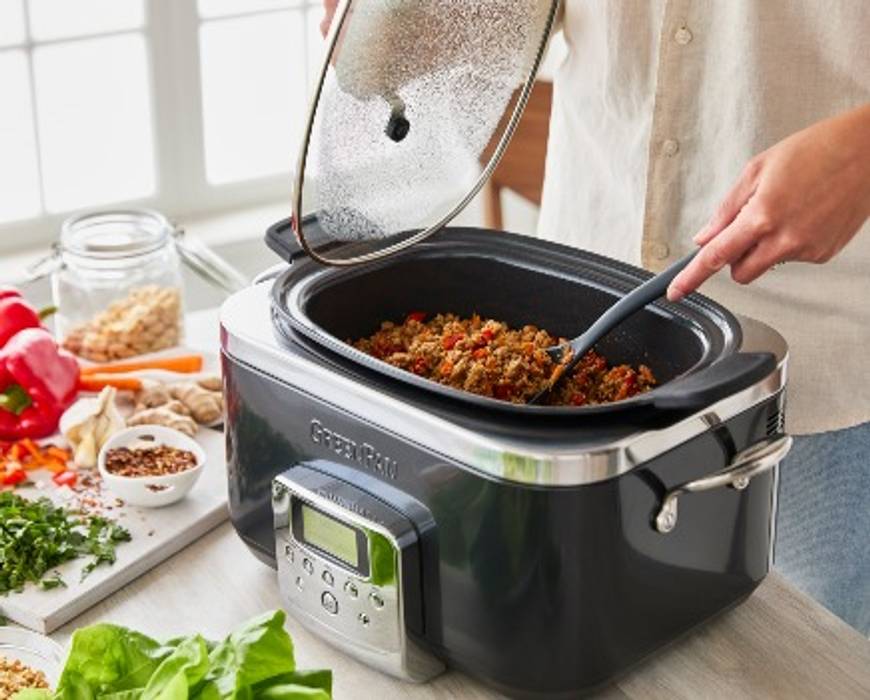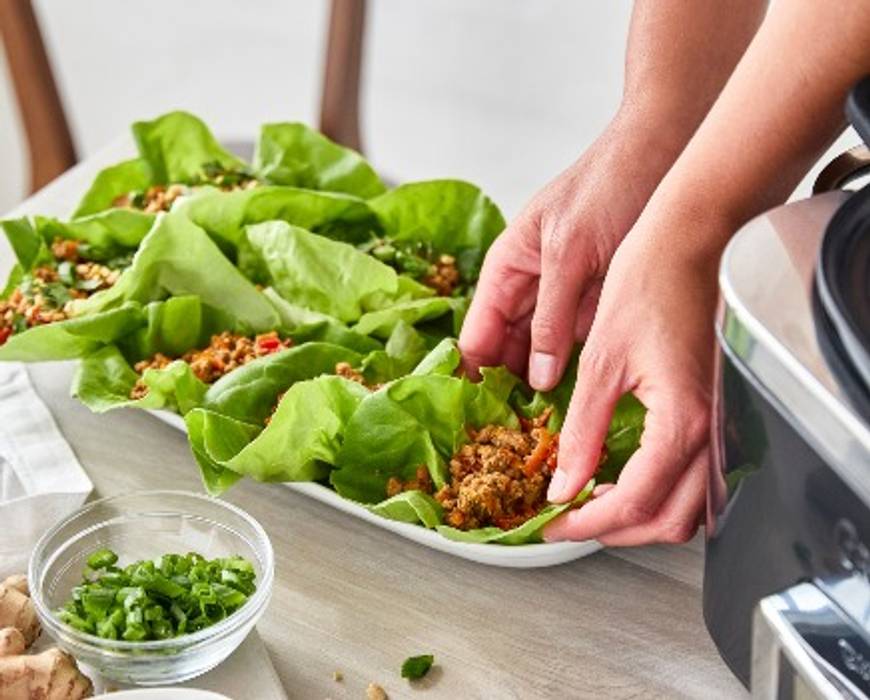 Asian Chicken Lettuce Wraps
Yields: 6 to 8 servings
Time: 20 minutes prep, 2 hours cooking
INGREDIENTS:
1 tablespoon avocado oil
2 pounds ground chicken or turkey
1/2 cup hoisin sauce
1/4 cup tamari 
2 tablespoons water
2 tablespoons rice vinegar
1 tablespoon fish sauce
1 small bunch scallions, thinly sliced, white and green parts divided
1 tablespoon freshly grated ginger
2 cloves garlic, peeled and grated 
1/2 teaspoon red pepper flakes 
2 large carrots, peeled and grated 
1 large red bell pepper, cut in 1/4" dice 
1 large shallot, peeled and minced 
2 heads butter lettuce, leaves separated, for serving
1/2 cup peanuts, toasted and roughly chopped, for serving
Cilantro and mint leaves, for serving 
Lime wedges, for serving
PREPARATION INSTRUCTIONS:
Select the Brown/Sauté mode on the Slow Cooker, set the temperature to 350°F and the timer to 10 minutes.  Pour the oil into the slow cooker and allow it to come to temperature. Add the ground chicken and cook 7 to 8 minutes, stirring occasionally, until lightly golden brown.  


While the chicken is browning, whisk together the hoisin, tamari, water, rice vinegar, and fish sauce in a small mixing bowl and set aside. 
 
Add the white parts of the scallions, the ginger, garlic and red pepper flakes to the slow cooker and stir to combine. Cook for another 1 to 2 minutes until very aromatic. Stir in the carrots, bell pepper and shallots along with the reserved sauce.  


Select the Low Temperature Slow Cook Mode on the Slow cooker and set the timer for 2 hours.  Cover and cook for 2 hours, or until the chicken is cooked through and tender, with the sauce thick enough to coat it well. Taste and adjust as desired with tamari, vinegar, fish sauce and red pepper flakes.  Stir in the green parts of the scallions.  


Serve the chicken filling warm, scooped on top of individual lettuce leaves, and garnished with peanuts, herbs, and fresh squeezed lime juice as desired.  
TIPS:
If you're looking for extra veggies in these lettuce wraps, finely chop 8 ounces of mushrooms and sauté them before browning the ground chicken!  
For an extra kick of spice, replace the red pepper flakes with 2 to 4 thinly sliced Thai chilis, depending on how hot you want it!  
Featured Product
Elite 6-Quart Slow Cooker | Black
With our advanced slow cooker, you can sear meat and veggies in the pot, then go low and slow to finish the job. Take your time while cooking, then clean up quickly with Thermolon™ Volt, a healthy, PFAS-free ceramic nonstick...