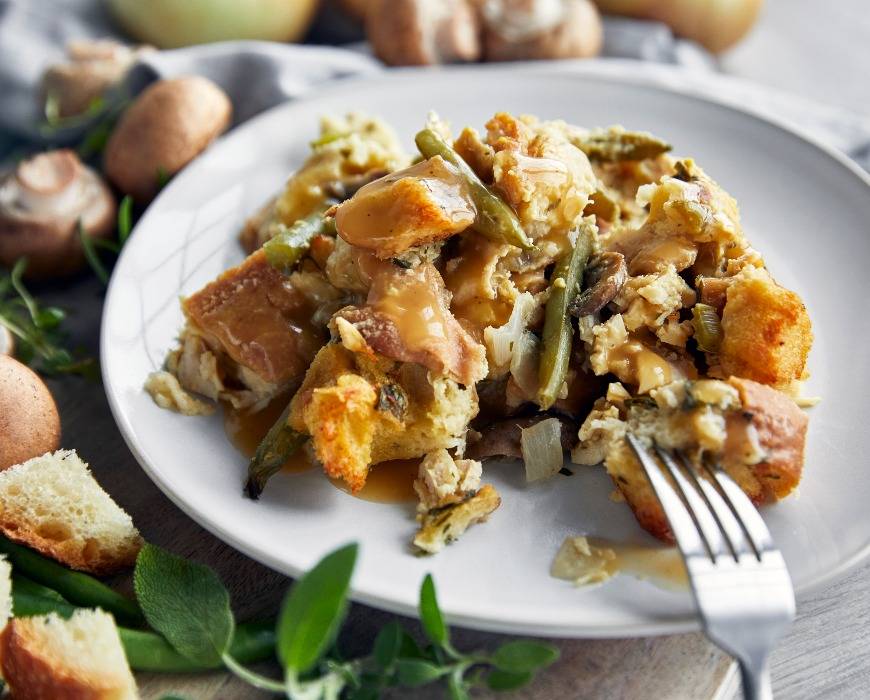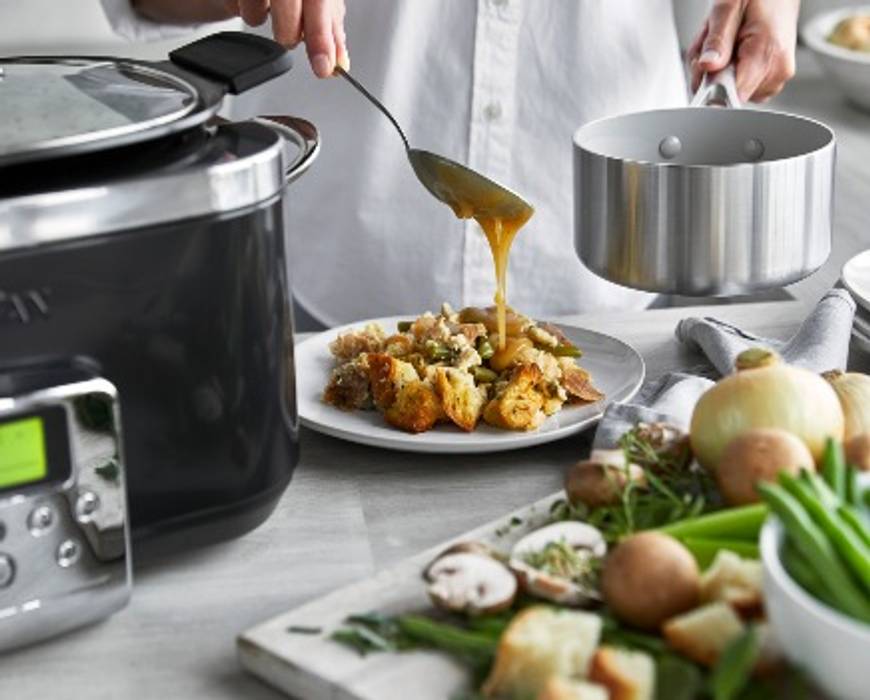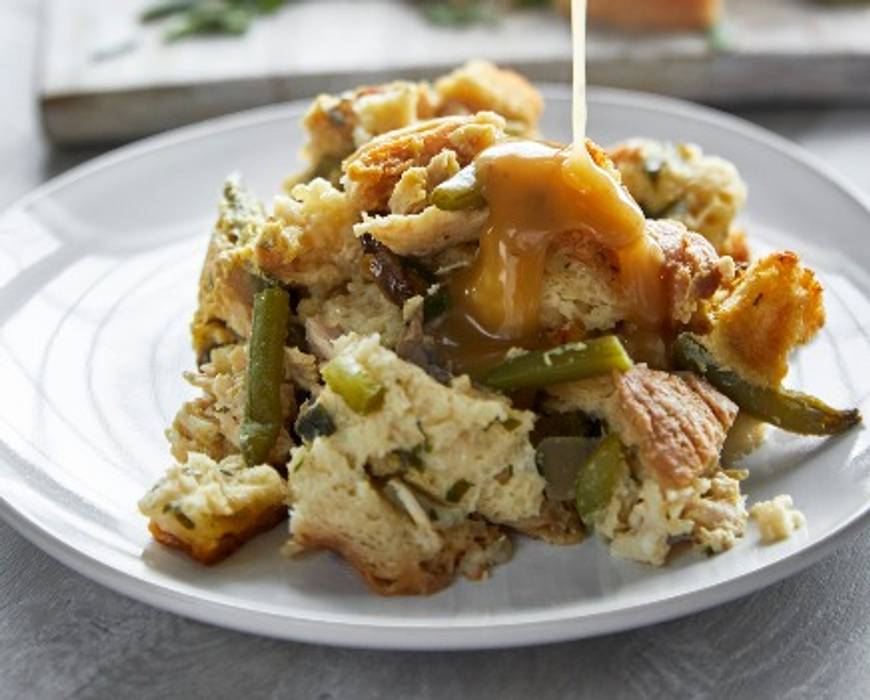 Sourdough and Fresh Herb Chicken Casserole
Yields: 8 to 10 servings
Time: 20 minutes prep, 4 hours 30 minutes cooking
INGREDIENTS:
1 cup unsalted butter, cut in 1/4" cubes
1 medium yellow onion, peeled, cut in 1/4" dice 
2 stalks celery, cut in 1/4" 
4 ounces cremini mushrooms, stems removed, cut in 1/4" slices 
2 teaspoons fresh sage, finely chopped 
2 teaspoons fresh thyme, destemmed and finely chopped 
1 teaspoon fresh rosemary, destemmed and finely chopped 
1 teaspoon kosher salt, more to taste
1/2 teaspoon freshly ground black pepper, more to taste
1/2 teaspoon garlic powder 
2 1/2 cups low sodium chicken stock
2 large eggs
1 can (10.5-ounce) condensed cream of chicken soup, undiluted
1/4 cup fresh parsley, destemmed and finely chopped
10 cups sourdough bread cubes, preferably day old, cut or torn into 1/2" pieces 
5 cups cooked chicken, shredded in large pieces
2 cups frozen green beans 
Homemade or store bought gravy, warmed, for serving
PREPARATION INSTRUCTIONS:
Select the Brown/Sauté mode on the Slow Cooker, set the temperature to 300°F and the timer to 10 minutes. Add the butter to the slow cooker and melt, then stir in the onion, celery, mushrooms, sage thyme, rosemary, salt, pepper and garlic powder. Cook, stirring occasionally, until the vegetables are softened and the herbs are very fragrant, 8 to 10 minutes. Taste and adjust as desired with salt and pepper. 


Select the Low Temperature Slow Cook Mode on the Slow cooker and set the timer for 5 hours.  


In a large mixing bowl whisk to combine the chicken stock, eggs, cream of chicken soup and parsley. Add the cooked vegetables to the bowl, along with the bread, and stir or toss until the entire stuffing mixture is well combined.  


Place a third of the stuffing mixture in the bottom of the slow cooker and top with half of the chicken and green beans. Top with another third of the stuffing mixture and then the remaining chicken and green beans.  Finally finish the casserole by topping with the remaining stuffing mixture. Cover and cook for 4 hours and 30 minutes or until the stuffing is well set and hot all the way through.  Serve warm with warm gravy if desired. 
TIPS:
In a hurry?  Replace the fresh sage, thyme and rosemary with 1 tablespoon of store-bought poultry seasoning! 
To turn this casserole into the ultimate lay on thanksgiving dinner by adding 1/4 cup of cranberry sauce in the layers with the chicken and green beans!  
Featured Product
Elite 6-Quart Slow Cooker | Black
With our advanced slow cooker, you can sear meat and veggies in the pot, then go low and slow to finish the job. Take your time while cooking, then clean up quickly with Thermolon™ Volt, a healthy, PFAS-free ceramic nonstick...