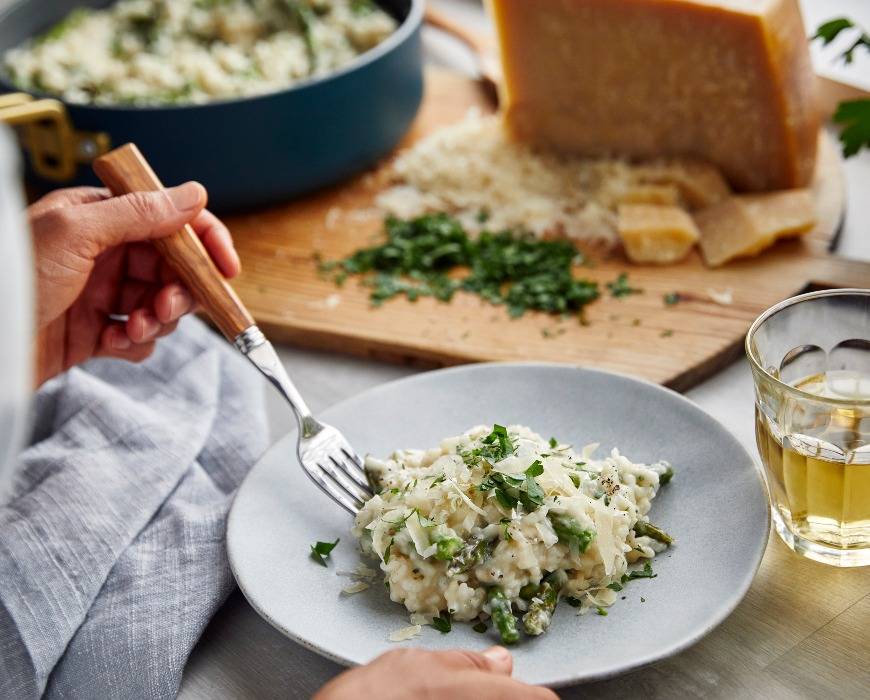 Yields: 4 servings
INGREDIENTS:
2 tablespoons olive oil
1 small onion, coarsely chopped
2 tablespoons chopped fresh Italian, flat leafed parsley
2 cups Arborio rice
One 15-ounce can asparagus (do not drain)
6 cups hot chicken or vegetable broth
Tips from 8 fresh asparagus stalks (optional)
Kosher salt and freshly ground black pepper
1 tablespoon butter (optional)
1 tablespoon extra virgin olive oil
⅓ cup finely grated Parmesan cheese
PREPARATION INSTRUCTIONS:
Warm the olive oil in a medium-size saucepan set over a medium heat. When the oil is hot but not smoking, stir in the onions and cook, stirring frequently, until soft but not browned, about 5 minutes. Stir in 1 tablespoon of the parsley and all of the rice. Stir to toast lightly and coat the rice with oil. Stir in the canned asparagus with its liquid, plus 2 cups of the chicken broth. Bring to a boil, then reduce the heat to simmer. Add more chicken broth, ½ cup at a time, stirring frequently and allowing the rice to absorb the liquid after each addition, until the rice is al dente, about 15 minutes. (If you use fresh asparagus tips, add them with the last ladleful of broth.) The rice should have a slight resistance to the bite. If it seems too hard, add a little bit more liquid and continue cooking for another minute or two.


Remove from the heat and season with salt and pepper. Add the remaining 1 tablespoon parsley, the butter, if using, olive oil, and Parmesan. Whip with a wooden spoon to bring out the creaminess of the rice and to incorporate all the ingredients. Adjust the seasoning with salt and pepper if necessary. Serve immediately.
Wine Pairing: Medium white

Recipe from The Tucci Cookbook, by Stanley Tucci with Joan and Stan Tucci, Gianni Scappin and Mimi Taft (Gallery Books, 2012)