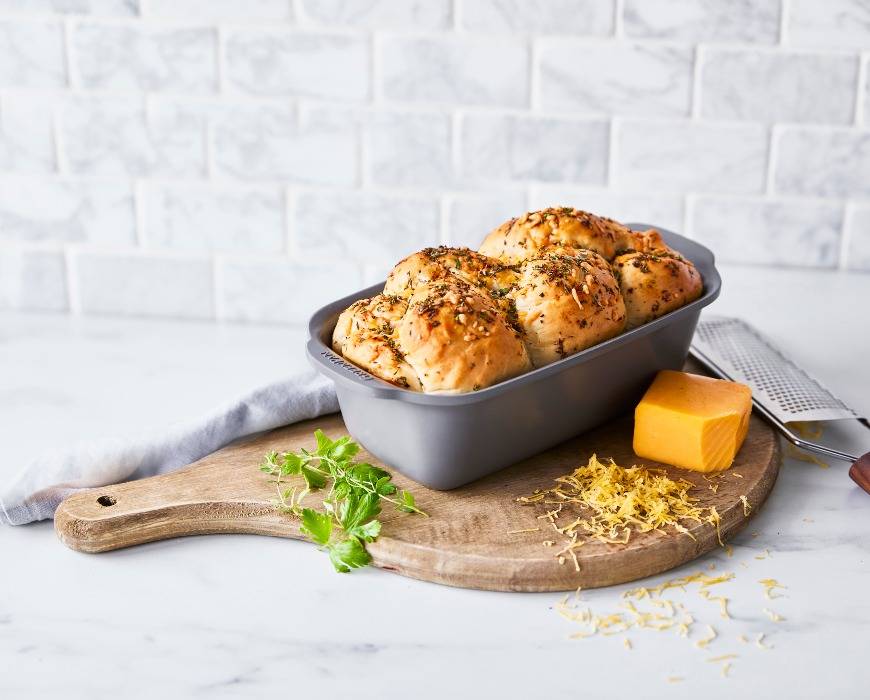 Twisted Cheddar and Herb Bread
Yields: 1 loaf
Time: 30 minutes prep, 2 hours 45 minutes rising, 40 minutes baking, 3 hours 55 minutes total
INGREDIENTS:
For the dough
3/4 cup buttermilk, room temperature
1 packet instant yeast (2 1/4 teaspoons)
2 tablespoons granulated sugar
3 large eggs, room temperature
3 1/2 cups bread flour, plus more as needed
2 teaspoons salt
2 tablespoons butter, softened
For the filling
4 tablespoons butter
3 to 4 cloves garlic, minced
2 cups freshly grated cheddar cheese
1/4 cup freshly grated Parmesan cheese
1/2 cup freshly chopped basil
3 tablespoons freshly chopped herbs (oregano, thyme, parsley, rosemary—whatever you like and have on hand)
2 tablespoons melted butter for brushing
PREPARATION INSTRUCTIONS:
Mix the dough—Add buttermilk, yeast, sugar, eggs, flour, and salt to the bowl of a stand mixer. Mix on a low speed with the dough hook until all the flour is incorporated—about 4 to 5 minutes. Add the butter and continue mixing on low to medium until combined, another 3 minutes or so. If the dough seems impossibly sticky, add 2 tablespoons flour and keep mixing, adding a couple of tablespoons at a time till you get a smooth dough that's elastic to the touch.
Proof the dough—Cover the bowl with plastic wrap and let rise in a warm spot till doubled in size—about 2 hours.
Mix the filling—While dough rises, stir together the butter and garlic in a small bowl.
Add the filling—Punch dough down to release excess air. Transfer dough to a lightly floured surface and roll into a large rectangle, roughly 12 x 18 inches. Spread garlic butter evenly over the top of dough, then sprinkle evenly with cheeses and herbs.
Shape the dough—Roll dough into a tight log, starting with the long edge closest to you. Pinch tightly along the edge to seal. Roll log so the seam is facing bottom. Leaving a 1-inch edge at one end, cut dough in half lengthwise. Braid dough ropes over each other till you have a long, twisted dough. Fold, as needed, to fit into a nonstick loaf pan.
Proof the loaf—Cover pan with plastic wrap and let rest in a warm spot for another 45 minutes.
Bake the loaf—While dough proofs, preheat oven to 350°F. Uncover loaf and brush the top with 2 tablespoons butter. Transfer pan to oven and bake till the top is golden brown and bread is cooked through, about 40 to 50 minutes.
TIPS:
How to Tell When Bread is Done
Enriched breads should reach an internal temperature of 195° to 200°F and, like all breads, the loaf will sound hollow when thumped on the bottom.
Sweeten the Deal
Transform our dough into a spicy/sweet cinnamon swirl bread—in step 4, spread with 4 tablespoons softened butter and sprinkle with a mixture of 1/3 granulated sugar and 1 to 2 tablespoons cinnamon. A vanilla glaze wouldn't be amiss here!
Featured Product
Premiere Ovenware Ceramic Nonstick 1 lb. Loaf Pan
This heavy-duty pan is great for bread, but it's also endlessly adaptable—think meatloaf, smaller ziti, chicken pot pies, and so much more. It's extra tough, endlessly versatile, and easy to use.