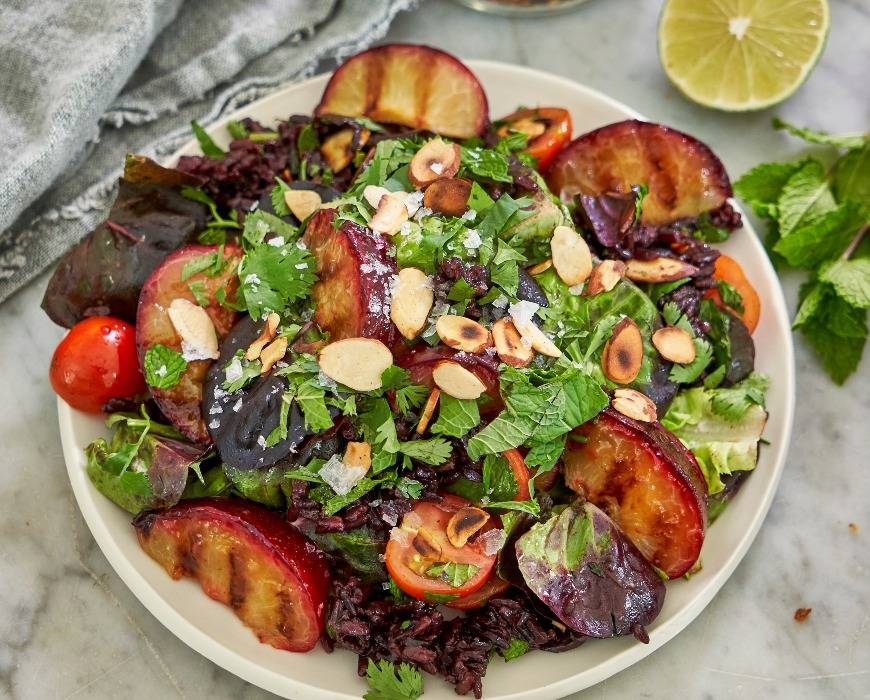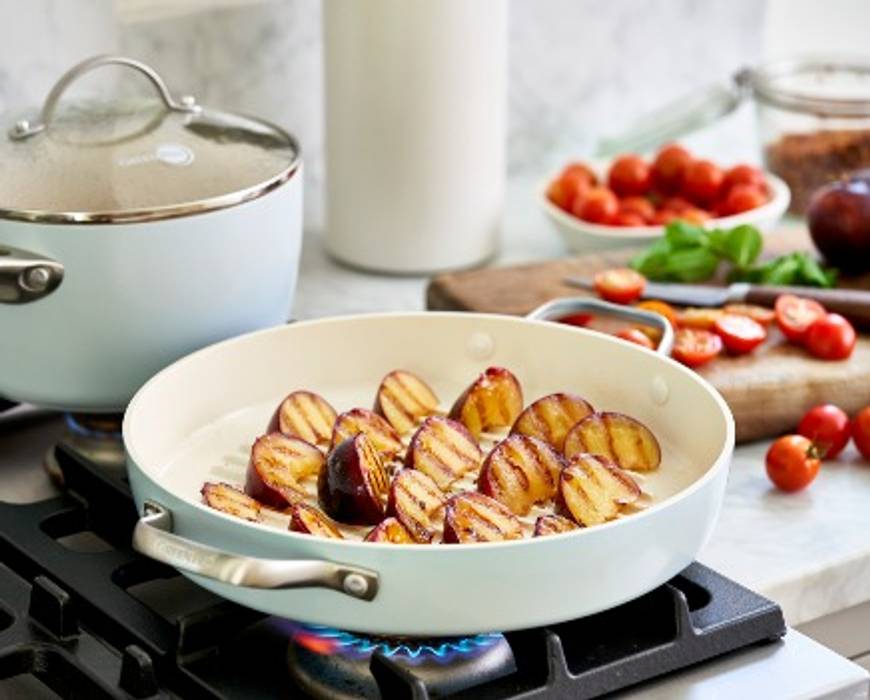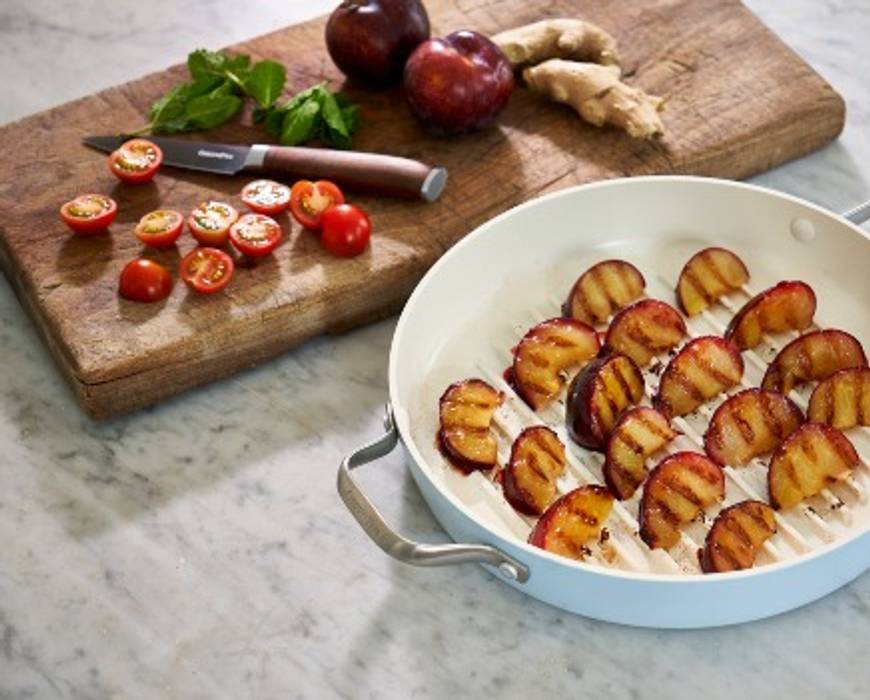 Baby Red Butter Lettuce Black Rice and Plum Salad
Yields: 4 servings
Time: 15 minutes prep, 45 minutes cooking
INGREDIENTS:
For the vinaigrette:
2 tablespoons unseasoned rice wine vinegar
2 teaspoons fresh lime juice
2 teaspoons soy sauce or tamari
2 teaspoons light brown sugar
1 teaspoon freshly grated ginger
1 teaspoon lime zest
1/2 teaspoon crushed red pepper flakes, more to taste
1/3 cup avocado oil

For the salad:
2 cups water
1 cup uncooked black rice
2 (½-inch) slices unpeeled ginger
1/2 teaspoon kosher salt, plus more to taste
4 plums, firm, pitted and cut into 1/2-inch wedges
1 tablespoon avocado oil
1 cup cherry tomatoes, halved
1 large shallot, thinly sliced
1/4 cup fresh mint leaves, roughly chopped
1/4 cup fresh cilantro, leaves and stems, roughly chopped
1/3 cup sliced almonds, toasted
4 cups Earthbound Farm Organic Baby Red Butter Lettuce
PREPARATION INSTRUCTIONS:
In a medium mixing bowl, whisk together the vinegar, lime juice, soy sauce, brown sugar, ginger, lime zest and pepper flakes until evenly combined and the sugar has dissolved. Place a towel under the bowl to help keep it in place, and slowly drizzle in the oil with one hand while whisking very quickly with the other until all the oil is combined. Taste and adjust as desired. The vinaigrette should be sharp and acidic, with a nice balance of sweet and spicy.


Bring the water, rice, ginger and salt to a boil in a medium GreenPan saucepan over medium-high heat on the stovetop. Once boiling, reduce the heat to low and cover, letting it cook undisturbed until the water is absorbed and the rice is tender but slightly chewy, about 30 to 35 minutes. Once done, remove the saucepan from the heat and let the rice sit covered for 5 minutes. Transfer the rice to a large mixing bowl and fluff it gently with a fork. Spread the rice into as even a layer as you can and allow it to cool to room temperature, making sure to remove the pieces of ginger.


Place a GreenPan grill pan on the stovetop over medium high heat. In a medium mixing bowl gently toss the plum wedges with the avocado oil, and a pinch of salt if desired. Once the grill is hot, grill the plums for about 2 minutes on each cut side, just long enough to soften them slightly and create light grill marks. Transfer the plums to the bowl with the rice and allow them to cool completely.


Add the tomatoes, shallot, half the herbs, half the almonds, lettuce and dressing to the bowl and gently toss everything to combine. Taste and adjust the salad as desired. To serve, divide evenly among plates and top with the remaining herbs and almonds.
TIPS:
For even more flavor, add the tender portion of one stalk of lemongrass, lightly crushed, to the rice while cooking. Simply remove it along with the ginger once the rice is done!
Make this salad your own by making a bigger batch of vinaigrette or even using slightly less cooked rice in the salad – however you enjoy eating it is great! If you have any of either leftover, they'll both keep well in the refrigerator for up to three days in airtight containers.
We also love this salad as a larger lunch or dinner. Try it with a simply prepared grilled salmon or chicken breast.
Featured Product
Padova Light Blue Ceramic Nonstick 11" Grill Pan
Bring the grill inside with this versatile pan. Featuring striking shade of sky blue, this grill pan is more than its looks—it's extra tough, scratch-resistant, and delivers remarkable performance for every meal.