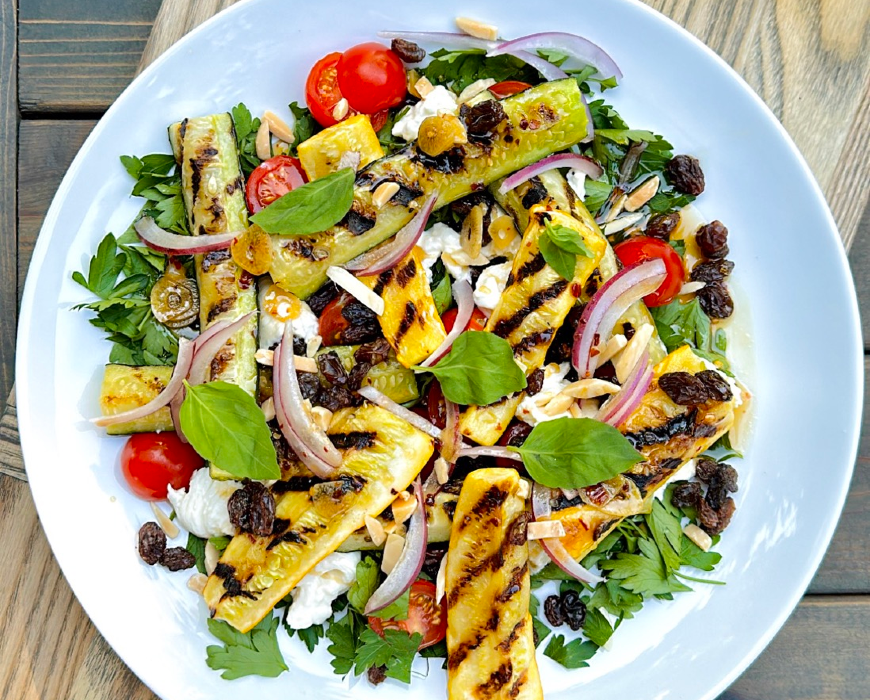 Grilled Cucumber and Summer Squash Agrodolce Salad
Yields: 4 servings
Time: 15 minutes prep, 20 minutes cooking 
INGREDIENTS:
For the agrodolce:  
1 cup apple cider vinegar 

 

1/3 cup honey

 

1/2 teaspoon crushed red pepper flakes, more to taste 

 

2 gloves garlic, thinly sliced 

 

1/4 teaspoon kosher salt 

 
For the salad:  
2 small or 1 large English cucumber, quartered and cut in 3" pieces

 

2 small or 1 large yellow summer squash, quartered and cut in 3" pieces 

 

1 tablespoon extra virgin olive oil

 

1/2 teaspoon kosher salt 

 

8 ounces cherry tomatoes, cut in half

 

1 cup fresh parsley leaves, roughly chopped 

 

1 small ball fresh burrata 

 

1/4 cup red onion, very thinly sliced 

 

1/4 cup raisins 

 

1/4 cup slivered almonds, toasted 

 

2 tablespoons fresh mint leaves, roughly chopped 

 

2 tablespoon fresh basil leaves, hand torn in 1/4" pieces 

 
 PREPARATION INSTRUCTIONS:
In a small GreenPan saucepan on the stovetop over medium low heat, stir to combine the vinegar and honey. Bring the mixture to a simmer and cook for 8 to 10 minutes, or until it has thickened slightly to the consistency of a thin syrup. Stir in the red pepper flakes, garlic and salt. Remove the agrodolce from the heat and reserve while preparing the salad.  
In a large mixing bowl gently toss or stir to combine the cucumber, summer squash, olive oil and salt. Place a GreenPan grill pan on the stovetop over medium heat and allow it to come to temperature for a few minutes. Working in batches if needed, grill the vegetables for 4 to 5 minutes on each side or until they are nicely softened with dark grill marks on all sides. (Check on the cucumbers early, as they'll soften faster than the summer squash.) Transfer the cooked vegetables to a plate or platter as they finish grilling and allow them to cool slightly. Taste and adjust with a bit more salt if desired. 
To serve, spread a thin layer of parsley on a large platter or four individual plates. Top with the cherry tomatoes, then the burrata torn into small bite sized pieces, and lastly the grilled summer squash and cucumber. Taste the agrodolce and adjust as desired with vinegar, honey, and salt, then drizzle evenly over the top of the grilled vegetables. Garnish with red onion, raisins, almonds, and the herbs and serve immediately.
TIPS:
This salad is great as an appetizer or side dish but would be equally great for a light and fresh flavored main course by adding some more greens.  We suggest crisp baby gem lettuce or chopped romaine!   
For the agrodolce, the flavor will vary depending on the brand of vinegar and type of honey you use (or if you want to use granulated sugar instead).  The most important thing is you taste it and are happy with the sour and sweet flavor before serving!  
Featured Product
Valencia Pro Ceramic Nonstick 11" Round Grill Pan
Bring the grill indoors with this 11" pan. Perfect for searing fish, grilling veggies, or whipping up restaurant-worthy burgers without worrying about the weather, it's built for healthy meal making any time of day.