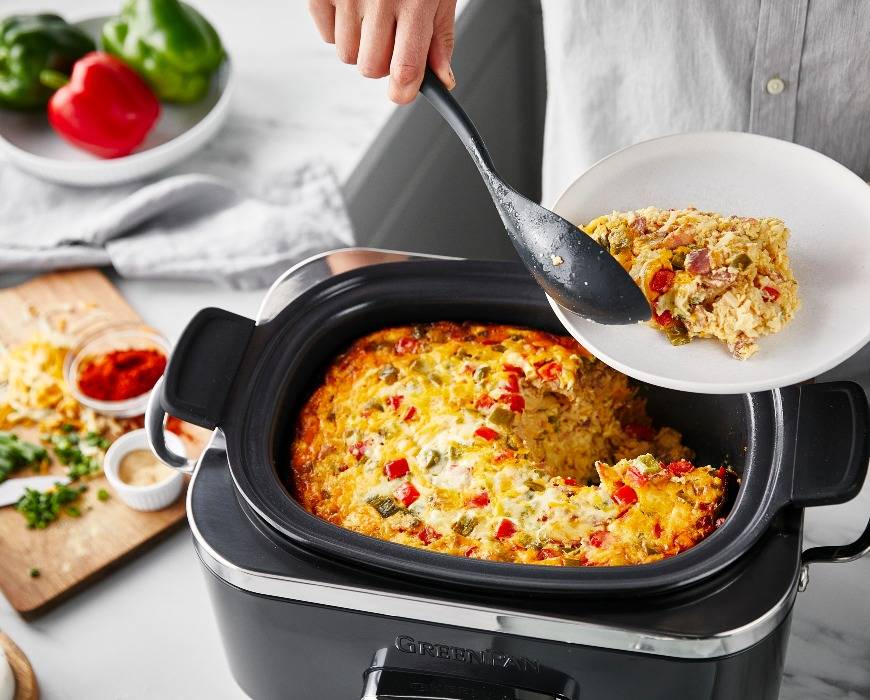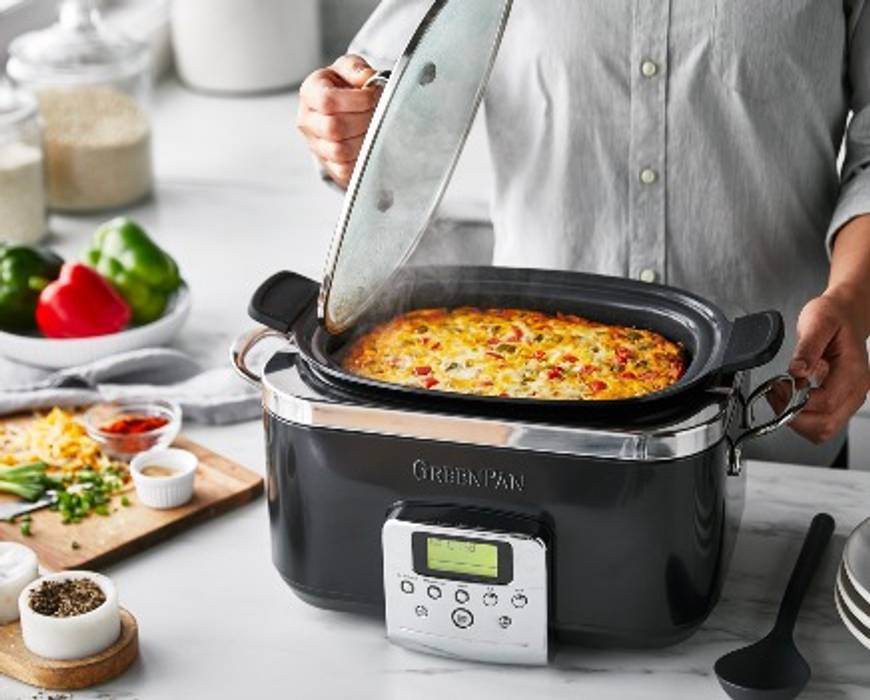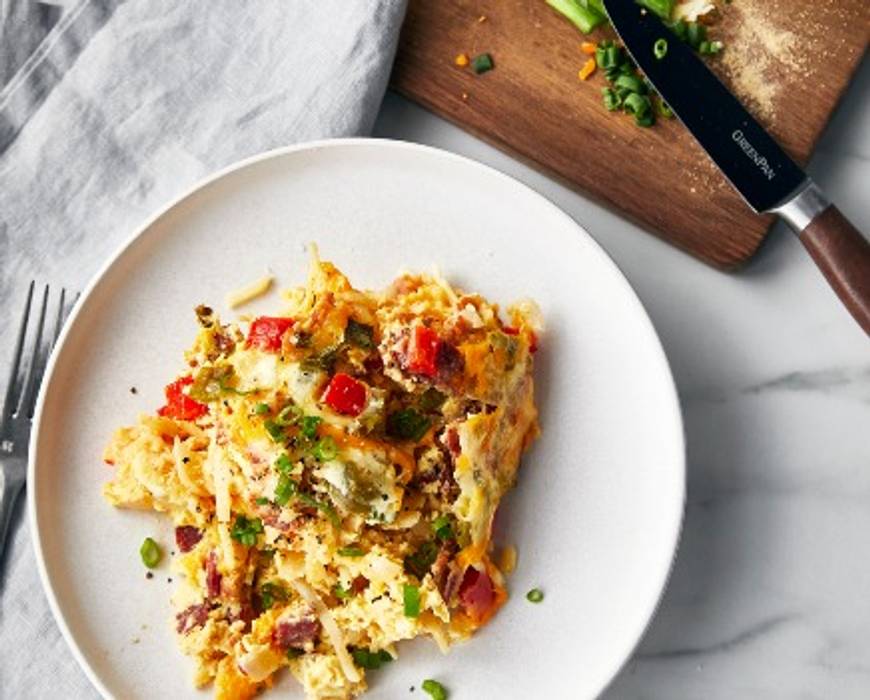 Bacon, Cheddar, and Egg Casserole
Yields: 6 to 8 servings
Time: 20 minutes prep, 3 hours cooking
INGREDIENTS:
1 pound bacon, cut in ¼" pieces
1 small yellow onion, cut in ¼" dice 
30-ounce bag shredded hash brown potatoes, thawed 
1 ½ teaspoons paprika 
1 teaspoon garlic powder
1 teaspoon kosher salt
½ teaspoon black pepper
2 scallions, thinly sliced 
1 red bell pepper, cut in ¼" dice
1 green bell pepper, cut in ¼" dice 
1 cup pepper jack cheese, shredded
1 cup sharp cheddar cheese, shredded 
12 eggs
1 cup milk
PREPARATION INSTRUCTIONS:
Select the Brown/Saute mode on the Slow Cooker, set the temperature to 300°F and the timer to 15 minutes. Place the bacon in the slow cooker and sauté for 8 to 10 minutes, stirring occasionally, or until golden brown and quite crispy. (Depending on your bacon, increase the heat to 350°F for the final couple minutes of cook time to get the desired color and crisping.


Drain all but 2 tablespoons of fat from the pan and add in the onions. Cook for 3 to 4 minutes until softened and lightly browned. Transfer the bacon and onions to a medium bowl and reserve. Select the High Temperature Slow Cook Mode on the Slow Cooker and set the timer for 3 hours.


Toss the hash browns in a large bowl with paprika, garlic powder, salt, and pepper until evenly combined. Line the bottom of the slow cooker with half of the half browns and top with half of the bacon and onion mixture followed by half the scallions, bell peppers and cheeses. Repeat with a second layer of everything, ending with an even layer of the cheeses spread on top.  


In a large mixing bowl whisk to combine the eggs and milk until very smooth, then pour the mixture evenly over the top of the casserole ingredients. (If desired, season the eggs with a pinch of salt and black pepper.) Cover and cook for 3 hours, or until the potatoes are cooked through and the eggs are set. Uncover and let the casserole rest for 10 to 15 minutes before serving.  
TIPS:
Feel free to make this recipe your own! Add a fresh diced jalapeño for some heat or swap the bacon for breakfast sausage or even diced ham!  
To prep this the night before, simply add the home fries frozen and cook on low heat mode instead for 7 to 8 hours.
Featured Product
Elite 6-Quart Slow Cooker | Black
With our advanced slow cooker, you can sear meat and veggies in the pot, then go low and slow to finish the job. Take your time while cooking, then clean up quickly with Thermolon™ Volt, a healthy, PFAS-free ceramic nonstick...