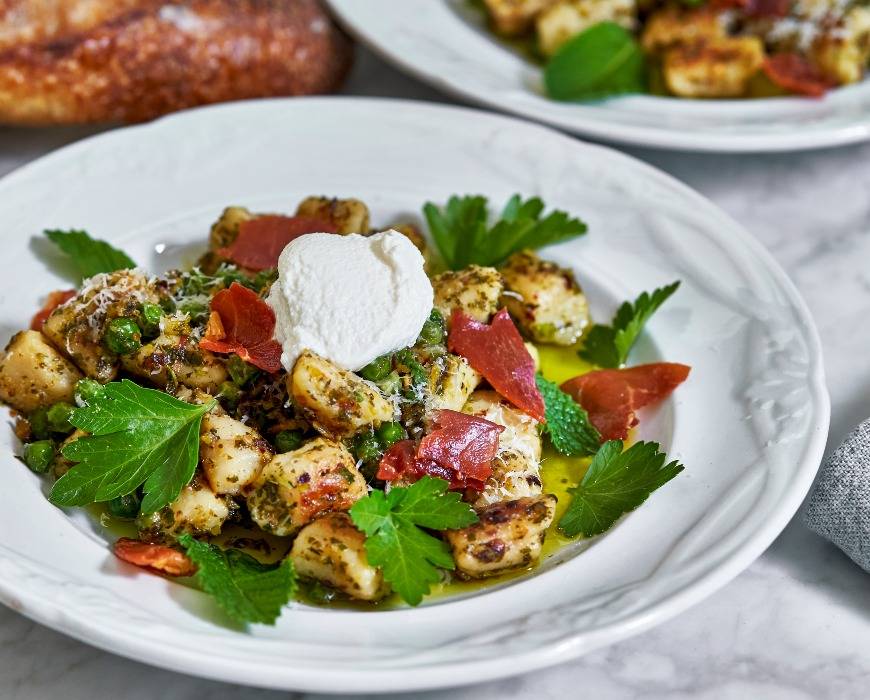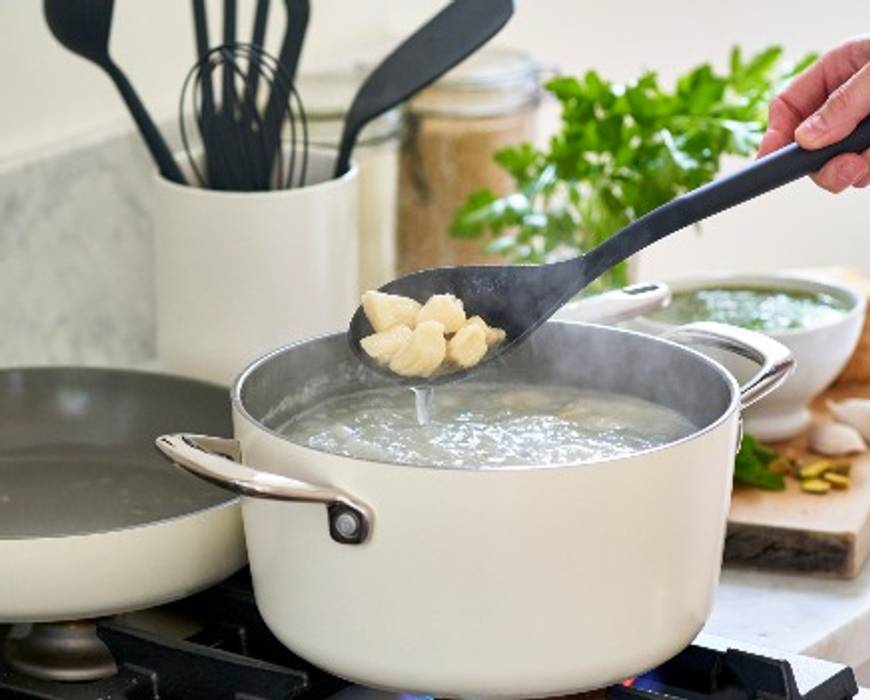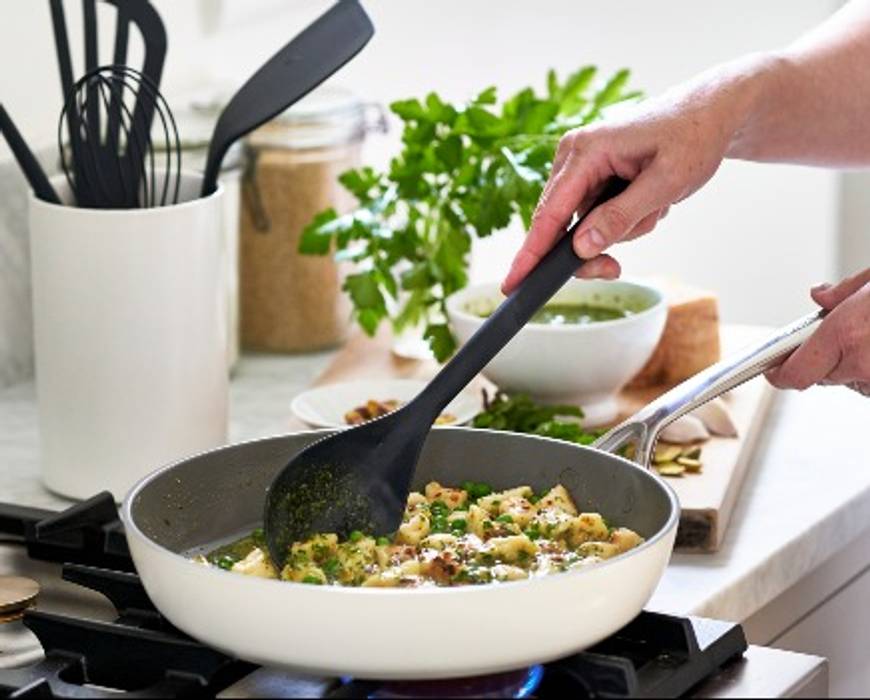 Yields: 2 servings
Time: 15 minutes prep, 20 minutes cooking, 35 minutes total
INGREDIENTS:
For the mint pesto:
2 cups lightly packed mint leaves, roughly chopped

1 cup lightly packed parsley leaves, roughly chopped

1/3 cup toasted pistachios, unsalted, roughly chopped

1/3 cup freshly grated parmesan cheese

1 large garlic clove, peeled and roughly chopped

1 tablespoon lemon zest

2 teaspoons lemon juice, more to taste

Kosher salt and freshly ground black pepper, to taste

1/3 cup extra-virgin olive oil, plus more as needed

For the gnocchi:
2 teaspoons extra-virgin olive oil

2 thin slices prosciutto (1 to 1.5 ounces total)

One (12 ounce) package Cappello's Almond Flour Gnocchi

1 tablespoon unsalted butter

1 small shallot, peeled and minced

1/2 teaspoon crushed red pepper flakes, or to taste

1/2 cup frozen peas, thawed and drained

1/4 cup ricotta cheese, to serve

Freshly grated parmesan, small mint and parsley leaves, olive oil, for garnish
PREPARATION INSTRUCTIONS:
1. In the bowl of a food processor, pulse together the mint, parsley, pistachios, parmesan, garlic and lemon zest until the herbs are finely chopped and the pistachios and garlic are the texture of fine breadcrumbs or a bit larger – stopping to scrape down the sides of the food processer bowl as needed. Add the lemon juice, a pinch of salt and pepper and the olive oil and pulse until just combined. If needed, add a bit more olive oil until the pesto is the texture of a loose paste that just holds together when lifted with a spoon. Adjust to taste with lemon juice, salt and pepper. Transfer the pesto to a bowl and set aside.


2. Place a large GreenPan Frypan on the stovetop over medium high heat and pour in the olive oil. Once the oil is hot and shimmering slightly, add in the prosciutto and cook until well seared and crispy, about 2 to 3 minutes per side. Once crisp, transfer the prosciutto to a paper towel lined plate to drain and cool. Set the frypan aside while boiling the gnocchi.


3. Place a 5-Quart GreenPan Stockpot, filled three quarters of the way with water, on the stovetop and bring to a boil. Once boiling, season the water generously salt. Add the frozen Cappello's Almond Flour Gnocchi to the water and immediately stir. Cook the gnocchi for about 5 minutes, until they begin to float, stirring regularly. Reserve 1/2 cup of the pasta water for making the sauce later, then drain the gnocchi.


4. Place the frypan back over medium high heat and add the butter. Once the butter is melted add the drained gnocchi, shallots and red pepper flakes to the frypan and sauté for 3 to 4 minutes, stirring or tossing occasionally, until the gnocchi are well seared and golden brown. Stir in the peas, 1/3 cup of the reserved pesto, and 2 or 3 tablespoons of the reserved pasta water. Reduce the heat to medium and cook for 1 to 2 minutes until the peas are warmed through and the pesto is coating the gnocchi nicely (if needed, add a bit more reserved pasta water or pesto as desired). Taste and adjust with salt, pepper and lemon juice.


5. Divide the gnocchi onto warmed plates and top each with small dallops of ricotta and the crispy prosciutto broken into smaller bite sized pieces. Garnish with freshly grated parmesan, small mint leaves, parsley leaves and a drizzle of olive oil as desired.
TIPS:
Although it will darken in color and thicken a bit, any left-over pesto can be covered and stored in the refrigerator for 2 to 3 days. Or transfer it to an ice cube tray and freezer for individual portions of instant pesto for quick meals!
Fresh peas would be delicious in this recipe when in season! (When not in season, freezer peas are the way to go!) Simply steam, boil or sauté them as you'd like before beginning the recipe, so they are ready to quickly add to the pan and reheat once the gnocchi is seared.
Featured Product
GP5 Colors Ceramic Nonstick 11-Piece Cookware Set
Our Most Advanced Collection This do-it-all set brings a sleek style to any kitchen with no compromise in performance. Each piece is constructed from heavy-gauge aluminum and coated in our Infinite8 ceramic nonstick. Plus, the induction ready design delivers quick and even...