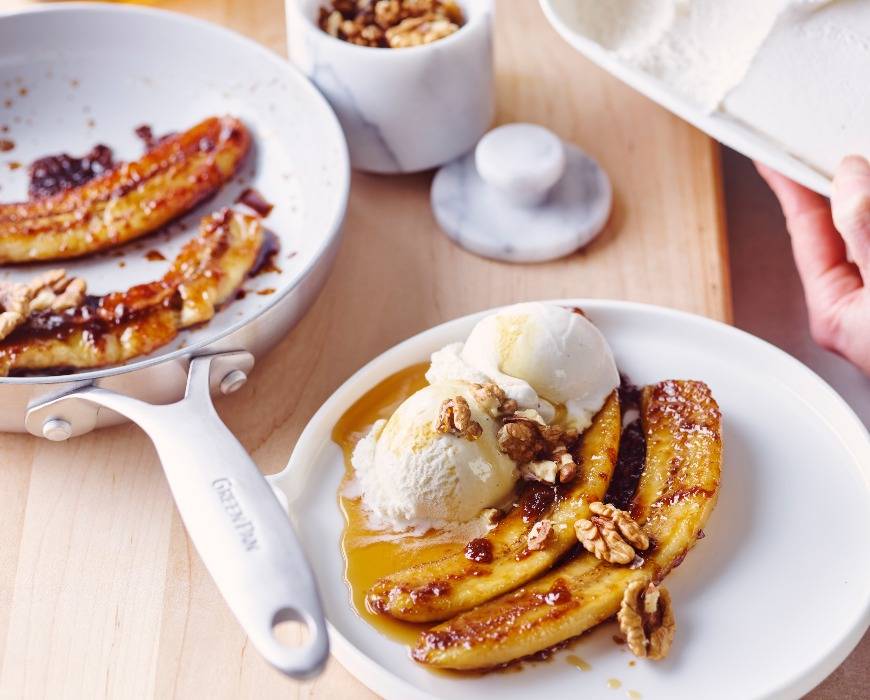 Yield: 4 servings
Time: 5 minutes prep, 10 minutes cooking, 15 minutes total

INGREDIENTS:
1/2 stick butter
1 cup dark brown sugar
1/2 teaspoon ground cinnamon
1 teaspoon vanilla extract
2 to 3 tablespoons dark rum
3 to 4 ripe bananas, sliced into rounds
Vanilla ice cream for serving

PREPARATION INSTRUCTIONS:
Start the sauce—Combine butter, brown sugar, cinnamon, vanilla, and rum in a large skillet over medium heat. Cook until sugar has melted and sauce begins to bubble.
Finish the sauce—Add bananas and stir to coat evenly. Continue cooking until bananas are warm, about 1 or 2 minutes. Avoid overcooking or bananas will get mushy.

TIPS:
Want to Play with Fire? To flambé, increase rum to 1/4 cup and stir in after adding bananas. Carefully ignite rum with a stick lighter and continue cooking until flames subside, about 1 or 2 minutes.
Unleaded Option—To get the classic flavor without the high alcohol content, substitute 3 teaspoons rum extract in place of dark rum.
Featured Product
Venice Pro Ceramic Nonstick 11" Frypan
Crafted from ultra-tough, multilayer stainless steel, this 11" pan is ideal for a wide variety of tasks—from sautés to bakes and fluffy scrambled eggs to fall-apart tender salmon. Finished with our healthy ceramic nonstick coating, cleanup is effortless.