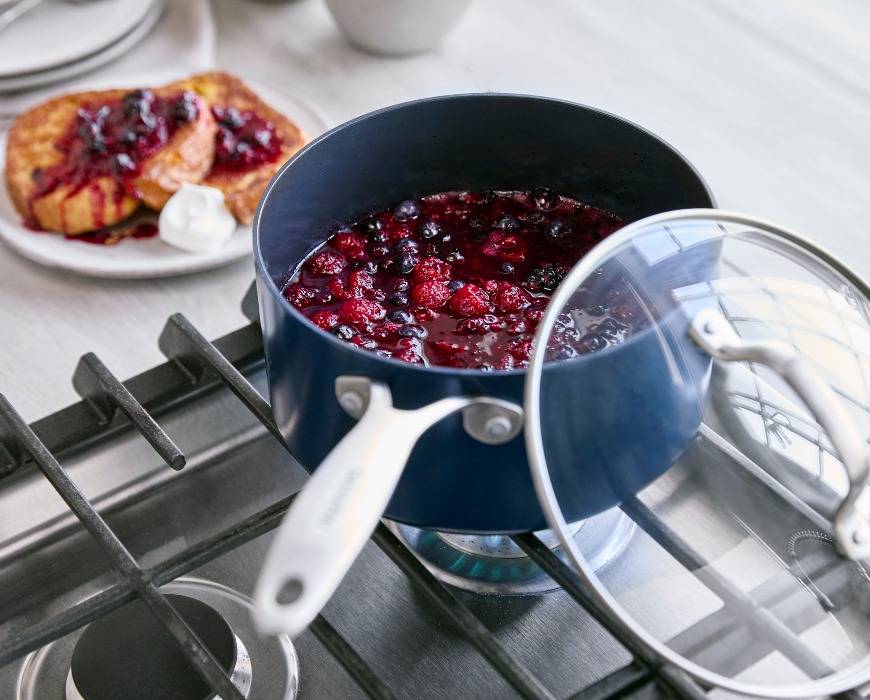 Yields: ~1 cup
Time: 5 minutes prep, 8 minutes cooking, 12 minutes total
INGREDIENTS:
1 1/2 cups frozen berries (blueberry, blackberry, raspberry, strawberry, or a mix)
1 tablespoon lemon juice, more or less to taste
1 to 2 tablespoons granulated sugar, more or less to taste
PREPARATION INSTRUCTIONS:
Start the compote—Add berries to a medium saucepan over medium high heat. Stir in lemon juice and sugar and cook, stirring occasionally, for 3 to 4 minutes.
Cook the compote—Bring berry mix to a boil, pressing berries to release some of the juices. Reduce heat to medium-low and simmer for another 3 to 4 minutes.
Finish and serve—Remove compote from heat. Taste and add more sugar or lemon juice as needed. Serve warm or cooled.
TIPS:
Fresh Idea—When using fresh fruits, stir in sugar first and let sit for about half an hour to create syrup. If you need more liquid, add a splash of OJ or water.
Tasty Variations—Add depth of flavor with your favorite mix-ins, from fresh ginger or citrus zest to cinnamon, pumpkin pie spice, vanilla extract, or even a fruity liqueur.
Featured Product
Performance Pro Ceramic Nonstick 3-Quart Saucepan with Lid
This versatile saucepan is a stovetop staple thanks to the duoforged armored body and Magneto induction base. It's perfect for soups, smaller stews, perfecting your sauces, and nailing the perfect mac and cheese.