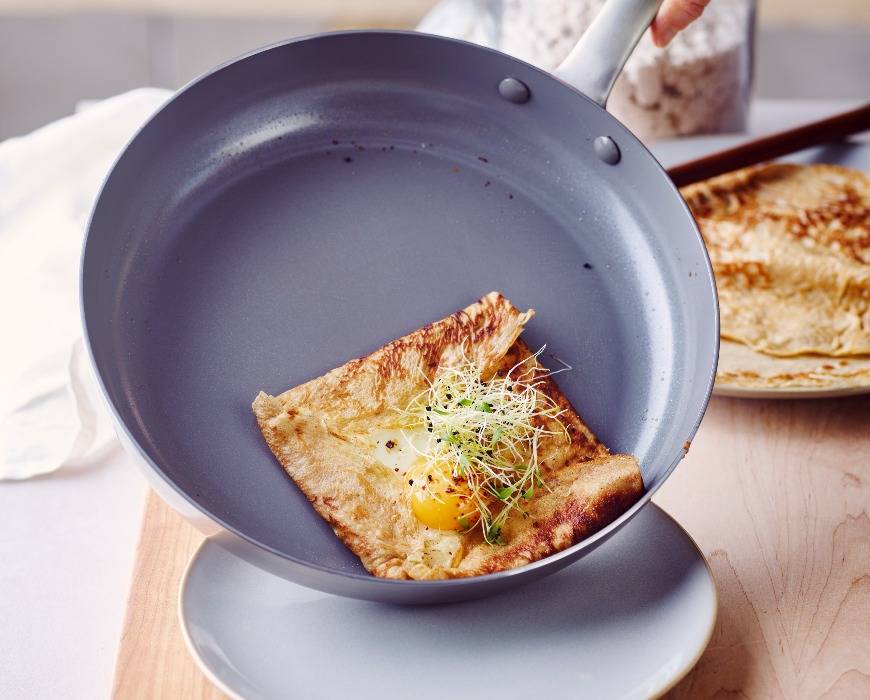 Yields: ~15 crepes
Time: 10 minutes prep, 3 hours resting, 35 minutes cooking, 3 hours 45 minutes total

INGREDIENTS:
For the crepe batter:
2 cups whole milk
1 tablespoon sugar
1/4 teaspoon salt
3 tablespoons butter, melted
1/2 cup buckwheat flour
3/4 cup all-purpose flour
3 eggs
For assembling crepes
Black forest ham (1 slice per crepe)
Grated Gruyère cheese (1/4 cup per crepe)
Eggs (1 per crepe)
Sea salt and freshly ground black pepper to taste

PREPARATION INSTRUCTIONS:
Mix the batter—In a large bowl, whisk together the milk, sugar, salt, butter, flours, and eggs. Cover and let chill for a couple of hours or overnight.
Rest the batter—When ready to make crepes, let batter sit at room temperature for an hour or so. Stir well and check consistency—it should look like heavy cream. If too thick, whisk in a bit of milk.
Make the crepes—Preheat oven to 375°F. Heat a 10" nonstick skillet over medium high. Add a bit of butter and spread it over pan with a brush or paper towel. Ladle about 1/4 cup of batter into the center of pan, then quickly swirl to coat the bottom. Cook crepe for about a minute or until it easily releases from pan, then flip and cook the other side for 30 seconds. Transfer crepe to a plate and repeat with remaining batter. (To ensure that crepes don't stick together, layer with waxed paper or parchment.)
Assemble the crepes—Place crepes on a baking sheet (or two if using all the crepes). Place a piece of ham in the center of each crepe, crack an egg over ham and sprinkle with cheese. Fold edges of crepe to create squares.
Bake the crepes—Bake in preheated oven until eggs are set and cheese is melted, about 10 to 15 minutes. Sprinkle crepes with sea salt and fresh-ground black pepper. Serve immediately.

TIPS:
Make Ahead—Create a batch of crepes, layer with waxed paper, and place in zip-top plastic bags in the freezer. Bring to room temperature before assembling and baking.
Don't Flip Out—It may take one or two tries to get picture-perfect crepes, but you'll definitely enjoy eating your mistakes. If crepes are cooking too quickly (i.e. burning), reduce heat.
Featured Product
Chatham Ceramic Nonstick 11" Frypan
Designed to be an everyday go-to, this 11" frypan features our signature healthy ceramic nonstick coating for effortless cleanup. Plus, the ultra-tough hard anodized aluminum body won't warp no matter how many meals it turns out.