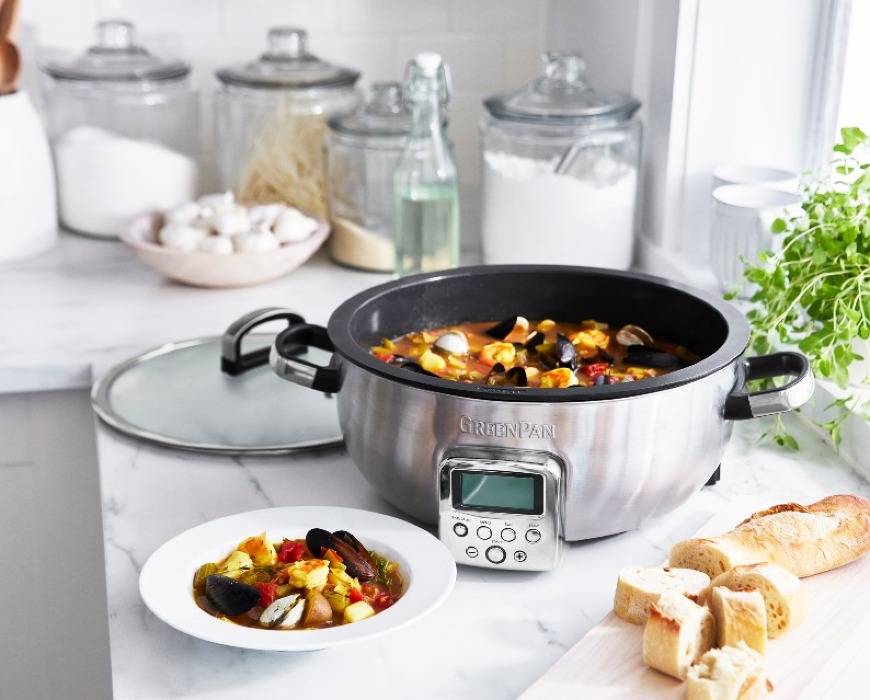 Yields: 4 to 6 servings
Time: 20 minutes prep, 60 minutes cooking, 1hr 20 minutes total
INGREDIENTS:
1/4 cup olive oil, plus more for bread
4 to 6 thick slices sourdough bread
kosher salt
freshly ground black pepper
1 yellow onion, small dice
2 stalks celery, cut into 1/2-inch pieces
4 cloves garlic, minced
1 1/2 cup baby red potatoes, quartered
1 small bulb fennel, halved, core removed, thinly sliced (reserve fronds for garnish)
3-4 saffron threads
3-4 sprigs fresh thyme, destemmed
3 cups fish or shellfish stock, low sodium or homemade
2 cups canned chopped tomatoes, with their juice
1 pound cod, halibut or other flaky white fish, cut into large chunks
12 littleneck clams, shells cleaned
1/2-pound medium sized shrimp, peeled and deveined
12 mussels, shells cleaned and beards removed
1/4 cup roughly chopped fennel fronds, for garnish
1/4 cup roughly chopped fresh parsley, for garnish
PREPARATION INSTRUCTIONS:
Select the Sear/Sauté mode on the Essential Smart Skillet, set the temperature to 400°F and the timer for 20 minutes.
Generously drizzle both sides of each slice of bread with olive oil, and season with salt and pepper. Working in batches, toast the bread in the Essential Smart Skillet until they are crispy and golden brown (even a few char marks is ok). Set the toast aside on a platter to serve with the bouillabaisse.
Select the Soup mode on the Essential Smart Skillet, set the temperature to 220°F and the timer to 1 hour. Pour in the olive oil and allow it to come to temperature, until it shimmers slightly. Add in the onion and celery and cook, stirring regularly with a wooden spoon for 3 to 4 minutes, or until softened. Add in the garlic and continue cooking for another 2 minutes until it's very aromatic.
Add to the Essential Smart Skillet the potatoes, fennel, saffron and thyme. Cook, again stirring regularly, for 4 to 5 minutes until the fennel has softened slightly and the thyme has become quite fragrant.
Pour in the stock and tomatoes, allowing them to come to temperature until they are at a heavy simmer. Add a pinch of kosher salt and black pepper, and let the stew cook until reduced and thickened slightly, about 20 minutes. It shouldn't be watery, but rather be able to coat the back of a spoon very lightly. Taste the stew and again adjust with salt and pepper as necessary.
Reduce the temperature on the Essential Smart Skillet to 200°F, so that the stew is lightly simmering. Add in the fish and clams, adjusting temperature as necessary so the stew remains simmering very gently and cover. After the fish and clams been cooking for 4 to 5 minutes, remove the cover, add in the shrimp and mussels, and cover once more. Cook the stew for another 2 to 3 minutes or until the clams and mussels have opened, (discard any that have not opened after the rest of them have), and the shrimp are cooked through.
Adjust the stew one final time with salt and pepper as desired. Ladle the broth into large serving bowls and distribute the seafood and vegetables evenly amongst each one. Garnish the bowls with some of the chopped fennel fronds and parsley. Serve the toasted bread on the side for dipping into the broth.
TIPS:
Fresh vs. Frozen – No need to splurge on fresh cod or shrimp for our stew. Just be sure to thaw it beforehand so everything cooks evenly.
Get Creative – Our bouillabaisse is endlessly versatile, so experiment with other seafoods like scallops, oysters, and various kinds of white fish to create your signature stew.
Featured Product
Premiere 6-Quart Essential Smart Skillet
Whether you're searing a steak, perfecting a complex stew, or simply making rice, this family-sized 6-quart skillet gives you room for any meal. The high sides eliminate splatter and make it easy to toss your ingredients without worry.