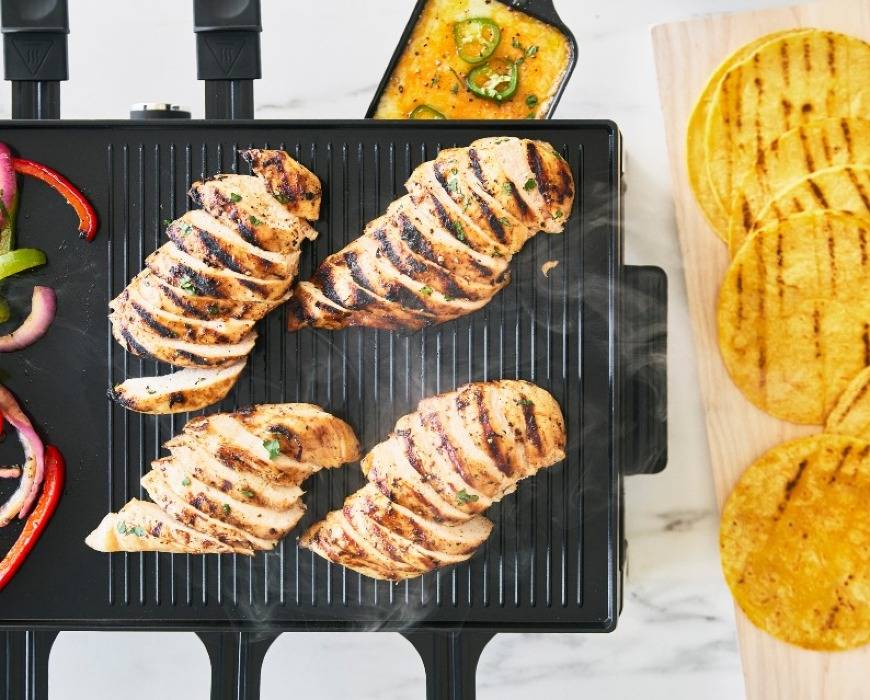 Yields: 4 servings
Time: 35 minutes prep, 15 minutes cooking, 50 minutes total
INGREDIENTS:
For the marinade
1/4 cup lime juice
1/3 cup olive oil
3 garlic cloves, minced
1 teaspoon salt
1 teaspoon ground cumin
1 teaspoon chili powder
2 tablespoons finely chopped cilantro
For the fajitas
8 corn or flour tortillas
4 boneless, skinless chicken breasts
2 to 3 bell peppers of various colors, sliced into strips
1 medium red or white onion, sliced into strips
1 to 2 tablespoons olive oil
Salt and freshly ground black pepper to taste
Juice of half a lime
2 cups shredded cheddar or Mexican 4-cheese blend
2 jalapeño peppers, sliced
1/4 freshly chopped cilantro
PREPARATION INSTRUCTIONS:
Marinate the chicken—Whisk all marinade ingredients together in a large bowl or shake together in a plastic zip-top container. Add chicken breasts and turn to coat evenly. Cover and let sit at room temperature for 30 minutes.
Grill the tortillas— When chicken has been marinating for about 15 minutes, fit your Gourmet Grill with the griddle/grill top and preheat to a medium-high setting. Preheat oven to 200°F. Working in batches, place tortillas on grill and cook for 30 seconds on each side or until you see nice grill marks. Place tortillas in 2 stacks of 4 tortillas and wrap with aluminum foil. Place on cookie sheet in preheated oven till ready to serve.
Grill the chicken—Remove chicken from marinade and pat gently with paper towels to remove excess marinade. Season chicken on both sides with salt. Use a pastry brush to lightly coat the grill side with olive oil. Place chicken breasts on grill side and sear for 5 to 6 minutes. Flip with tongs and grill for another 5 minutes. Transfer chicken to a cutting board and cover with aluminum foil to rest.
Cook the veggies— While chicken is resting, add veggies to griddle side and toss with enough olive oil to coat evenly. Season with salt and freshly ground black pepper. Allow peppers and onions to cook undisturbed until they begin to char, about 2 to 3 minutes. Stir vegetables and continue cooking until they reach your desired level of char. Squeeze half a lime over cooked veggies.
Melt the cheese— While veggies cook, distribute cheese evenly among pans and top each with 2 or 3 slices of jalapeño. Place pans on lower plate until cheese is melted and bubbly.
Finish the chicken—Slice chicken into strips across the grain. Return chicken to grill to warm as vegetables finish cooking.
Assemble and serve— Remove warm tortillas from oven. Invite guests to top their tortillas with chicken and pepper mix. Then they'll pour melted cheese on top of fajitas, sprinkle with cilantro, roll up, and enjoy!
TIPS:
Mix it Up—These fajitas also work great with steak or shrimp—use a combo of meats for a fun surf and turf (or turf and turf) variation. 
Double Your Pleasure—Feeding more folks or just a few with hearty appetites? Double the proportions and gather in the kitchen as you take turns cooking and eating.
Featured Product
Ultimate Gourmet Grill
Ideal for parties, family dinners, entertaining, and everything in between—this gourmet set is the perfect way to bring everyone to the table. This set features a cast aluminum plate with one grill and griddle side that reverses to individual pancake...