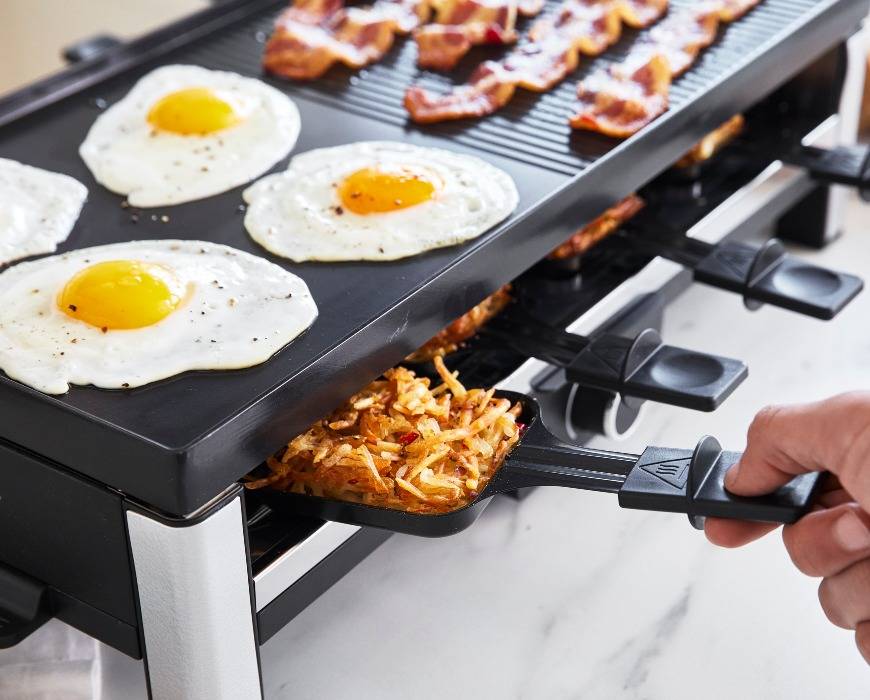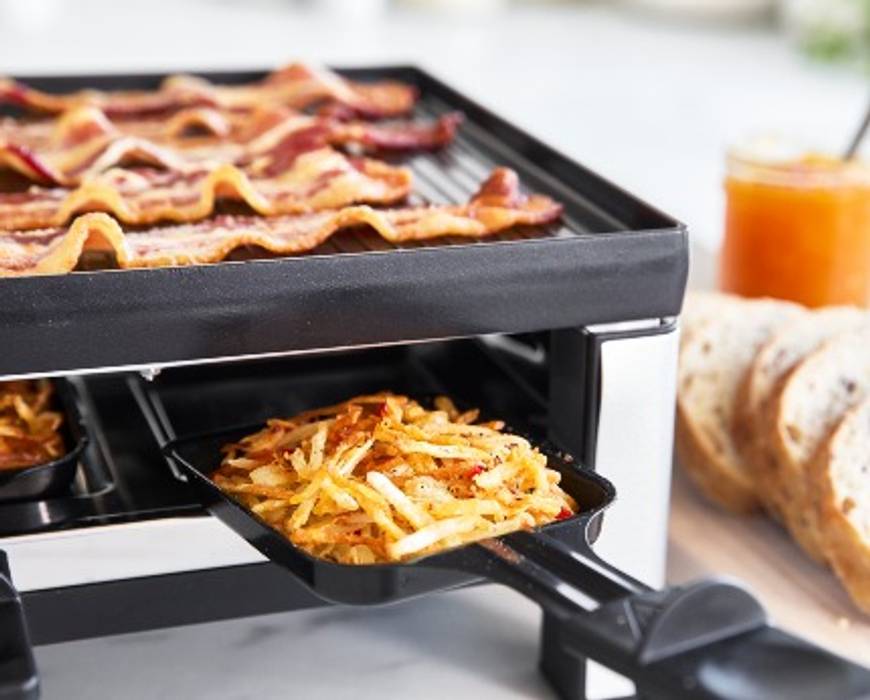 Yields: 3 to 4 servings
Time: 10 minutes prep, 20 minutes cooking, 30 minutes total
INGREDIENTS:
1 to 2 slices bread per person
2 to 3 slices bacon per person
1 to 2 eggs per person
Salt and pepper to taste
1 bag frozen hash browns, thawed
Salt and freshly ground pepper to taste
Butter and jam for toast
PREPARATION INSTRUCTIONS:
Prepare to cook—Fit your Gourmet Grill with the griddle/grill top and preheat to a medium setting.
Make the toast—Place bread slices on both sides of grill, working in batches, if needed. Toast bread for 1 to 2 minutes on each side, then transfer to serving dish. Butter while warm, if desired.
Cook the hash browns—Fill pans with thawed hash browns and place on the lower plate. Cook until golden, crispy, and heated through. If hash browns are done before the rest of food, remove pans from heat and set aside, then reheat for a couple of minutes before serving.
Cook the bacon—Place bacon strips side by side on grill surface, working in batches if needed. Let bacon cook until it begins to shrink and turn brown around the edges, about 5 to 7 minutes. Flip bacon with tongs and continue cooking until desired crispness is reached. Remove bacon from grill and place on a paper towel-lined plate to drain.
Fry the eggs—Use a pastry brush to lightly coat griddle side with grease from cooking bacon. Crack an egg into a small bowl, fish out any broken shell, and pour egg onto griddle. Repeat with remaining eggs, working in batches, if needed. Sprinkle eggs with salt and freshly ground pepper to taste. Cook until whites have solidified, about 5 minutes. Gently slide a spatula under egg and turn it over slowly, with minimal lifting of spatula to avoid breaking the yolk (this is why it's called "over easy"!). Cook for an additional minute or two, then remove from heat.
Enjoy—Once everything's cooked, let everyone fill their plates and dig in!
TIPS:
A Good Egg—Eggs stay fresh long past their "best by" dates. Test for freshness by placing eggs in a bowl of water. If eggs float to the surface, it's time to toss them.
Mix it Up—swap bacon for sausage, bread for bagels, and over easy eggs for scrambled. Customize to suit your family's taste!
Featured Product
Ultimate Gourmet Grill
Ideal for parties, family dinners, entertaining, and everything in between—this gourmet set is the perfect way to bring everyone to the table. This set features a cast aluminum plate with one grill and griddle side that reverses to individual pancake...