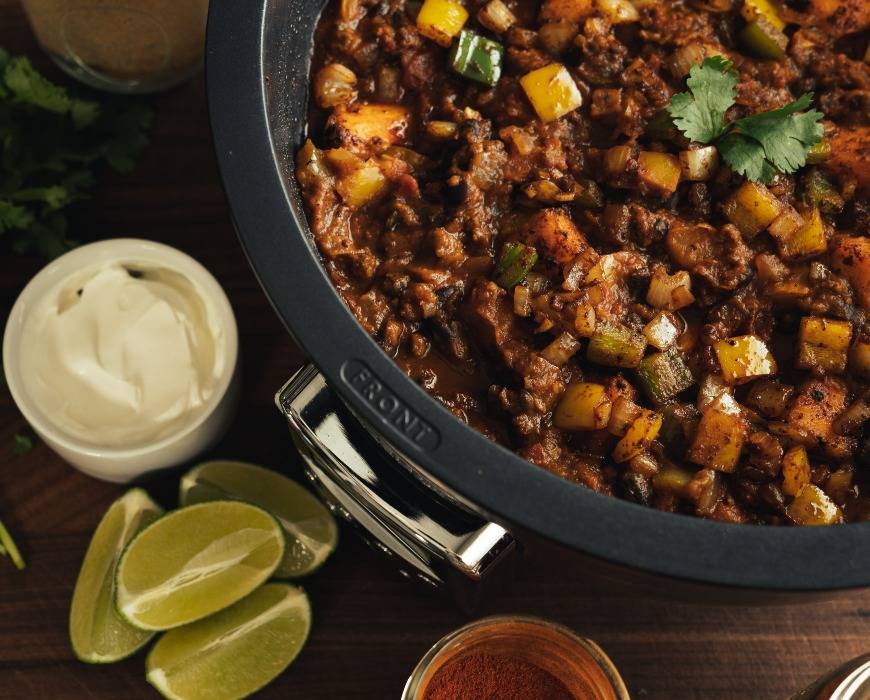 Pumpkin and Squash Beef Chili
Yields: 6 to 8 servings
Time: 15 minutes prep, 2hr cooking, 2hr 15 minutes total
INGREDIENTS:
1 tablespoon vegetable oil
1 pound ground beef
1 cup onion, small dice
1 green bell pepper, medium dice
1 yellow bell pepper, medium dice
1 cup butternut squash, diced
1 clove garlic, minced
2 tablespoons tomato paste
1 1/2 tablespoons chili powder
2 teaspoons cumin
1.5 teaspoons smoked paprika
1 teaspoon ground black pepper
2 teaspoons kosher salt
1 tablespoon red wine vinegar
1 (14.5 ounce) can fire roasted tomatoes
1 (14.5 ounce) can pumpkin puree
1 (14.5 ounce) can black beans, drained and rinsed
2 cups chicken or beef stock
cilantro leaves, lime wedges, and sour cream for garnish
PREPARATION INSTRUCTIONS:
Select the Sear/Sauté feature on the Essential Smart Skillet, set the temperature to 400°F and the timer for 10 minutes. Heat the vegetable oil until shimmering, then add the ground beef and cook until thoroughly browned. Remove the beef from the pan and reserve in a small bowl, keeping care to leave any fat behind.
Select the Simmer mode on the Essential Smart Skillet, set the temperature at 200°F and the timer for 2 hours. Add the onion, bell peppers, butternut squash, and garlic to the rendered fat and oil. Cook for 4 to 5 minutes until the onions are softened and the garlic is fragrant.
Add the tomato paste, spices, pepper, and salt. Cook, stirring regularly, until the aroma of the spices intensifies and the color of the tomato paste becomes a much darker red. Pour in the red wine vinegar and stir, releasing any browned bits from the bottom of the pan.
Add in the fire roasted tomatoes, pumpkin puree, black beans, and stock, stirring evenly to combine. Cook, covered for the remainder of the time. (Adding more stock or water if needed towards the end of cooking.)
Serve the the chili with hand torn cilantro, a lime wedge, and a spoonful of sour cream.
TIPS:
Worth the Wait - The key to building great flavor is cooking chili low and slow for a couple of hours. It'll taste even better the next day, so make ahead if you can.
Playing with Fire - Charring over flame brings out the sweetness of tomatoes and adds a distinct smoky flavor that adds depth to any dish.
Featured Product
Elite 6-Quart Essential Smart Skillet | Premiere Stainless Steel
Whether you're searing a steak, perfecting a complex stew, or simply making rice, this family-sized 6-quart skillet gives you room for any meal. The high sides eliminate splatter and make it easy to toss your ingredients without worry.