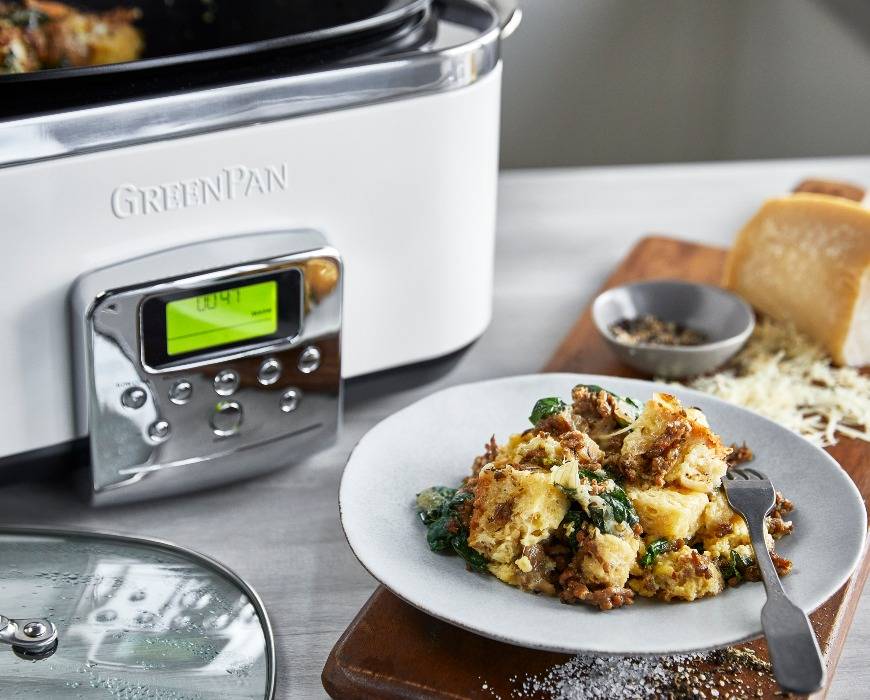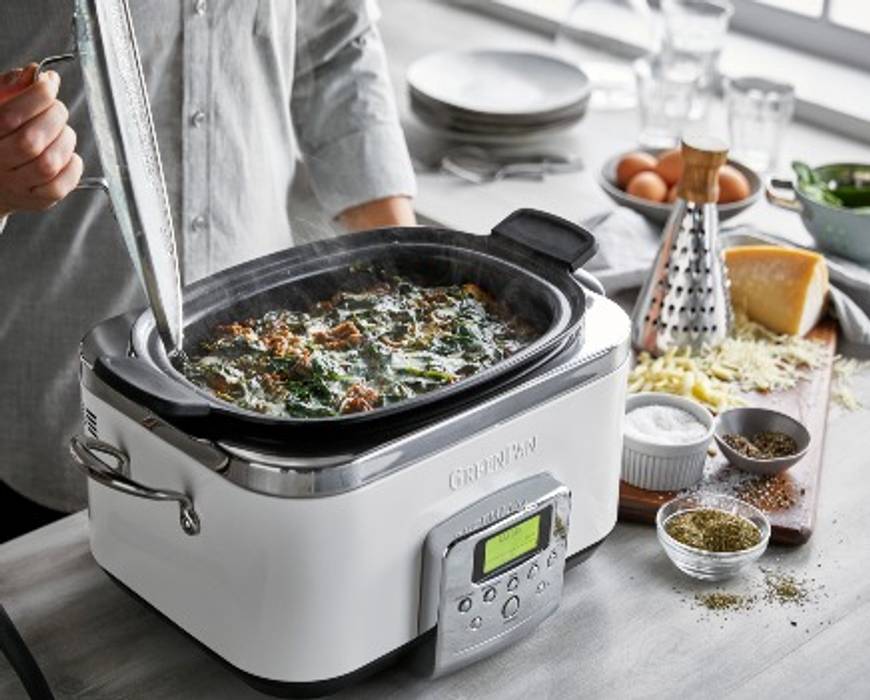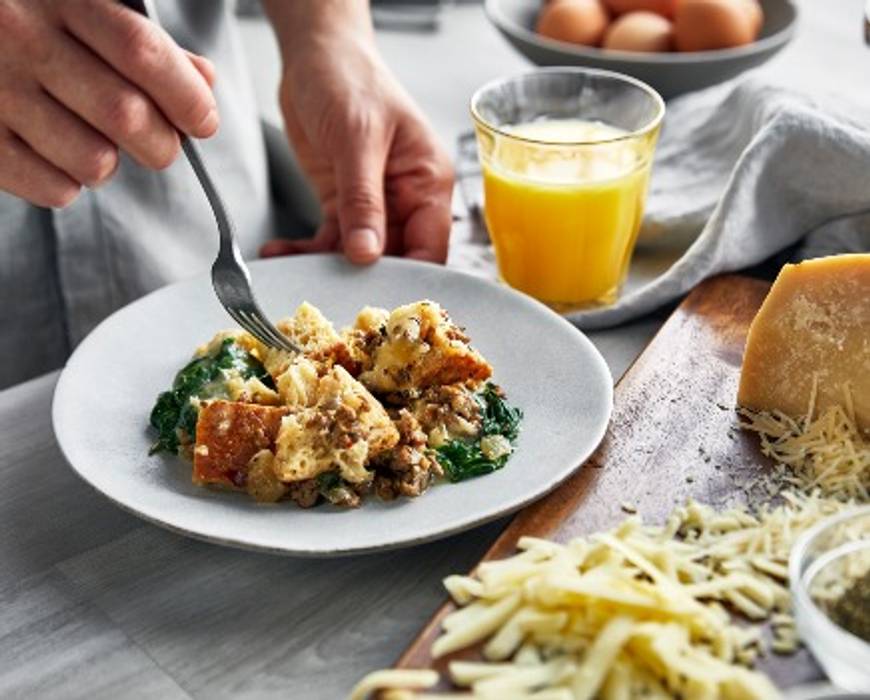 Breakfast Strata with Sausage
Yields: 6 to 8 servings
Time: 20 minutes prep, 4 hours cooking
INGREDIENTS:
1 tablespoon extra-virgin olive oil
12 ounces mild Italian sausage, casings removed 
1 small yellow onion, peeled and cut in 1/4" dice 
2 cloves garlic, peeled and minced
1/2 teaspoon dried thyme
1/2 teaspoon dried oregano 
1/4 teaspoon red pepper flakes 
2 cups whole milk 
1 cup heavy cream 
8 large eggs
1 teaspoon kosher salt
1/2 teaspoon freshly cracked black pepper 
12 cups French or Italian bread, day old preferred, cut into 1/2" dice (about 1 loaf)
10 ounce package frozen spinach, defrosted and drained
1 1/2 cups shredded white cheddar 
1/2 cup shredded parmesan 
PREPARATION INSTRUCTIONS:
Select the Brown/Sauté mode on the Premiere Slow Cooker, set the temperature to 350°F and the timer to 15 minutes.  Pour in the oil and allow it to come to temperature.  Add in the sausage and using a wooden spoon break it into small, bite size pieces.  Cook for 8 to 10 minutes, stirring occasionally, until very well browned.  Stir in the onion, garlic, thyme, oregano a red pepper flakes.  Cook a few minutes more, still stirring occasionally, until the onions are softened and the garlic and herbs are quite aromatic.  Turn off the slow cooker and transfer the mixture to a bowl and reserve, leaving any fat and oil in the bottom of the insert.  


In a large mixing bowl whisk together the milk, heavy cream, eggs, salt, and pepper until smooth, with no streaks of egg whites or yolks remaining.  


Place half of the bread into the slow cooker in one even layer. Cover with half of the sausage mixture, half of the spinach (if needed, squeeze the spinach dry in a towel to get out as much moisture as possible) and half of both cheeses. Pour half of the milk mixture evenly over the top and lightly press the bread and other ingredients down to submerge. Repeat making another layer using the other half of the bread, sausage mixture, spinach, cheeses and milk mixture as before, pressing down again.   


Select the Low Temperature Slow Cook Mode on the Premiere Slow Cooker and set the timer for 4 hours.  (The strata can also be cooked on high for 2 hours if needed).  Cover and cook until the strata is completely set in the center - no liquid should be present if you gently press on the top and around the sides.  Remove the cover and allow the strata to rest for 10 to 15 minutes before serving warm.  
TIPS:
This versatile recipe can adjusted countless ways by replacing the sausage and spinach.  Try Bacon and marinated artichoke hearts or maybe diced ham and roasted red peppers! 
For a firmer textured strata with more distinct pieces of bread, dry the bread cubes on a sheet pan in a 350 F oven for 15 minutes before adding them to the slow cooker.  
Featured Product
Elite 6-Quart Slow Cooker | Cloud Cream
With our advanced slow cooker, you can sear meat and veggies in the pot, then go low and slow to finish the job. Take your time while cooking, then clean up quickly with Thermolon™ Volt, a healthy, PFAS-free ceramic nonstick...