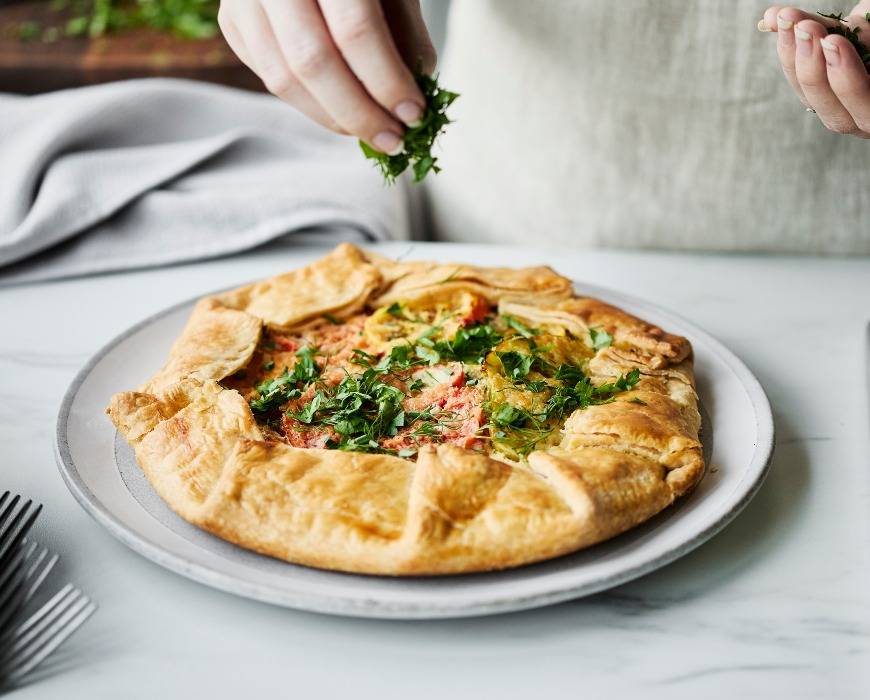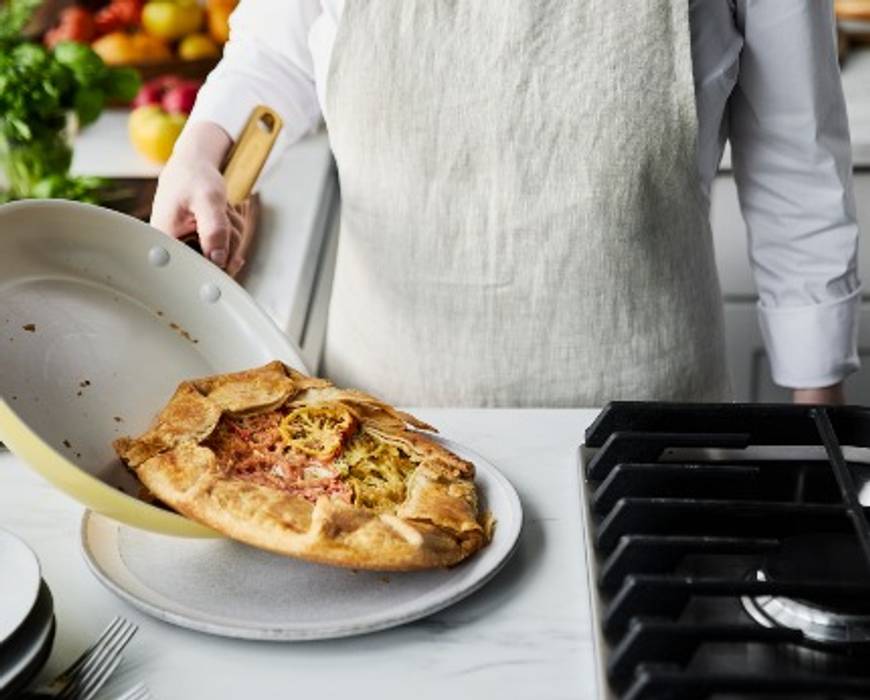 Yields: ~6 servings
Time: 15 minutes prep, 35 minutes cooking, 50 minutes total
INGREDIENTS:
3 medium heirloom tomatoes, ripe but still firm
Salt and pepper to taste
3/4 cup ricotta cheese
1/2 cup chopped fresh basil, parsley, chives, or a mix
3/4 cup freshly grated Parmesan or asiago, divided
2 cloves garlic, minced
1 pie crust—homemade or the refrigerated, pre-rolled kind
1 large egg
1 tablespoon water, milk, or cream
Fresh herbs for garnish
PREPARATION INSTRUCTIONS:
Prepare to bake—Preheat oven to 400°F. If using homemade pie dough, remove from fridge and let sit at room temperature while you prep the filling.
Drain the tomatoes—Slice tomatoes about 1/4 inch thick. Set on paper towels to absorb excess moisture. Season generously with salt and freshly ground black pepper.
Mix the filling—In a small bowl, mix together the ricotta, fresh herbs, most of the grated cheese (reserve about 1/4 cup), and garlic.
Shape the galette dough—Place dough on a lightly floured work surface and roll into a circle about 14 inches in diameter and 1/8 inch thick. Transfer to an oven-safe, nonstick 12-inch skillet. The edges should overhang about an inch.
Assemble the galette—Spread the ricotta mixture in an even layer in the bottom of skillet. Place a tomato slice atop the ricotta mix in the center of skillet, then add the rest of the slices, overlapping, till the skillet is packed full of heirloom tomato goodness. Fold edges of dough over the filling.
Make the egg wash—in a small bowl, beat egg together with 1 teaspoon water, milk, or cream.
Bake the galette—Brush the pie dough with egg wash and sprinkle the remaining cheese over the top of tomatoes. Transfer skillet to preheated oven and bake until tomatoes are bubbly and crust is beautifully golden brown, about 35 to 40 minutes. Remove from oven and let rest about 10 minutes before slicing—if you can wait that long.
TIPS:
How to Pick an Heirloom Tomato—Look for tomatoes that feel heavy with skin that's tight, firm, and blemish free. Go with any color you like, but we prefer a variety of reds, oranges, and greens for this galette.
Pretty? Please!—Heirloom tomatoes aren't the handsomest produce around and galettes are imperfect by nature. Embrace the rustic charm of this humble pie, and you'll be rewarded with an unforgettable not-so-fine dining experience.
Featured Product
Reserve Ceramic Nonstick 10-Piece Cookware Set | Sunrise with Gold-Tone Handles
World-class performance meets eye-catching contrast in GreenPan Reserve. But it's more than good looks: the duoforged hard anodized construction makes this set extra tough. This set makes it simple to find your style at home.