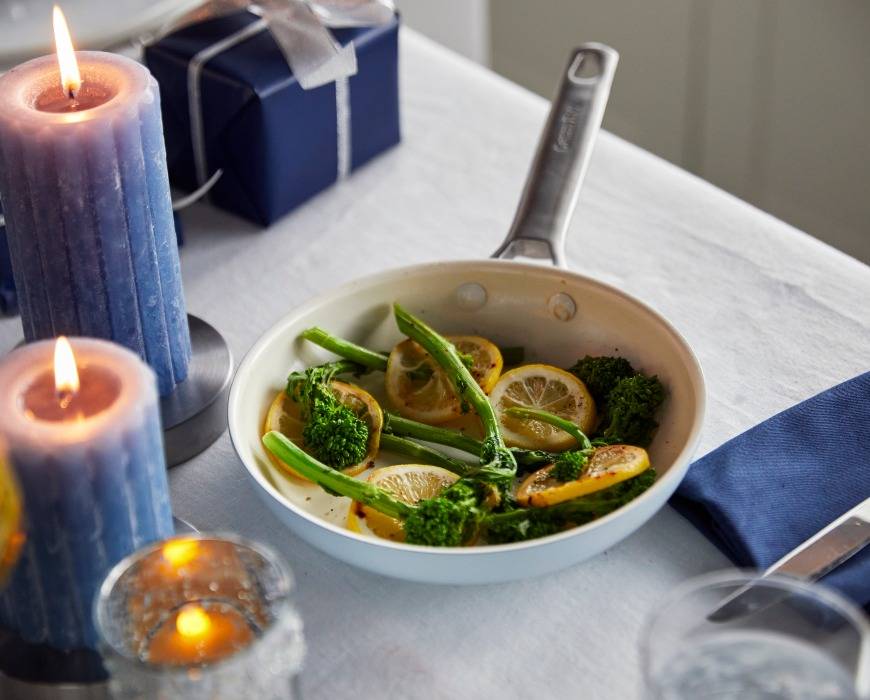 Skillet Roasted Broccolini with Garlic and Lemon
Yields: 4 servings
Time: 5 minutes prep, 20 minutes cooking, 25 minutes total
INGREDIENTS:
2 bunches broccolini, trimmed
1 medium lemon, sliced into rounds
3 cloves garlic, minced
1 tablespoon olive oil
1/2 teaspoon salt
Red pepper flakes, optional
PREPARATION INSTRUCTIONS:
Prepare to cook—Preheat oven to 425°F.


Prep the broccolini—Add broccolini to a medium nonstick, oven-safe skillet along with lemon slices and garlic. Drizzle with olive oil and toss with hands to coat everything. Sprinkle salt and red pepper flakes, if using, evenly over the ingredients in skillet.


Roast the broccolini—Transfer skillet to preheated oven and roast until broccoli is tender but still crisp and lemons are slightly charred—about 20 minutes. Serve hot.
TIPS:
Say Cheese!
We're not opposed to sprinkling broccolini with a little shredded Parmesan (or drizzling with a creamy cheese sauce!). If you want to keep the dish vegan, be sure to serve cheese on the side.
Pick your Favorite Vegetable
We love using this quick and easy recipe to roast all kinds of veggies—from cauliflower and carrots to parsnips and potatoes. Cook times may vary.
Featured Product
Padova Light Blue Ceramic Nonstick 10-Piece Cookware Set
Finished in a gorgeous blue inspired by the northern Italian sky, the Padova collection celebrates the freedom that comes from healthy cooking. The duoforged hard anodized aluminum construction makes each of these pans extra tough and scratch-resistant.