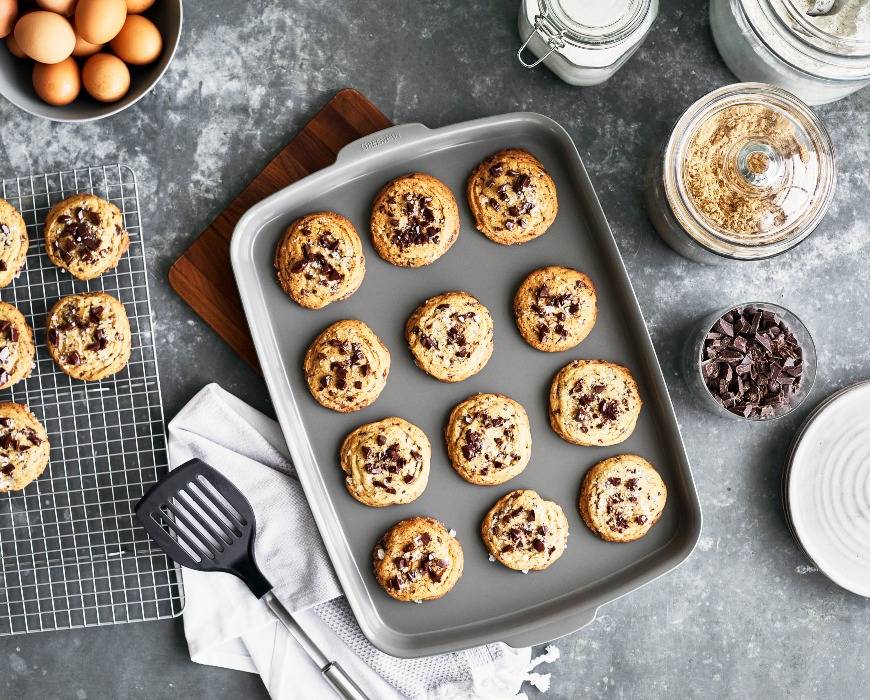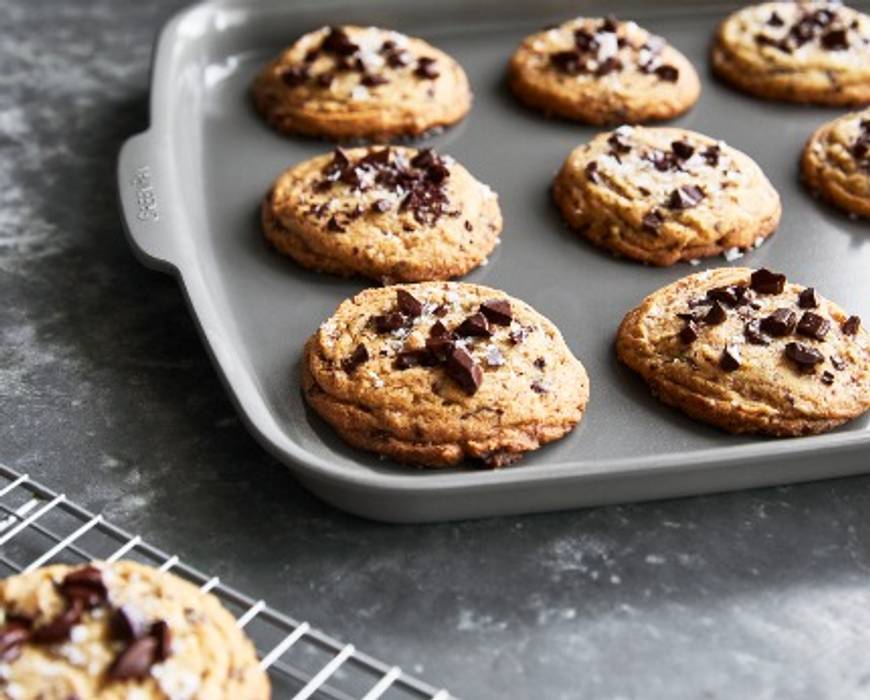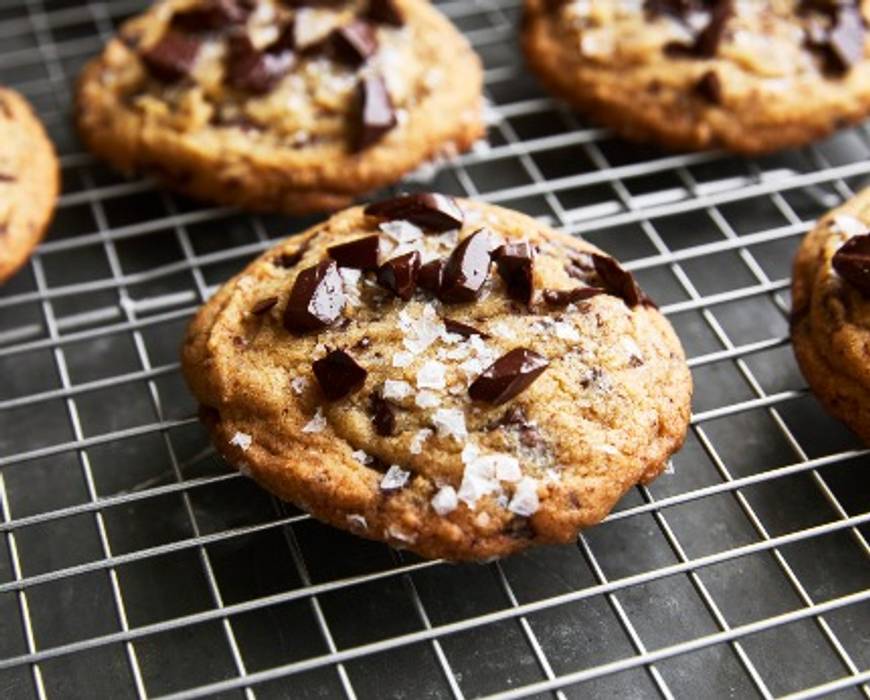 Brown Butter Chocolate Chunk Cookies
Yields: ~16 large cookies
Time: 30 minutes prep, 1 hour chilling, 24 minutes cooking, 1 hour 34 minutes total
INGREDIENTS:
1 cup unsalted butter at room temperature, divided
1 cup brown sugar
1/2 cup granulated sugar
2 teaspoons vanilla bean paste or extract
2 large eggs, room temperature
2 1/4 cups all-purpose flour
1 teaspoon baking soda
1 teaspoon kosher salt
6 ounces dark or milk chocolate (or a mix), coarsely chopped
Flaky sea salt for sprinkling
PREPARATION INSTRUCTIONS:
Brown the butter—In a small saucepan over medium-low heat, melt 1 stick of butter. Cook until butter gets very bubbly and starts turning brown—when the butter smells wonderfully nutty, it's done. Immediately pour browned butter into a large, heat-safe bowl and let cool for about 20 minutes.
Cream the butter and sugar—Add remaining stick of butter to the bowl with cooled browned butter and beat with an electric mixer until light and fluffy. (Start at a low speed so you don't sling butter across the kitchen.) Add brown sugar and granulated sugar, along with the vanilla bean paste and beat together until very light and fluffy. Beat in the eggs, one at time, until fully incorporated. 
Add the dry ingredients—In a small bowl, whisk together flour, baking soda, and salt. Add about 1/3 of the dry ingredients to wet and beat to incorporate. Continue adding in thirds just until all flour is incorporated. If using a stand mixer, beat in chopped chocolate on low just until it's evenly distributed. Otherwise, stir in chocolate with a spatula or wooden spoon.
Chill the dough—Cover dough or wrap in plastic and chill in the refrigerator for 1 hour.
Prepare to bake—Preheat oven to 350°F.
Shape the cookies—Scoop about 3 tablespoons of dough per cookie onto a nonstick baking sheet, placing them about 2 to 3 inches apart. Sprinkle the tops generously with sea salt.
Bake the cookies—Bake in preheated oven until cookies are golden brown on top and darker around the edges—about 13 to 15 minutes. Let cookies rest on the pan for a few minutes before transferring to a cooling rack—or eating them straight from the pan (we won't judge!). They're best enjoyed warm when the chocolate is still melty.
TIPS:
Feeling Chipper—Don't want to bother with chopping chocolate? Sub in an equal amount of chocolate chips—try using a mix of dark and milk in different sizes.
Flavor Upgrade— When it comes to vanilla, accept no imitations! We like using vanilla bean paste for a more potent flavor, but pure vanilla extract works great, too.
Featured Product
Premiere Ovenware Ceramic Nonstick 13" x 9" Quarter Sheet Pan
Crafted from ultra-tough cast aluminum, this pan is our go-to for sides, veggies, and hundreds of other smaller things. The rolled edges make it extra sturdy and warp-resistant to prevent food from cooking unevenly.