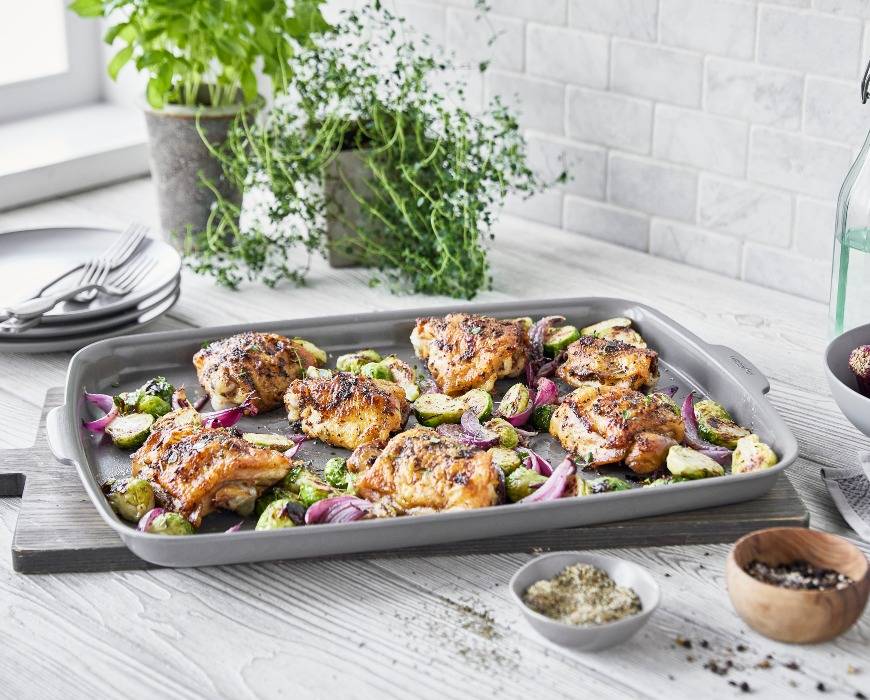 Yields: 6 servings
Time: 40 minutes prep, 30 minutes cooking, 1 hour 10 minutes total
INGREDIENTS:
6 bone-in, skin-on chicken thighs
1 tablespoon olive oil, plus more for baking
1 tablespoon Italian seasoning
Juice of 1 lemon (about 2 tablespoons)
1 tablespoon stone-ground mustard
1 tablespoon Dijon mustard
Salt and freshly ground black pepper
12 ounces Brussels sprouts, trimmed and halved or quartered
1 red onion, sliced into wedges
6 cloves garlic
PREPARATION INSTRUCTIONS:
Marinate the chicken—In a large bowl, whisk together olive oil, Italian seasoning, lemon juice, and mustards, along with salt and pepper to taste. Add chicken thighs and turn to coat evenly. Cover bowl with lid or plastic film and marinate in the refrigerator for at least half an hour.
Prepare to bake—Preheat oven to 400°F.
Prep the veggies—Add Brussels sprouts, onion, and garlic to a nonstick sheet pan. Drizzle with olive oil and sprinkle generously with salt and freshly ground pepper. Toss to coat evenly.
Cook the chicken—Pick up a chicken thigh with tongs and gently shake off excess marinade. Place chicken skin side up on sheet pan, then repeat with remaining thighs. Bake in preheated oven until chicken is golden brown and cooked through about 30 to 35 minutes.
Crisp the skin—Set oven to broil and place sheet pan under broiler for a few minutes to crisp up skin.
TIPS:
Check for Doneness—If in doubt, insert a food thermometer into the thickest part of chicken (without touching bone). When it reads 165°F, you're good to go.
Choose Your Favorite Cut—Feel free to swap chicken thighs for breasts, wings, drumsticks, or a combo. You may need to adjust cook times for larger or smaller pieces.
Featured Product
Premiere Ovenware Ceramic Nonstick 18" x 13" Half Sheet Pan
A true workhorse, this pan is one of the most versatile pieces of cookware you can own. The solid, one-piece design eliminates food traps and the spacious surface makes it perfect for family meals.