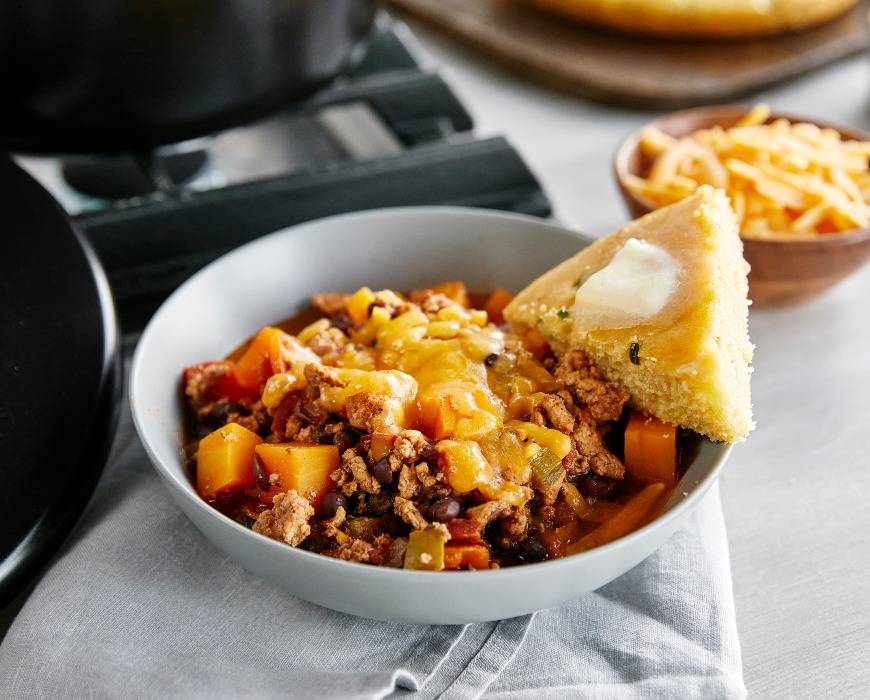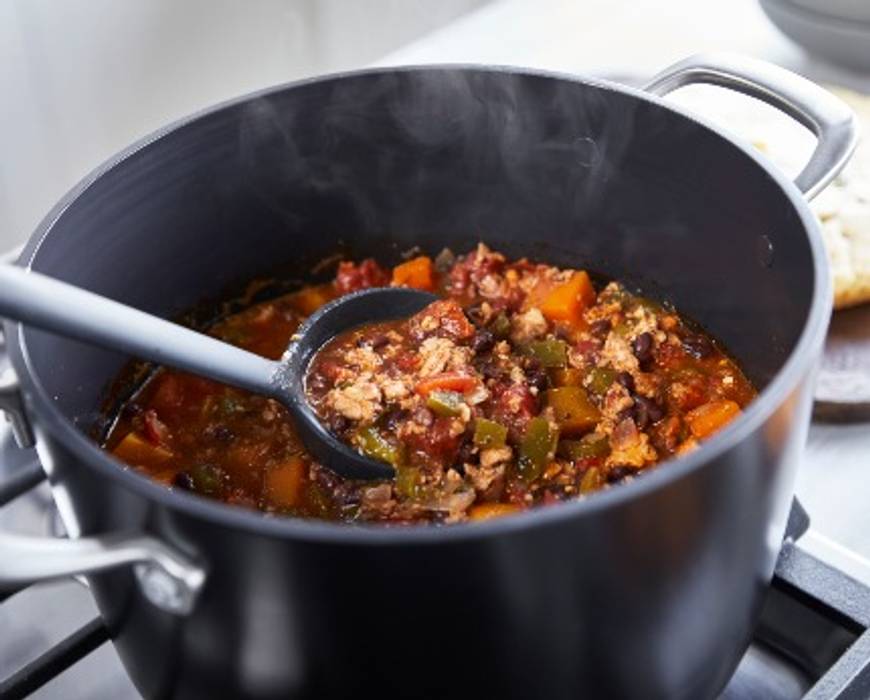 Yields: ~10 servings
Time: 20 minutes prep, 40 minutes cooking, 1 hour total
INGREDIENTS:
2 tablespoons olive oil
1 medium onion, diced
6 to 8 cloves garlic, minced
1 tablespoon ground cumin
1 tablespoon chili powder
2 teaspoons oregano
2 teaspoons ground coriander
1 teaspoon ground cinnamon
1 teaspoon granulated sugar
1 pound ground turkey
1 teaspoon salt
3 tablespoons tomato paste
2 green bell peppers, seeded and chopped
2 (14.5-ounce) cans fire-roasted tomatoes
2 cups chicken or turkey broth
2 (14-ounce) cans black beans, rinsed and drained
1 medium butternut squash, peeled and seeded and cut into 1/2 cubes
Salt and freshly ground black pepper to taste
Shredded cheddar cheese for topping, optional
PREPARATION INSTRUCTIONS:
Sauté aromatics and spices—Heat oil in a stockpot over medium-high heat till shimmering. Add onion and sauté, stirring frequently, till softened, about 5 minutes. Add garlic and sauté for 1 minute. Then add cumin, chili powder, oregano, coriander, cinnamon, and sugar. Stir to combine.
Cook the turkey—Add ground turkey to stockpot and sprinkle with 1 teaspoon salt. Break meat into small pieces with spatula and heat till cooked through.
Add tomatoes and stock—Stir in tomato paste till evenly combined. Add bell peppers, tomatoes, and broth and stir till combined. Bring to a simmer, reduce heat to low, and simmer covered for 20 minutes.
Add beans and squash—Stir in black beans and butternut squash. Bring chili to a simmer, increasing heat if needed. Then cover and simmer on low until squash is fork-tender, but not mushy—another 20 minutes or so.
Finish and serve—Remove from heat and add additional salt and freshly ground black pepper to taste. Ladle into individual bowls and sprinkle with shredded cheddar cheese, if desired.
TIPS
Vegan friendly—Leave out the ground turkey and swap chicken stock for vegetable to transform our autumn-inspired chili into a dish everyone can enjoy.
No more wasted tomato paste—Tired of buying a can of tomato paste just for the few spoonfuls you need? Save leftovers in ice cube trays to add intense flavor to marinara, soup, bolognese, and more.
Featured Product
GP5 Infinite8 Ceramic Nonstick 8-Quart Stockpot with Lid
Our Most Advanced Collection Ideal for seafood boils, family-sized pastas, and expertly crafted stews, this pot delivers effortless nonstick ease. This stockpot's body is 5mm thick and the low dome lid is made from stainless steel for easy transitions from...