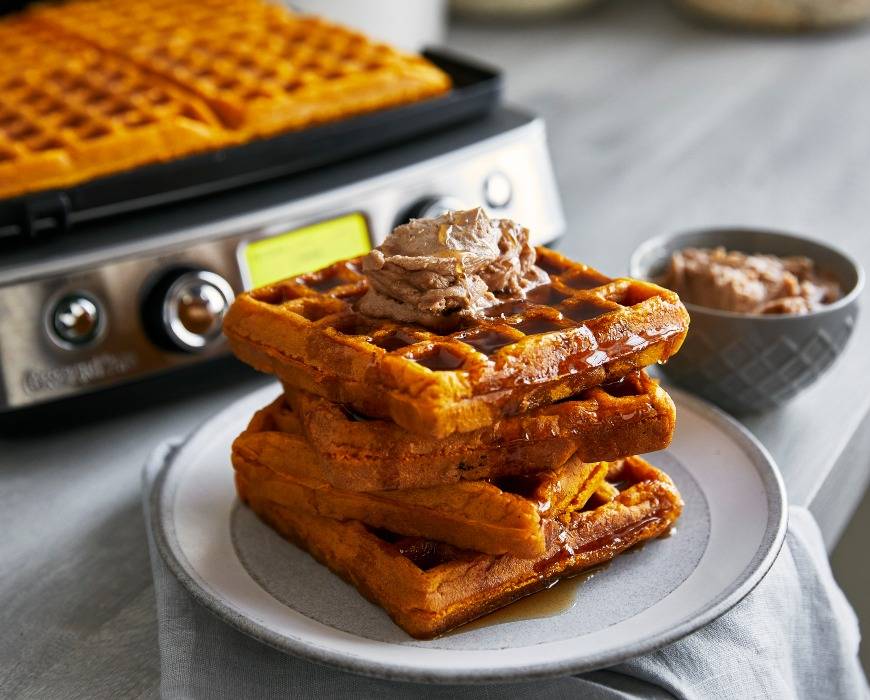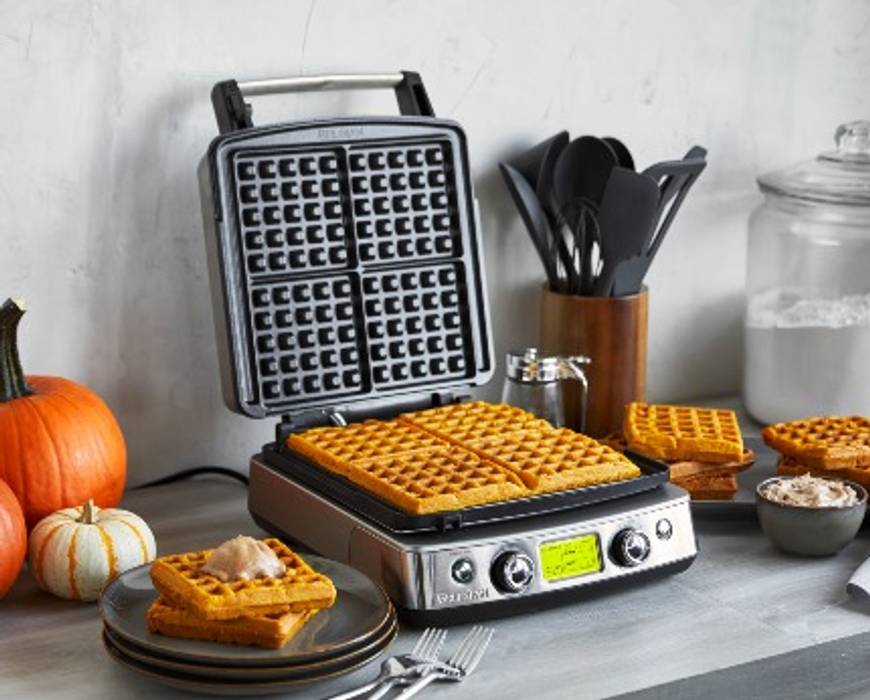 Yields: 4 to 6 servings
Time: 10 minutes prep, 20 minutes cooking, 30 minutes total
INGREDIENTS:
1 3/4 cup all-purpose flour
2 teaspoons brown sugar (light or dark)
1 1/2 teaspoons baking powder
1 teaspoon baking soda
2 teaspoons pumpkin pie spice
1/2 teaspoon salt
1 1/4 cup buttermilk
1 cup pumpkin purée (from a can is fine)
2 large eggs
1/2 stick butter, melted
PREPARATION INSTRUCTIONS:
Mix the dry ingredients—In a large bowl, whisk together the flour, brown sugar, baking powder, baking soda, pumpkin pie spice, and salt.
Mix the wet ingredients—In a medium bowl, whisk together buttermilk, pumpkin purée, eggs, and melted butter.
Make the batter—Pour wet ingredients into bowl with dry ingredients. Stir to combine evenly. Batter will be lumpy, but resist the urge to over mix.
Prep the waffle maker—Preheat oven to 200°F. Fit your GreenPan Waffle Maker with Classic plates and turn dial to Classic setting. Add a light coating of cooking oil to top and bottom plates and close lid. Select your desired texture and shading, then press start. When preheat is complete, a beep will sound and "Preheat" will no longer appear on display.
Make the waffles—Ladle waffle batter onto plate and close lid. When three beeps sound, waffles are done. Remove waffle using non-scratch utensils or tongs and place on a baking sheet in preheated oven to keep warm. Repeat with remaining batter. Serve warm.
TIPS:
No pumpkin pie spice? No problem! Sub in 1 teaspoon cinnamon and a 1/2 teaspoon each of ground ginger and nutmeg (or clove and allspice).
Keep 'em crispy—Pumpkin waffles can get a bit soggy if they sit out too long. Pop them in a toaster oven to restore crispness before serving.
Featured Product
Elite Ceramic Nonstick 4-Square Waffle Maker | Premiere Stainless Steel
This waffle maker features two sets of plates so you can master classic waffles or thicker Belgian-style waffles. And whether you like yours light and fluffy or dark and crunchy, our waffle maker puts the power in your hands.