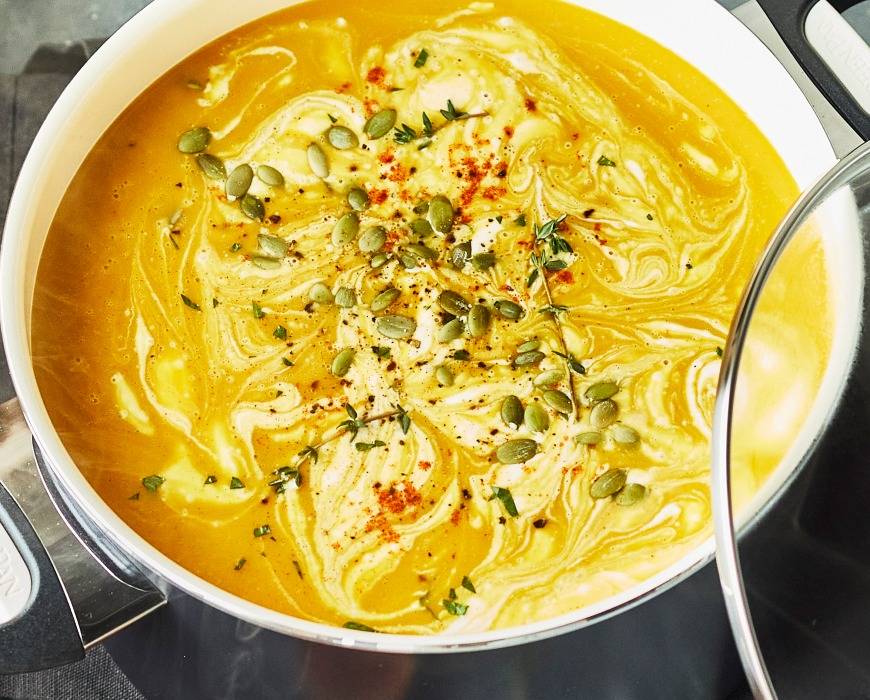 Butternut Squash Soup with Curry
Ingredients:
 
1 tablespoon olive oil 
3 cloves garlic, minced 
2 shallots, diced 
1 small butternut squash, peeled and chopped 
Sea salt and freshly ground black pepper to taste 
1 1/2 tablespoons curry powder 
1/4 teaspoon ground cinnamon 
1 can light coconut milk (14 ounces) 
2 cups vegetable stock 
2 tablespoons maple syrup 
Full-fat coconut milk, for garnish 
Toasted pumpkin seeds, for garnish 
Sauté the aromatics—Heat oil in a large pot over medium heat. Add shallots and garlic and sauté, stirring frequently for about 2 minutes. Be careful not to let the garlic burn. 
Cook the squash—Add butternut squash to pot along with curry powder, cinnamon, a pinch of salt and a little freshly ground black pepper. Stir to coat evenly. Cover and cook for about 4 minutes, stirring occasionally. 
Add the liquids—Pour in coconut milk, vegetable broth, and maple syrup, then bring to a boil. Reduce heat to low, cover, and simmer until squash is tender when pierced with a fork, about 15 -20 minutes. 
Purée the soup—Use an immersion blender on high to purée soup until silky smooth and creamy. Taste and add additional salt and pepper, if needed. 
Garnish and serve—Ladle soup into individual bowls and garnish with a drizzle of coconut milk and sprinkling of toasted pumpkin seeds. 
No immersion blender? 
Carefully transfer soup to a traditional blender and purée. Return soup to pot and continue cooking for a few minutes till it's heated through. 
Featured Product
Valencia Pro Ceramic Nonstick 8-Quart Stockpot with Lid
Crafted from hard anodized aluminum for maximum strength and scratch resistance, this spacious 8-quart stockpot has plenty of room for family-sized stews, seafood boils, and so much more.