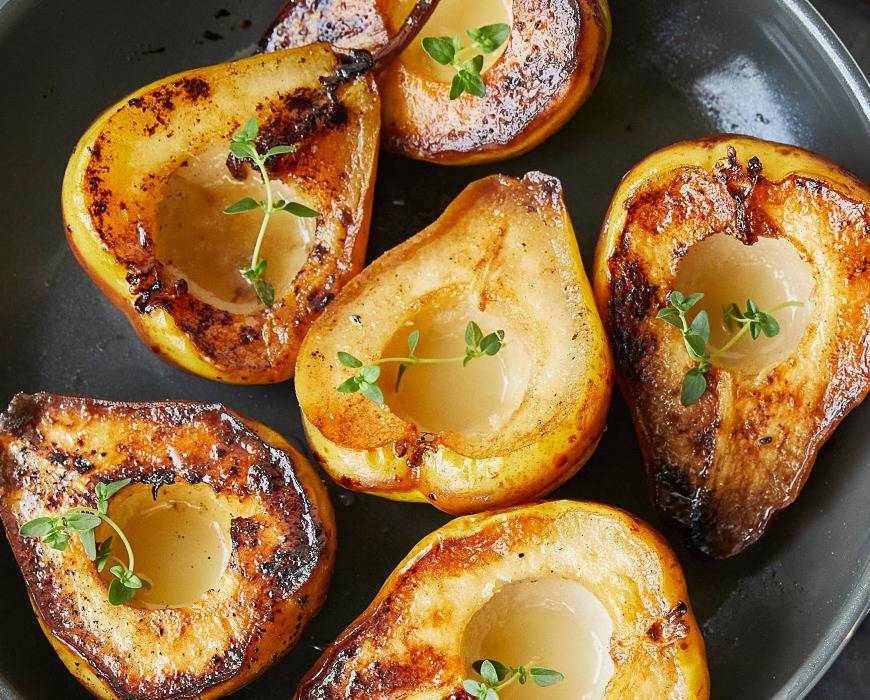 Honey-Glazed Balsamic Pears 
Yield: 3 to 6 servings
Time: 5 minutes prep, 25 minutes cooking, 30 minutes total
 Ingredients 
3 large slightly under-ripe pears, halved and cored
1 tablespoon butter
4 tablespoons balsamic vinegar
2 tablespoons honey
Thyme sprigs, for garnish
Prepare to roast—Preheat oven to 400 degrees F.
Roast the pears—Melt butter in a large skillet over medium-high heat. Place pears cut side down in skillet and cook for two minutes. Transfer skillet to preheated oven and roast for 20 minutes. Flip pear halves, drizzle with balsamic, and continue roasting for 5 more minutes.
Glaze and garnish—Remove skillet from oven. Drizzle pears with honey and let them rest a couple of minutes. Transfer to serving platter, drizzle pears with pan drippings, garnish with thyme sprigs, and serve warm.
Pick the Best Pears
Anjou, Bartlett, or Bosc pears are ideal for roasting—just make sure they're not very ripe or they'll quickly turn to mush.
Featured Product
Valencia Pro Ceramic Nonstick 10" Frypan
This 10" frypan is ready for searing steaks, sautéing veggies, whipping up omelettes, and so much more. Extra tough and endlessly versatile, this pan is crafted from hard anodized aluminum for maximum strength and scratch resistance.