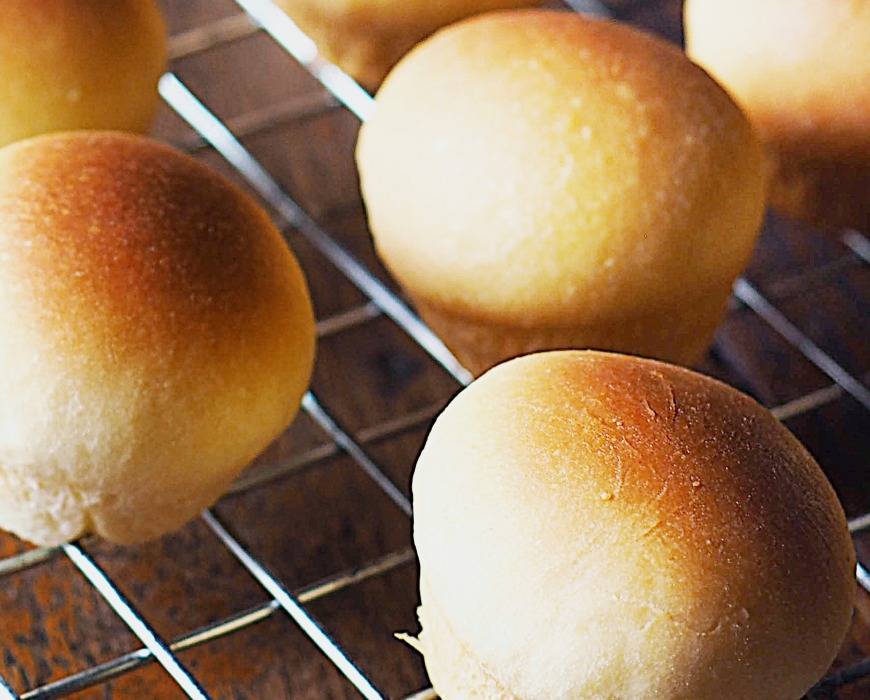 Buttery Parker House Rolls
Yields: About 36 rolls
Time: 20 minutes prep, 1 1/2 hours standing, 35 minutes cooking, 2 hours 25 minutes total
INGREDIENTS:
1 packet active dry yeast
1 cup milk (whole or 2%)
1 stick butter, divided
3 tablespoons sugar
1 1/2 teaspoons kosher salt
1 large egg, room temperature, lightly beaten
3 1/2 cups all-purpose flour
Sea salt
PREPARATION INSTRUCTIONS:
Prep the ingredients—Stir yeast into warm water and let sit until foamy, about 5 minutes. Warm milk in microwave or a small saucepan over medium heat. (Milk should be just warm, not hot.) Add 1/2 stick of butter, sugar, and salt to a large bowl and pour in warm milk. Whisk to combine. When butter is mostly melted, whisk in yeast mixture and beaten egg until combined.
Mix the dough—Add flour to mixture and stir vigorously with a wooden spoon until dough comes together. Transfer dough to a lightly floured surface and kneed until smooth, about 4 to 5 minutes.
Proof the dough—Transfer dough to a large, lightly oiled bowl, turning to coat dough. Cover loosely and let stand at room temperature until doubled, about 1 1/2 hours.
Shape and bake—Preheat oven to 350 degrees F. Melt 1/2 stick of butter. Lightly brush baking dish with melted butter. To shape rolls, pull a ball of dough, flatten with a rolling pin, brush interior with melted butter, then fold dough so butter is in the center of roll. Transfer to baking dish. Bake in preheated oven until golden brown, about 25 to 35 minutes. Brush tops with  more melted butter, sprinkle with sea salt, and serve warm.
TIPS:
Ensure Proper Proofing—If dough isn't rising at room temperature, transfer bowl to a cold oven and turn on the oven light. The gentle heat from the bulb will put the yeast to work.