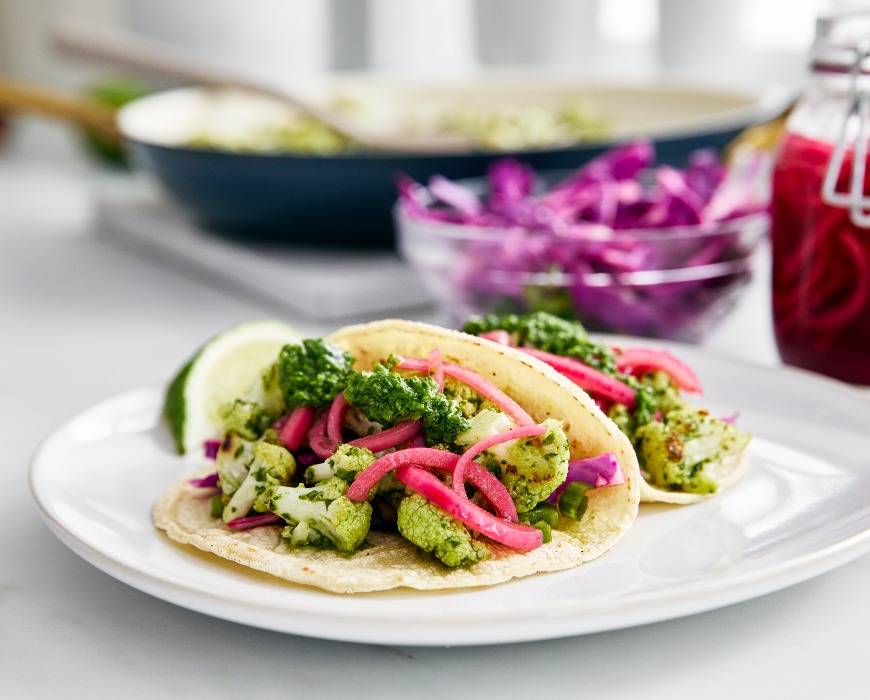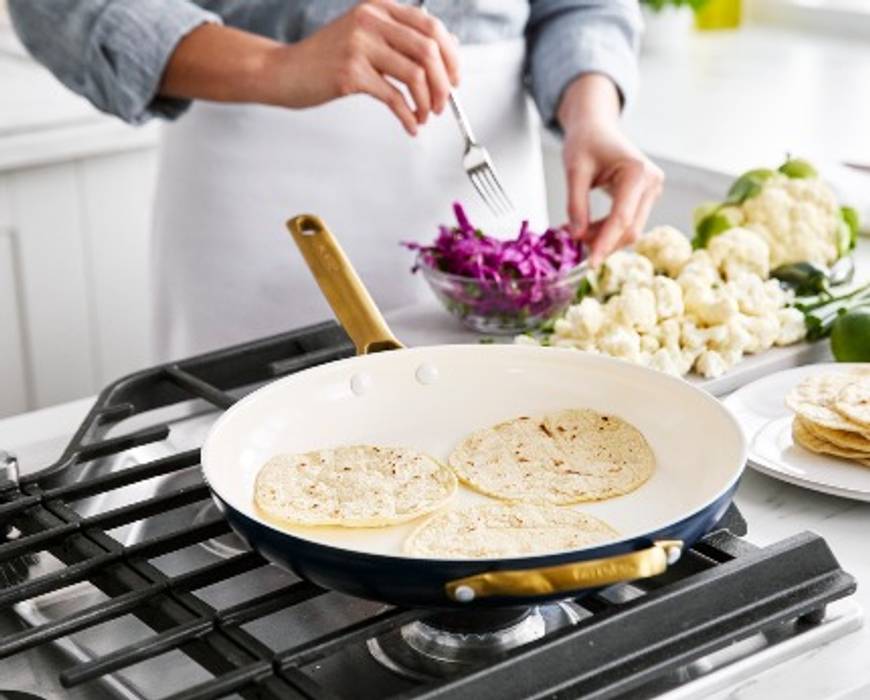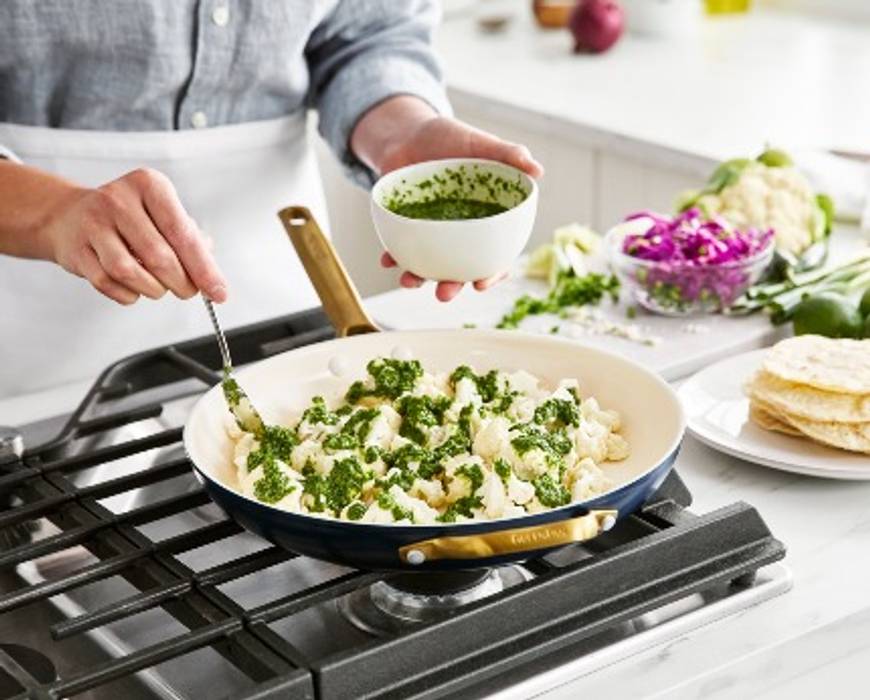 Cauliflower Tacos with Chimichurri and Pickled Onions
Yields: 12 tacos
Time: 20 minutes prep, 40 minutes cooking, 8 hours resting, 9 hours total
INGREDIENTS:
For the pickled onions
1 large red onion, sliced into half moons about 1/8" thick
1 cup apple cider vinegar
1/2 cup red wine vinegar
1/4 cup granulated sugar
1 teaspoon kosher salt
1/8 teaspoon ground allspice
Pinch of red pepper flakes, more or less to taste
For the cauliflower
1 head cauliflower, cut into florets
2 teaspoons olive oil
1/2 teaspoon garlic salt
Freshly ground black pepper
For the chimichurri
1/4 cup red wine vinegar
2 tablespoons fresh lemon juice
1/4 red onion, roughly chopped
3/4 cup fresh cilantro leaves (about 1 bunch)
3/4 cup fresh flat leaf parsley leaves
3 to 4 garlic cloves, peeled
1 jalapeño
1/4 teaspoon sea salt
1/4 teaspoon fresh ground black pepper
1/2 cup olive oil
For the tacos
12 taco-sized tortillas, corn or flour
1/2 cup chimichurri sauce, plus extra for topping
PREPARATION INSTRUCTIONS:
Make the brine—Whisk together apple cider vinegar, red wine vinegar, sugar, and salt in a medium saucepan over medium-high heat. Bring to a boil and continue whisking until salt and sugar dissolve—about 3 to 5 minutes. Remove pan from heat and whisk in allspice and red pepper flakes.
Pickle the onions—Add onions to the saucepan and stir to combine. Let sit at room temperature until completely cooled, giving mixture the occasional stir. Transfer to a large jar or small bowl and cover tightly. Let mixture rest overnight in the fridge so flavors can completely meld. Refrigerate until ready to use. Keeps for up to 1 month.
Make the chimichurri sauce—Place all the chimichurri ingredients in a food processor. Blend on high until well mixed. Taste and add more salt and pepper, if needed.
Warm the tacos—Preheat oven to 300°F. Wrap a stack of 6 tacos in aluminum foil and repeat with the other 6 tacos. Place in oven until heated through, about 15 to 20 minutes.
Meanwhile, cook the cauliflower—Heat oil in a large skillet over medium high heat. When oil shimmers, add cauliflower and toss to coat using a wooden spoon. Sprinkle with garlic salt and plenty of freshly ground black pepper. Cook, stirring frequently to ensure even browning—adjust heat if needed (you want them to sizzle but not completely scorch). Continue cooking till cauliflower is beautifully browned and tender when pierced with a fork, about 10 to 12 minutes.
Finish the cauliflower—Pour 1/2 cup chimichurri sauce into the skillet with cauliflower. Toss to coat evenly. Reduce heat to medium low and continue cooking, stirring occasionally, for another 5 minutes or until chimichurri is heated through.
Make the tacos—Fill each taco with chimichurri cauliflower and top with pickled onions. Drizzle with additional chimichurri and enjoy.
TIPS:
Other Ways to Warm Tortillas—We heat these in the oven for simplicity, but they're extra tasty when grilled individually in a skillet (about 30 seconds per side). Or if you're feeling hangry, make 2 stacks of 6, wrap in damp paper towels, then zap each stack in the microwave in 30 second increments till they're heated through.
How to Measure Freshly Ground Black Pepper—Who has time for grinding and scooping into measuring spoons every time a recipe calls for a specific amount? Do it once (and for all!)—count the number of turns it takes to fill 1/4 teaspoon, then adjust accordingly.
Featured Product
Reserve Ceramic Nonstick 12" Frypan with Helper Handle and Lid | Twilight with Gold-Tone Handles
Featuring a rich, dusk-inspired exterior, this frypan and lid combo looks as good as it cooks. The duoforged hard anodized body makes it extra tough, which is great because you'll want to use it for everything.