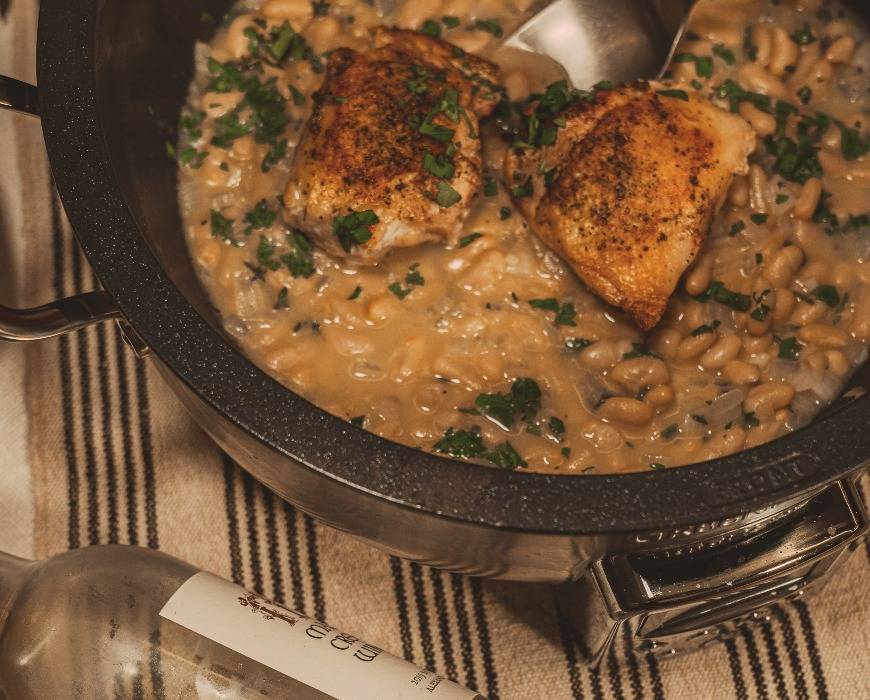 Chicken Thighs with Cannellini Beans
Yields: 4 servings
Time: 15 minutes prep, 25 minutes cooking, 40 minutes total
INGREDIENTS:
3 tablespoons olive oil
8 small bone-in, skin-on chicken thighs
1 shallot, finely chopped
2 garlic cloves, minced
2 sprigs of thyme, destemmed and roughly chopped
2 tablespoons fresh lemon juice
1 cup low-sodium chicken stock
1 (14.5 ounce) can cannellini beans, drained and rinsed
6 tablespoons cold butter, cut into 1 tablespoon pieces
1/4 cup parsley, roughly chopped
kosher salt, to taste
fresh ground black pepper, to taste
4 slices of fresh sourdough bread, toasted, to serve if desired
PREPARATION INSTRUCTIONS:
Place the chicken thighs, skin side up, on a baking tray and pat them dry with a paper towel. Allow them to sit at room temperature for at least 15 minutes before cooking.
Select the Sear/Sauté mode on the Essential Smart Skillet, set the temperature at 350°F and the timer for 30 minutes. Pour 1 tablespoon of olive oil into the pan and allow it to come to temperature until it shimmers slightly.
Season the chicken thighs on the skin side with salt and pepper. One piece at a time, lay the chicken thighs away from you into the Essential Smart Skillet, skin side down. Make sure there is a bit of room between each thigh, or else they won't brown properly. Allow them to cook skin side down, 8 to 10 minutes, until nicely golden brown—checking every few minutes that they are browning evenly and moving in the pan as needed. Once brown, flip and cook 2 minutes more on the other side, then transfer the browned chicken back to the baking tray.
Turn the temperature on the Essential Smart Skillet down to 300°F. Pour in the remaining olive oil, and add in the shallot, garlic, and thyme. Cook, stirring occasionally, until the shallots have softened and the garlic is very aromatic, 2 to 3 minutes.
Pour in the lemon juice and chicken stock, using a wooden spoon to ensure any brown bits on the bottom of the pan from searing the chicken are released. Place the chicken thighs back in the pan, skin side up, cover and cook 10 minutes.
Uncover, add the cannellini beans, and continue cooking the chicken the final 5 minutes while the sauce is reducing (it should be reduced by about two thirds). Check the internal temperature of the chicken thighs with an instant read thermometer, being careful not to hit the bone or you'll get a false reading. Ensure the chicken is cooked until 165°F, then remove from the sauce and set aside on a new plate or tray.
With the heat off, stir in 1 tablespoon of butter at a time, adding the next only after the first has been fully emulsified. Stir in half the chopped parsley. Add salt, pepper, and lemon juice to taste.
To serve, spoon a nice portion of the cannellini bean sauce onto a plate and place two chicken thighs on top. Sprinkle a bit more parsley on top, and if desired serve toasted sourdough bread on the side.
TIPS:
Rinse Cycle - We like to drain and rinse canned beans in a colander to remove excess salt and starch and get rid of the metallic flavor.
Keep It Crisp - For crispier skin and better browning, be sure to pat chicken dry before cooking.
Featured Product
Elite 6-Quart Essential Smart Skillet | Premiere Stainless Steel
Whether you're searing a steak, perfecting a complex stew, or simply making rice, this family-sized 6-quart skillet gives you room for any meal. The high sides eliminate splatter and make it easy to toss your ingredients without worry.