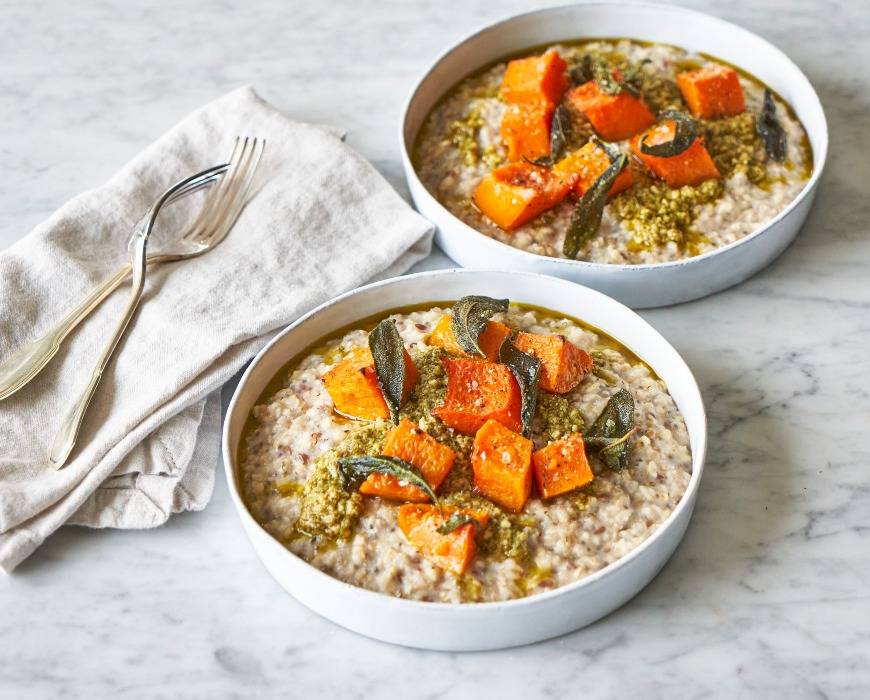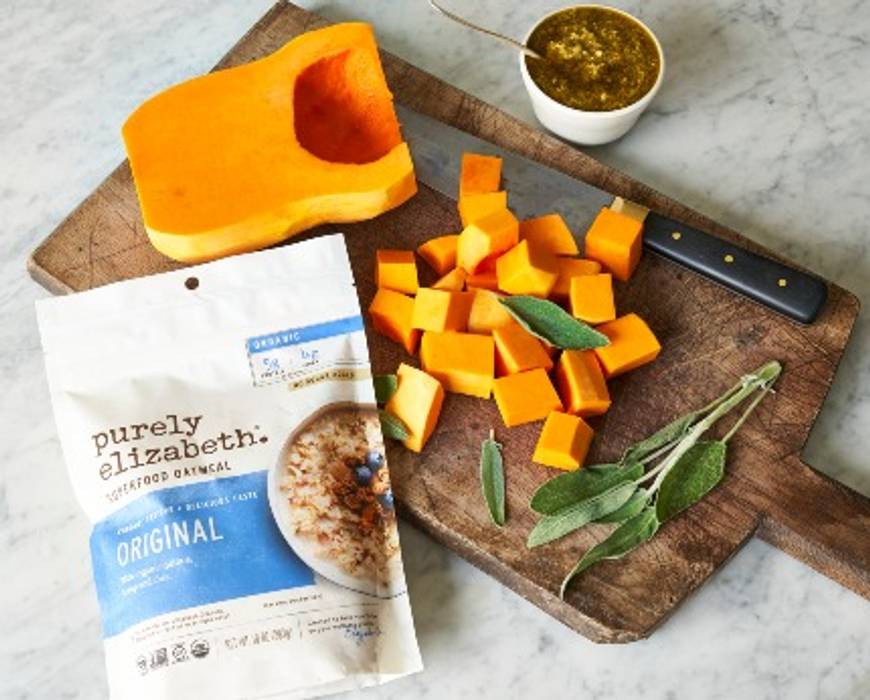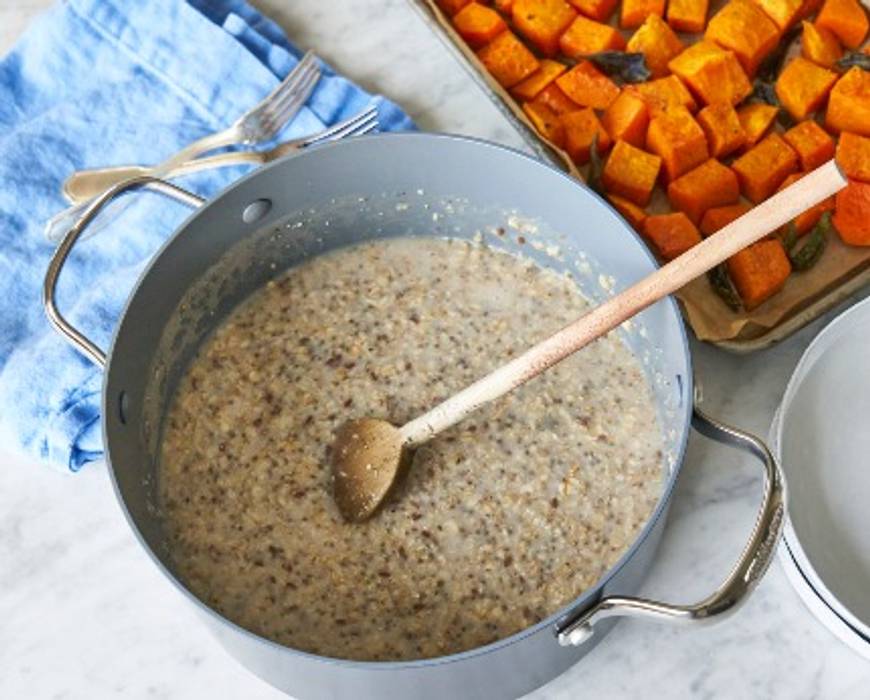 Butternut Squash Oatmeal with Sage and Pesto
Yields: 4 servings
Time: 10 minutes prep, 30 minutes cooking, 40 minutes total
INGREDIENTS:
For the squash
1 butternut squash, peeled, seeded and cut into 1-inch pieces
2 tablespoons olive oil
12 sage leaves
Salt and freshly ground black pepper
For the oatmeal
4 cups vegetable stock or water
2 cups Purely Elizabeth Original Superfood Oats
1/4 teaspoon kosher salt
Pesto (homemade or store bought), for drizzling
PREPARATION INSTRUCTIONS:
Prepare to roast—Preheat oven to 425°F.
Roast the squash—Place squash and sage leaves on a nonstick baking sheet, drizzle with olive oil, and toss to coat evenly. Spread into an even layer and season with salt and pepper. Roast in preheated oven until fork-tender and lightly browned, about 30 minutes—tossing once halfway through cook time. Remove from oven and set aside.
Make the oatmeal—When squash has been roasting for about 20 minutes, start the oatmeal. In a large saucepan, bring stock or water to a boil over medium heat. Stir in oats and salt, then reduce heat to low. Cook, stirring frequently, until thickened and creamy—about 2 minutes.
Garnish and serve—Divide oatmeal between 4 individual bowls. Drizzle with pesto (more or less according to taste) and top with a scoop of butternut squash. Garnish with roasted sage leaves.
TIPS:
Get Creative—Invent your own savory oatmeal with combos like caramelized onions and mushrooms, bacon and cheddar, or roasted sweet potatoes with Sriracha.
Feeling Hangry? Packed with wholesome ingredients like quinoa, flax, hemp, and chia, Purely Elizabeth Superfood Oatmeal delivers 5g of protein and 4g of fiber to keep you full longer.
Featured Product
Valencia Pro Ceramic Nonstick 8", 9.5", and 11" Frypan Set
Crafted from hard anodized aluminum for strength and scratch resistance, these pans go the distance. In a handy 8", 9.5", and 11" set, they're ready to sear steaks, braise veggies, or whip up omelettes at a moment's notice.