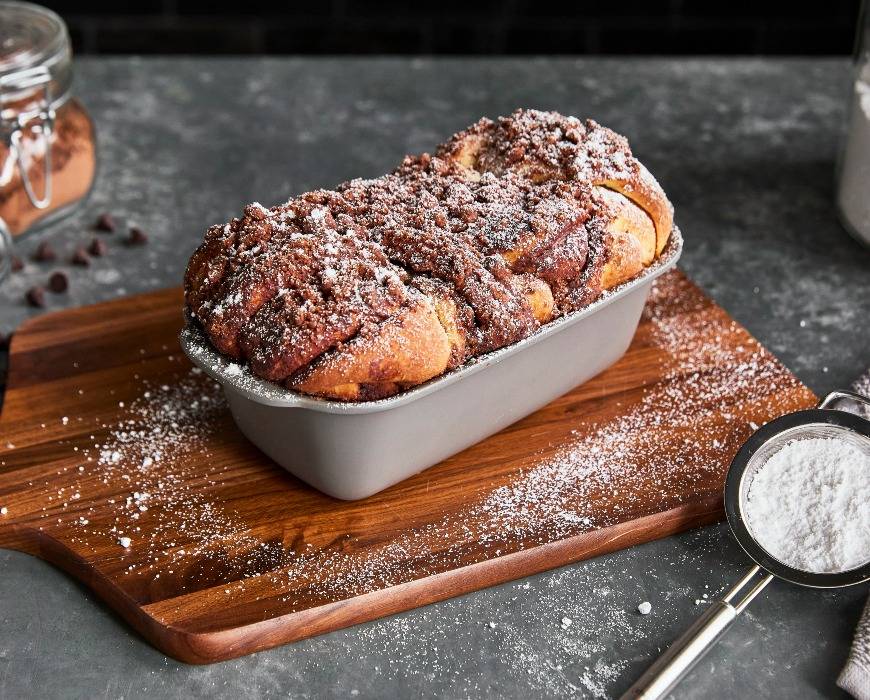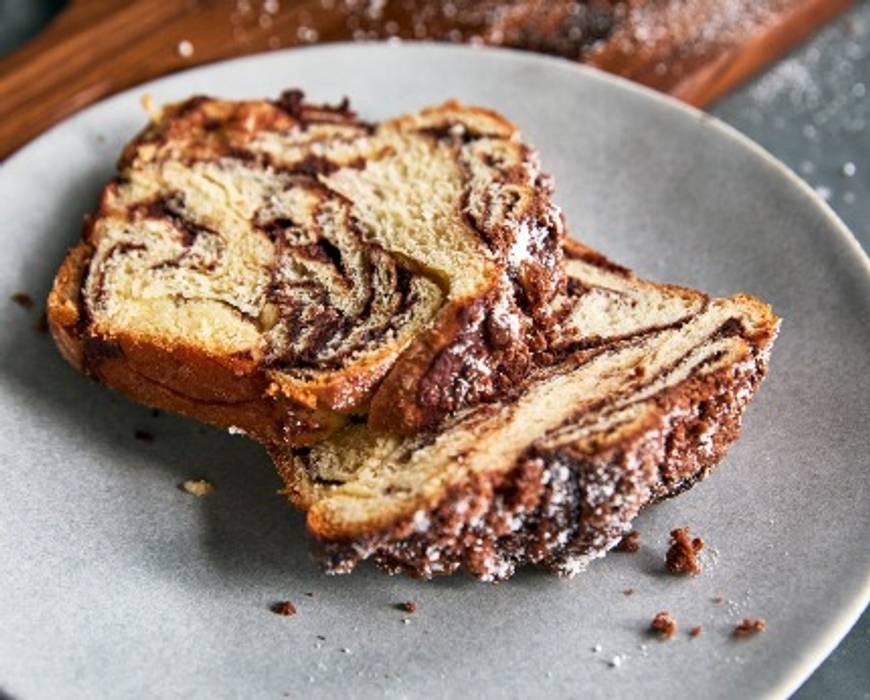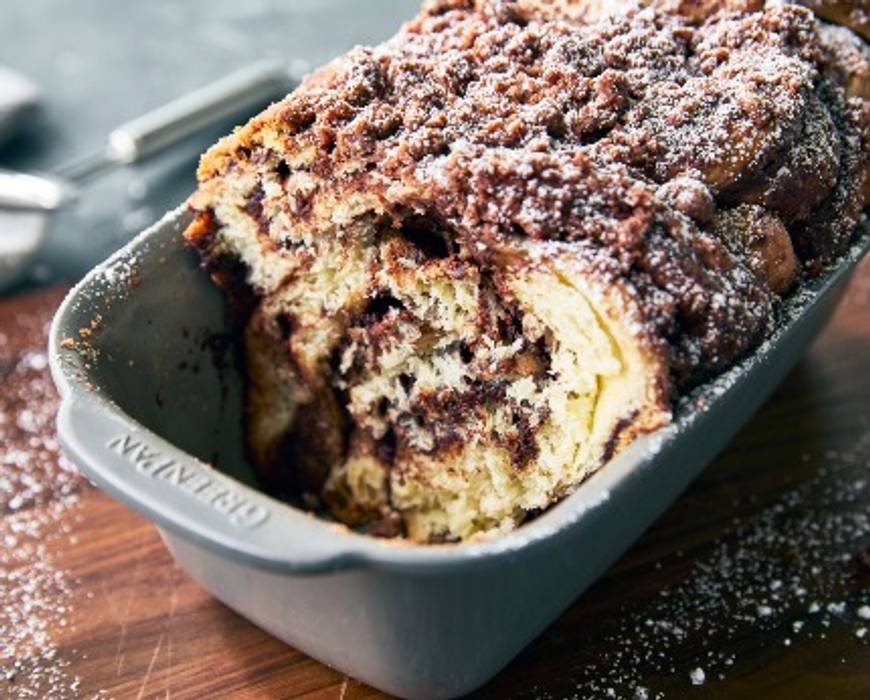 Yields: 1 loaf
Time: 1 hour 10 minutes prep, 8 hours resting, 50 minutes baking, 10 hours total
INGREDIENTS:
For the brioche dough
2 cups all-purpose flour
1/4 cup water warm water
1 3/4 teaspoons active dry yeast
3 tablespoons granulated sugar
1 1/2 teaspoons kosher salt
2 large eggs
1 large egg yolk
12 tablespoons unsalted butter, softened and cut into 12 pieces
For the filling
6 ounces dark or semi-sweet chocolate, roughly chopped (or sub in chocolate chips)
6 tablespoons unsalted butter
1 1/2 tablespoons granulated sugar
For the crumb topping
6 tablespoons unsalted butter
3/4 cup all-purpose flour
1/3 cup granulated sugar
2 1/2 tablespoons unsweetened cocoa powder
Pinch of kosher salt
Powdered sugar, for dusting
PREPARATION INSTRUCTIONS:
Start the dough—In the bowl of a stand mixer fitted with the dough hook, add flour, water, yeast, sugar, salt, eggs, and egg yolk. Mix on low speed for about 3 minutes, then stop and scrape down sides of bowl. Continue mixing for another 5 minutes.
Add the butter—With mixer on low, add in butter 1 piece at at time, mixing until fully incorporated. When all butter has been added, continue kneading on low for another 10 minutes. Increase speed to medium and knead until dough forms a soft, smooth ball—another 10 to 15 minutes.
Chill the dough—Cover and refrigerate the dough overnight or at least 6 hours. This slows fermentation for better flavor and chills butter for easier shaping.
Make the filling—When dough has chilled, melt the chocolate, butter, and sugar in a bowl in the microwave or over a double boiler. Whisk until smooth and set aside.
Make the topping—Melt butter in a bowl in the microwave or in a small saucepan over low heat. Add flour, sugar, cocoa, and salt and mix together with a fork until crumbly.
Roll out the dough—Turn dough out onto a floured surface and knead a few times to soften and warm it a bit. Roll out into a large rectangle about 1/8-inch thick.
Add the filling—Spread the filling over the dough in an even layer—go all the way to the edges.
Shape the dough—Start from one of the longer sides of rectangle and roll dough into a log and pinch seam to seal. Slice the log in half vertically, then twist the two halves together with the cut sides facing up. Transfer to a nonstick loaf pan. Cover loosely and allow dough to rise in a warm place for about 1 1/2 to 2 hours—it should look puffy but won't quite double in size.
Prepare to bake—Preheat oven to 350°F. Sprinkle babka with chocolate crumb topping.
Bake the babka—Bake in preheated oven till top is beautifully browned and crusty—about 40 to 45 minutes.
Cool and enjoy—Remove loaf from oven and let babka cool in pan for about 10 to 20 minutes. Transfer to wire rack and cool completely—if you can wait that long! Dust with powdered sugar, then slice and serve.
TIPS:
Shine On! Add a crisp, shiny finish with this simple syrup—simmer 1/3 cup sugar and 1/3 cup water in a small saucepan until sugar completely dissolves. Brush over the top of baked babka.
Check for Doneness—A skewer or cake tester should go into babka easily and come out clean or a digital thermometer will read between 185° and 210°F.